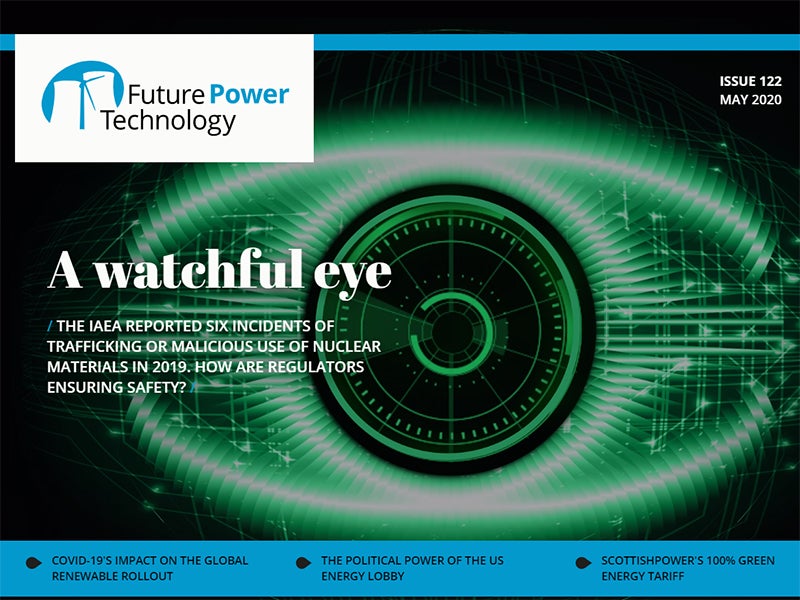 The International Atomic Energy Agency has revealed 189 incidents of nuclear and other radioactive materials being out of regulatory control in 2019. Six of the incidents were related to trafficking or malicious use. We speak to the IAEA about security threats in the nuclear supply chain.
Also, we find out how the US is handling lobbying efforts from energy companies, discover whether stationary batteries will eclipse the EV market, and speak to ScottishPower about its 100% green energy tariff. 
Finally, we profile record-breaking solar perovskites, investigate what it will take to phase out fossil-fuelled cars, learn what Virginia's Clean Economy Act means for the state, and look at how the Covid-19 pandemic will affect the rollout of renewables. 
Click here to read the latest power industry news and analysis, and join the conversation on Twitter.
In this issue 
Covid-19's impact on the global renewables rollout
With Covid-19 bringing uncertainty and unprecedented disruption to all sectors, including energy, Yoana Cholteeva explores the possible impact the outbreak might have on the production and development of renewable energy technologies.
Tracking and trafficking: monitoring the movement of nuclear material
The latest report from the International Atomic Energy Agency notes that there were six incidents related to the trafficking or malicious use of nuclear materials in 2019. JP Casey considers how this figure relates to data from previous years, and what the body's role is in ensuring safety in the nuclear sector.
Political power and financial might: energy lobbyists in the US
US energy firm Exelon has been swept by a raft of controversies, from state investigations to private lawsuits, based around its alleged breaking of lobbying laws and failure to disclose its political connections. JP Casey considers the court case, and what this could mean for lobbying efforts in an industry with an entrenched history of involvement in politics.
Are EVs holding back stationary energy storage systems?
The stationary battery sector is in flux, leaving many to wonder where to put their time and resources. Andrew Tunnicliffe looks at the criticism that electric vehicles are getting too much of the attention, hindering stationary battery development.
How green is green? Examining ScottishPower's 100% green energy tariff
As the UK's ScottishPower launches the first 100% green tariff, the question of what green really means has come to the fore. Andrew Tunnicliffe takes a look at the UK's green energy market and answers some of the most frequently asked questions.
Record breaking solar perovskites
Perovskite solar cell technologies have the potential to increase efficiency and lower the cost of solar energy, yet significant cost and reliability issues remain. Yoana Cholteeva looks into what makes solar perovskites so promising.
Cleaning up cars: what will it take for the UK to drop fossil fuels?
The UK government has promised to accelerate the phase-out of fossil-fuelled cars, bringing forward a ban of all new diesel, petrol and hybrid car sales to 2035. Yoana Cholteeva looks at what it will take to manage this kind of transition to new forms of energy.
Virginia's move towards a clean economy
Virginia narrowly passed the Clean Economy Act earlier in 2020, setting one of the largest energy storage targets in the country and pushing state regulators to devise a carbon dioxide cap. Yoana Cholteeva reports on the legislation's impact on the future of the state.
Preview – Future Power Technology June 2020
Drax power station in North Yorkshire, the UK's largest power plant, has announced it will end all coal-fired power generation by March 2021, well ahead of the UK's 2025 deadline. We speak to the Drax's managers to find out more about the plant's post-coal future.
Also, we see what it takes to green a transport network, examine the UK's lifting of a ban on onshore wind, and take a look at the Dutch model for renewables subisidies. 
Finally, we debate the promise of 2019 carbon successes, map significant green projects in the US, hear from an Australian start-up pursuing a new form of fusion, and investigate how close we are to wireless power at true scale.