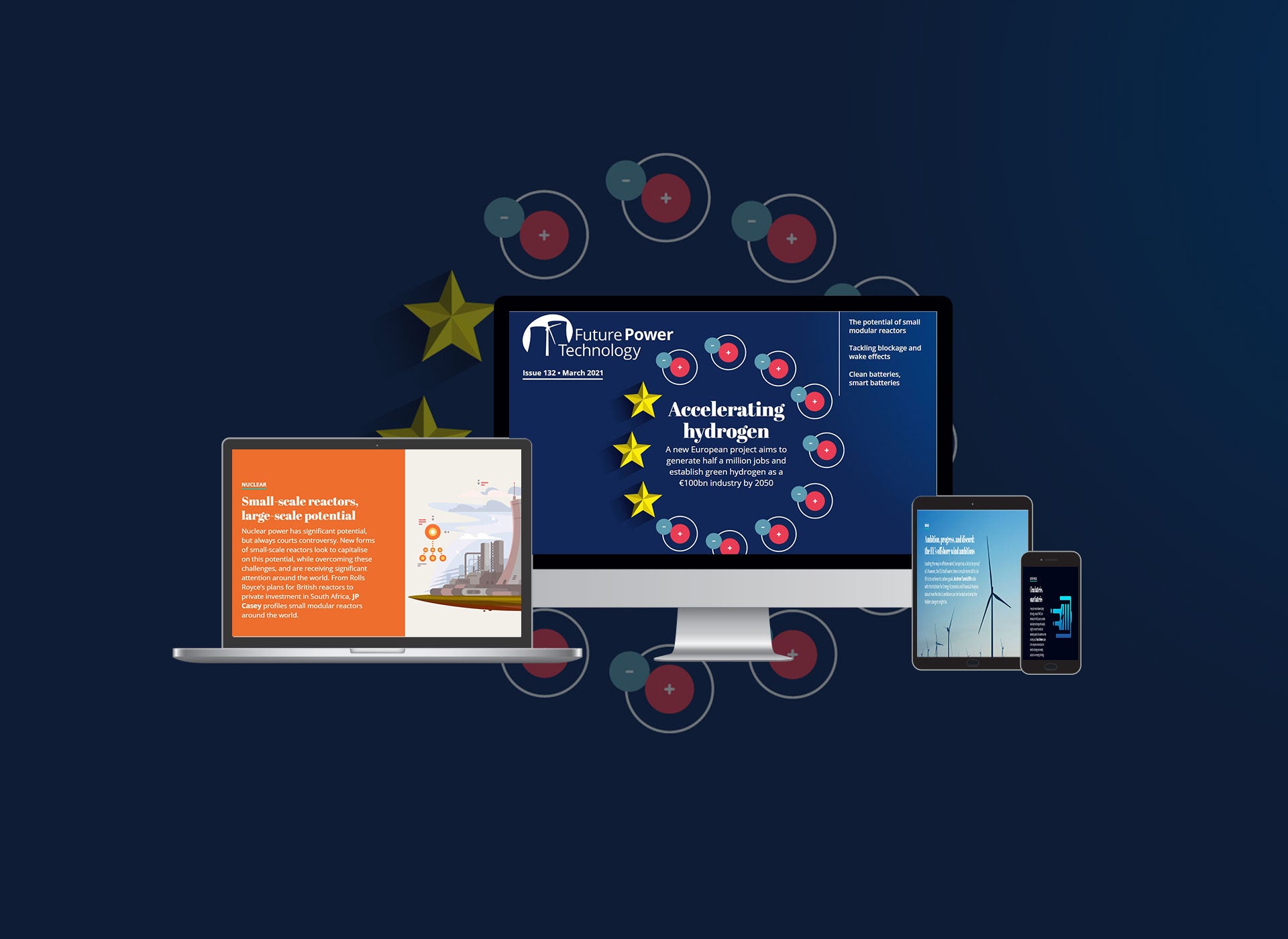 EIT InnoEnergy recently launched the European Green Hydrogen Acceleration Center (EGHAC), a mammoth effort to support the development of an annual €100bn green hydrogen economy by 2025 that they say could create half a million direct and indirect jobs across. The EGHAC promises to accelerate green hydrogen production at gigawatt scale to deliver large-scale industrial projects across Europe. Is such a bold goal realistic? 
Also, in 2020 Orsted revised down its offshore wind power output expectations, in part due to pressure from two previously underestimated phenomena – blockage and wake effects. We take a closer look at these phenomena, their prevalence, and the effect they could have on the UK's newly announced target to produce 40GW of offshore wind power by 2030.
Furthermore, a new joint venture aims to combine clean battery technology with analytical insights to aid in the monitoring and management of electric batteries used in buses. The partners, battery technology company TWAICE and telematics form ViriCity, have developed an analytical framework that enables managers to monitor the health and operating capacity of batteries as they are being used, to inform decisions about replacing and recharging them. They say the project could help make the clean transport sector more efficient and financially viable in the long term.
Whether you are on a desktop, tablet or smartphone, you can read the magazine for free online, and join the conversation on Twitter.
In this issue 
A €100bn hydrogen industry? Challenges for the European Green Hydrogen Acceleration Centre
Green hydrogen is a unique example of a renewable power source that has not yet been fully developed. A new European project aims to generate half a million jobs and establish green hydrogen as a €100bn industry by 2050 but, JP Casey asks, can it overcome the challenges faced by green hydrogen for a generation?
Small-scale reactors, large-scale potential
Nuclear power has significant potential, but always courts controversy. New forms of small-scale reactors look to capitalise on this potential, while overcoming these challenges, and are receiving significant attention around the world. From Rolls Royce's plans for British reactors to private investment in South Africa, JP Casey profiles small modular reactors around the world.
Crowdsourcing nuclear decommissioning: the IAEA Challenge
From across the world, five pieces of technology aim to make the decommissioning and remediation of old nuclear sites faster, cheaper, and safer. Yoana Cholteeva profiles the five winners selected by the International Atomic Energy Agency after its challenge was issued to global nuclear agencies last year. 
How can real-time data help wave power development?
Despite its huge promise, wave power makes up a tiny portion of global generation. Developers struggle to prove its worth and raise the profile of a long-promised technology. However, a piece of upcoming software promises to "put an end to some of the prevailing problems in the wave energy industry". Matt Farmer finds out how effective this can be and what is still holding wave power back. 
The state of solar glass
While the potential of solar glass has been widely talked about, the technology has never reached critical mass. With new policies now set to ease China's solar production constraints, Yoana Cholteeva checks in on the state of the solar glass market and the obstacles it is yet to overcome.
Ambition, progress, and discord: the EU's offshore wind ambitions 
Leading the way in offshore wind, Europe has a lot to be proud of. However, the EU itself warns there is much more still to do if it is to achieve its carbon goals. Andrew Tunnicliffe talks with the Institute for Energy Economics and Financial Analysis about how the bloc's ambitions can be funded and what the hidden dangers might be.
Will blockage and wake effects hinder the UK's offshore wind target?
Orsted made headlines in 2019 when it revised down its production estimates, in part due to two previously underestimated phenomena: the blockage and wake effects. With the UK embarking on an ambitious programme to deliver 40GW of offshore wind by 2030, Matthew Hall takes a closer look at these effects and asks whether they could hinder the UK's offshore capability.
Clean batteries, smart batteries
A new joint venture between battery technology company TWAICE and telematics firm ViriCity aims to combine clean battery technology with analytical insights to monitor the health and operating capacity of bus batteries as they are being used. Yoana Cholteeva speaks to the companies involved about the benefits of bringing smart working practices to an emerging technology.
Preview – Future Power Technology April
The World Economic Forum's Mining and Metals Blockchain Initiative has released a proof of concept for a blockchain-based system that will track emissions from the mine to the final product. The initiative hopes to accelerate responsible sourcing in the industry by pooling resources and costs. We take a look at the project so far, and find out what challenges remain.
Also in this issue, we  profile some of the biggest innovations and changes to mining culture to come from rescues, look at how China is widening its reach for iron ore, and find out how solar is powering high-altitude mining in the Andes. 
Plus, we ask at what point mining will no longer be economically viable, catch up with Vattenfall 's new partnership with Kaunis for fossil fuel-free mining, map rare earths projects outside China, and dig into what the Woodhouse Colliery mine means for the UK's decarbonisation plans.