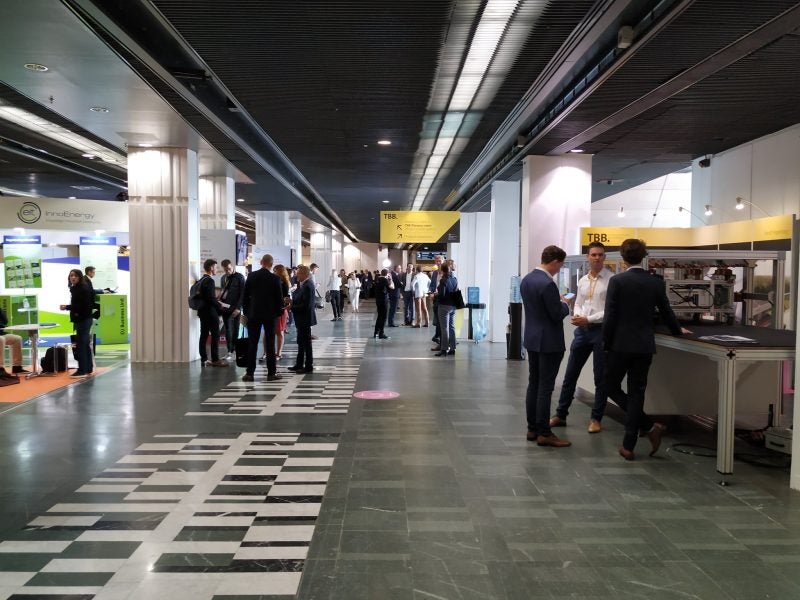 Mob Energy's car-charging robots
While electric vehicles are often touted as integral to a clean energy revolution, little work is being done to develop the infrastructure needed to support a more electrified automotive sector. Building charging points, improving charging times and integrating electric vehicles into existing road infrastructure are all challenges tackled by French firm Mob Energy, which plans to use autonomous robots to charge electric vehicles parked in large parking complexes.
The firm has partnered with Lyon Parc Auto to deploy the machines in its car parks, and will tackle a paradoxical problem with electric charging, as CEO Salim El Houat describes: "The parking service business model is antithetical to the charging service business model. You want vehicles to park as long as they can on a parking space, and this is the way you optimise its occupancy rates. With charging stations, you want people to move and free the infrastructure for other cars as soon as the charge is over."
The company's two models – dubbed Charles and Bolt – receive power from a central supply, and move throughout the car park on their own,  charging up to 64 vehicles a day between them. By eliminating the need to embed a specialised charging system into car parks, the energy costs of charging these vehicles is significantly lowered, with Mob Energy estimating its solution needs just 22kW of power from the grid.
Solean's local and agile solar panel production equipment
Advances in solar photovoltaic technology are essential to ensuring a clean energy transition, but parallel advances in the manufacture of solar equipment are equally important. French firm Solean, taking its name from a portmanteau of "solar" and "lean", looks to streamline the solar panel production process by converting the typical production line system into a fully automated system arranged in a circular shape, what it calls an "ergo-robot-centric" solution.
This structure means a typical solar assembly unit can take up 80m2 of floor space, around one-fifth of the size of a state-of-the-art operation, and reduce operational expenses by the same margin. The process also requires around half of the capital expenses of a leading operation, and the modular structure means assembly units can be scaled up or down for a range of uses.
Mebius' efficient hydrogen fuel cells
Hydrogen fuel cells have never been in greater demand, as an increased reliance on renewable power will require superior power storage technology to counteract the variable nature of power sources such as wind and solar. With this in mind, Slovenian company Mebius has developed a new hydrogen fuel cell that it claims is twice as efficient as existing storage units.
Thinner layers of material in the cell itself enable Mebius to exert more precise control over the construction of the batteries, meaning the company's cells can store double the power of existing cells, with a 40% reduction in cost and, critically, a 75% reduction in the volume of costly platinum required to build the cells. The company's cells use a copper-platinum alloy developed by the National Institute of Chemistry, based in Ljubljana, and could make a significant impact on the efficiency of battery storage technology.
Kemtecnia's "pre-installed" renewable power solutions
Spanish firm Kemtecnia is selling what CEO Tomás Domínguez calls "pre-installed" renewable power modules, comprising wind and solar power generators that come in a box measuring 20 or 40 square feet. The panels and turbines can then be unpacked and set up to provide a "guaranteed continuous supply" of up to 350kW per container, operating 24 hours a day, seven days a week.
"Equipped with a communications system for monitoring and telematic operation, [the technology] does not generate polluting gases, [nor] environmental impact [either] in its deployment nor in its withdrawal," said Domínguez.
The company envisions the system to have a range of uses, from providing power to those in countries without well-established energy grids, to generating reliable electricity in emergency situations, powering humanitarian work and natural disaster relief efforts. The generators are also easy to set up, and require no additional input once operations begin, giving them a degree of autonomy, and enabling users to establish them wherever they are needed.
Phoenix BioPower's optimised biopower plants
Swedish firm Phoenix BioPower aims to dramatically alter the power capacity of biomass generators by improving the efficiency of biomass facilities, believing that improvements in efficiency and productivity will be key to ensuring the world maintains a global temperature rise of less than 1.5 degrees.
"Typically a biopower plant converts 30% of the energy in the fuel to electricity, the rest is waste and heat," said Phoenix CEO Henrik Båge. "The technology that Phoenix BioPower develops can convert up to 60% of the fuel into electricity, so [twice] as much.
"This is achieved by gasifying the biomass under high pressure, using superheated steam through the process and combining it with gas turbine combustion. With this technology energy is saved through recycling waste energy from the fuel conversion."
The fact that the system builds on existing biomass technology also helps to reduce operating costs, with a full Phoenix plant costing less than 3,000€ per kW of electricity, and a total cost of less than 40€ per MW hour produced once operations begin.