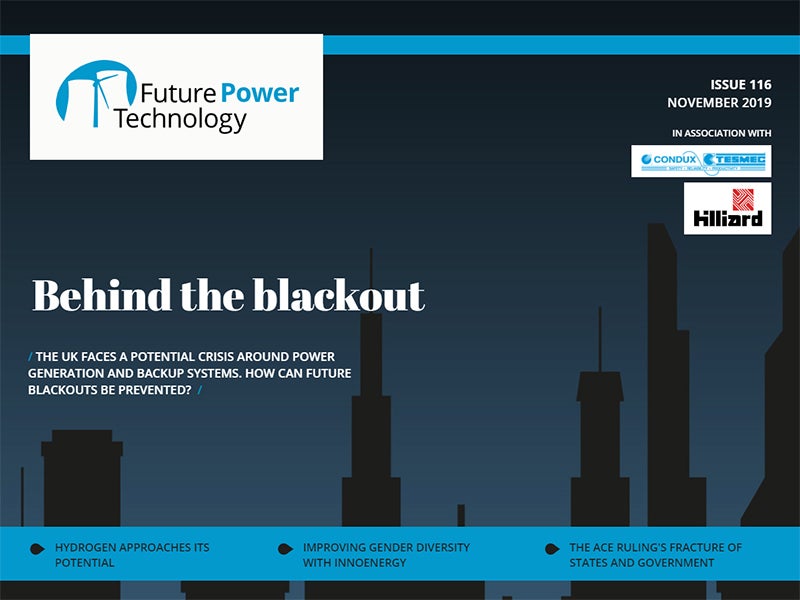 Future Power Technology is now available on all devices. Read the new issue here.
Hydrogen has long been touted as a clean energy saviour, but so far its use has been limited. With a number of new ventures now in place, we ask if hydrogen could finally fulfil its potential as an energy source?
We also talk to InnoEnergy about improving gender diversity in the energy transition, profile energy technologies that have faltered in the theory stage, examine the split in the US over a change in federal emissions policy, and take a look at some of the most disappointing solar projects.
Plus, we find out whether supermarket fridges can help support the grid, explore alternative metals powering the battery boom, investigate the UK's potential blackout crisis, and hear from Siemens about energy storage.
In this issue
The long march of hydrogen: are we there yet?
Long touted as a clean energy saviour, the use of hydrogen to replace fossil fuels has not yet reached its supposed potential. Heidi Vella asks, with a number of global initiatives firmly underway to develop the relevant technology and infrastructure, could that soon change?
InnoEnergy on how the energy transition can improve gender diversity
With women historically performing the majority of labour-intensive tasks within the home, the growth of the power market and innovation within it has benefited women in a unique way. Scarlett Evans speaks to Elena Bou, innovation director at InnoEnergy, about how the energy transition can improve gender diversity, and what can be done to support this.
Theory to fact? Energy technologies awaiting their day in the sun
As modern energy solutions grow to utility scales, there comes a point at which the challenges these projects face are based more on engineering and practice than science and theory. Umar Ali profiles projects that have been around in theory for a long time, but have yet to see their day in the sun.
States versus the union: how could the ACE rule impact US energy?
In the US, 22 states have sued the Trump administration for its attempts to replace an Obama-era law with a new bill that would give states greater power over their own greenhouse gas emissions. While the government claims the new law will have its benefits, the numbers don't add up. JP Casey finds out more.
Road to nowhere: great solar disappointments
From a solar road in France to a $200bn solar facility in Saudi Arabia, the solar sector has its fair share of failed and struggling projects. JP Casey looks at four of the most disappointing solar projects, and what lessons can be learned from them.
Could the nation's fridges rebalance the UK grid?
A new deal between the UK's National Grid and Asda will see the supermarket giant provide around 13MW of 'virtual battery power' from its air-conditioning and fridges. Heidi Vella finds out how such agreements could work to rebalance the grid and if they should be used more widely.
Beyond lithium: alternative materials for the battery boom
While lithium has long been touted as the future of advanced batteries, the technology's limitations and accidents at lithium facilities have encouraged manufacturers to consider alternatives to power the battery revolution. Umar Ali profiles alternative battery materials with significant potential.
Between the EU and a technological hard place: what is behind UK blackouts?
While the National Grid's emergency systems were able to bear the brunt of a series of power cuts across the UK in August this year, around one million people were still left without power. JP Casey asks what the UK needs to do to prevent similar blackouts in the future.
Talking energy storage with Siemens' Carl Ennis
Grid connected battery storage systems are proven technologies, and metering is catching up, so what questions still need to be answered when it comes to energy storage? Siemens Smart Infrastructure managing director Carl Ennis talks energy storage, electric vehicles and ammonia with Molly Lempriere. 
Preview – Future Power December
Nuclear fusion could be a potential world-changing energy source. As the UK begins work on a £22m test facility to build on the work of the Culham Laboratory, the Joint European Torus project and private sector players such as Tokamak Energy, we find out if the nation is best placed to lead the charge on fusion.
Also, we look at the regulatory infighting holding up the first major US offshore windfarm, dig into the potential of geothermal energy in the UK, and ask whether a new project could make bioreactors competitive.
Finally, we examine a technology that claims to make coal more efficient and cleaner, ask whether the European Pressurised Reactor has a future, dive into the merits of floating nuclear power, and analyse Angela Merkel's green legacy.