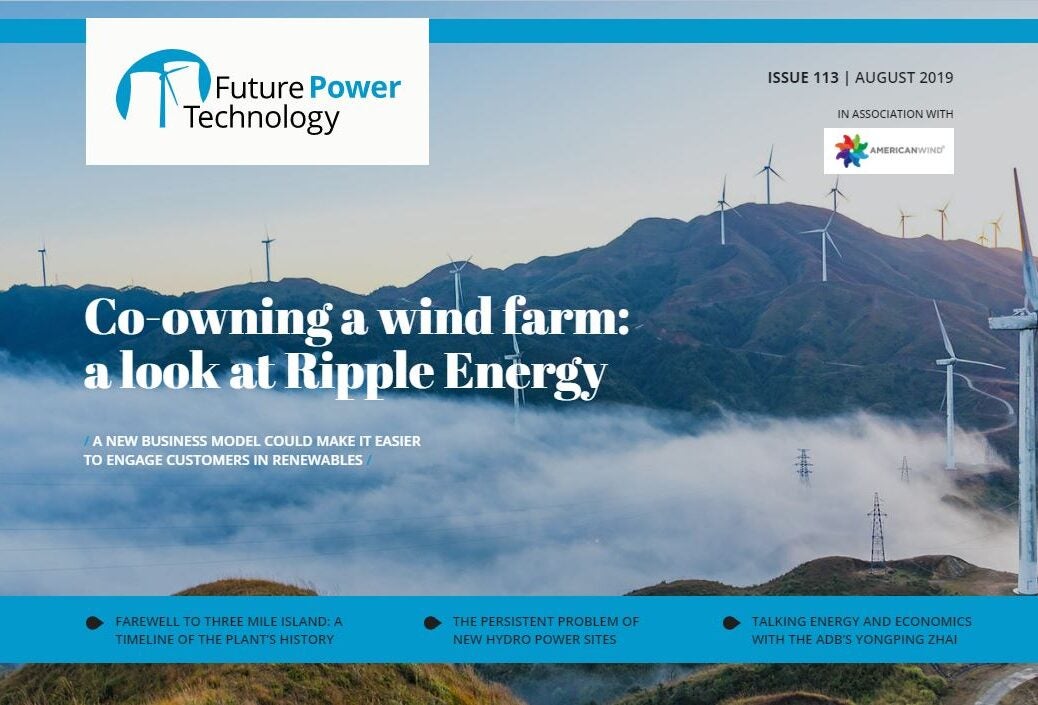 Future Power Technology is back for another issue packed with industry news and analysis. You can read the magazine for free online on any desktop, laptop, tablet or smartphone. If you'd like to be notified by email when a new issue is available, simply sign up here.
Investment is key for the success of the renewable transition, but what makes a country more attractive than others to investors? We take a look at the latest EY Renewable Energy Country Attractiveness Index and find out about the best places for renewables investment.
The Asian Development Bank funds a staggering number of energy projects. In this issue we speak to the bank's chief of the energy sector, Yongping Zhai, about the principles behind the organisation's investment decisions.
In the UK, companies are looking for new ways to engage consumers with renewable project. Ripple Energy presents customers with the option of co-owning a wind farm, but could this model really bring about household savings and will people be interested?
Utility scale wind power is one of the most successful types of renewable energy in the world, but now distributed turbines are becoming increasingly popular, too. We ask whether these smaller turbines could  catch up with their larger counterparts by taking a look at Halo Energy's shrouded turbines. We also find out about the efforts being made to protect wildlife from wind turbines.
Finally, we speak to Greenpeace about its stance on nuclear power, explore the difficulties of choosing a hydropower site and review the history of Three Mile Island ahead of its upcoming closure.
In this issue
The most attractive countries for renewable investment
Renewable energy has grown into a lucrative industry, but some countries offer more favourable investment environments than others. Jack Unwin takes a look at Ernst & Young's Renewable Energy Country Attractiveness Index to find out where the best opportunities lie.
Talking energy and economics with the Asian Development Bank's Yongping Zhai 
The Asian Development Bank funds projects across a large number countries, boosting economies and championing new technologies and business models. Yongping Zhai, the bank's chief of the energy sector, tells Jack Unwin about the bank's core philosophies, what projects it invests in and his role as a 'validator' of projects.
Co-owning a wind farm: a look at Ripple Energy
Ripple Energy is offering customers the opportunity to purchase part of a wind farm, aiming to introduce a co-ownership model where individual customers have a personal stake in clean energy.  JP Casey asks how close the model is to reality, and whether this approach could change attitudes towards renewable energy.
Bigger is not always better: how small-scale wind turbines could save the sector
Halo Energy has developed a shrouded wind turbine that brings efficient energy production to small-scale turbines, which could improve the performance of US wind and address imbalances in the sector. JP Casey finds out more about the technology.
When it comes to wind turbines, won't somebody please think of the animals?
How are animals protected from the impact of wind turbines? From bat-deterring acoustic whistles to advanced radar detection and a 'kill list' for Golden Eagles, Jack Unwin looks at five ways animal safety is being taken into account.
New hydro power sites: a persistent problem
BC Hydro's Site C hydro dam project in Canada is going ahead, despite protests from environmental and First Nations groups, who argue that it will cause irreparable damage to wildlife. Julian Turner reports on this and other bitter disputes over the construction of dams in California, Myanmar and Tanzania.
Too expensive, too dangerous: the accusations tightening the noose around nuclear power
Despite nuclear power offering a clean, reliable source of energy, sub-optimal finances and devastating accidents have made many sceptical of the benefits of the energy source. JP Casey speaks to Shaun Burnie, senior nuclear specialist at Greenpeace Germany, to learn about the organisation's long-standing opposition to nuclear power, and whether the power source could play a role in the world's future energy mix.
Farewell to Three Mile Island: a timeline of the plant's history
Now over 40 years old, Three Mile Island nuclear power plant in Harrisburg, Pennsylvania has been given an official closure date of 30 September 2019, bringing the troubled plant to an end. Jack Unwin takes a look at the key events in the plant's life.
Preview – Future Power
The UK Government has pledged to make the nation carbon free by 2050. We explore five key ways the energy industry needs to change to meet the ambitious target. We also find out about the work of the Energy Data Taskforce, and ask whether meeting carbon targets could be facilitated by making data open source, allowing everyone to benefit from lessons learned.
Also in the next issue, we speak to Moltex Energy about its stable salt reactor, which the company believes could provide a safer and cheaper alternative to traditional nuclear technologies. We also check out a new technology capable of creating hydrocarbons using just water and sunlight, created by a team of researchers at ETH Zurich, and catch up with the Advanced Clean Energy Storage project in the US, which has received a $1bn investment to build salt cavern to help store renewable energy.
Finally, we look at the areas of nuclear technology that need to be improved, catch up with the US Department of Energy's Coal FIRST initiative and ask, what is holding smart grids back?
Free Report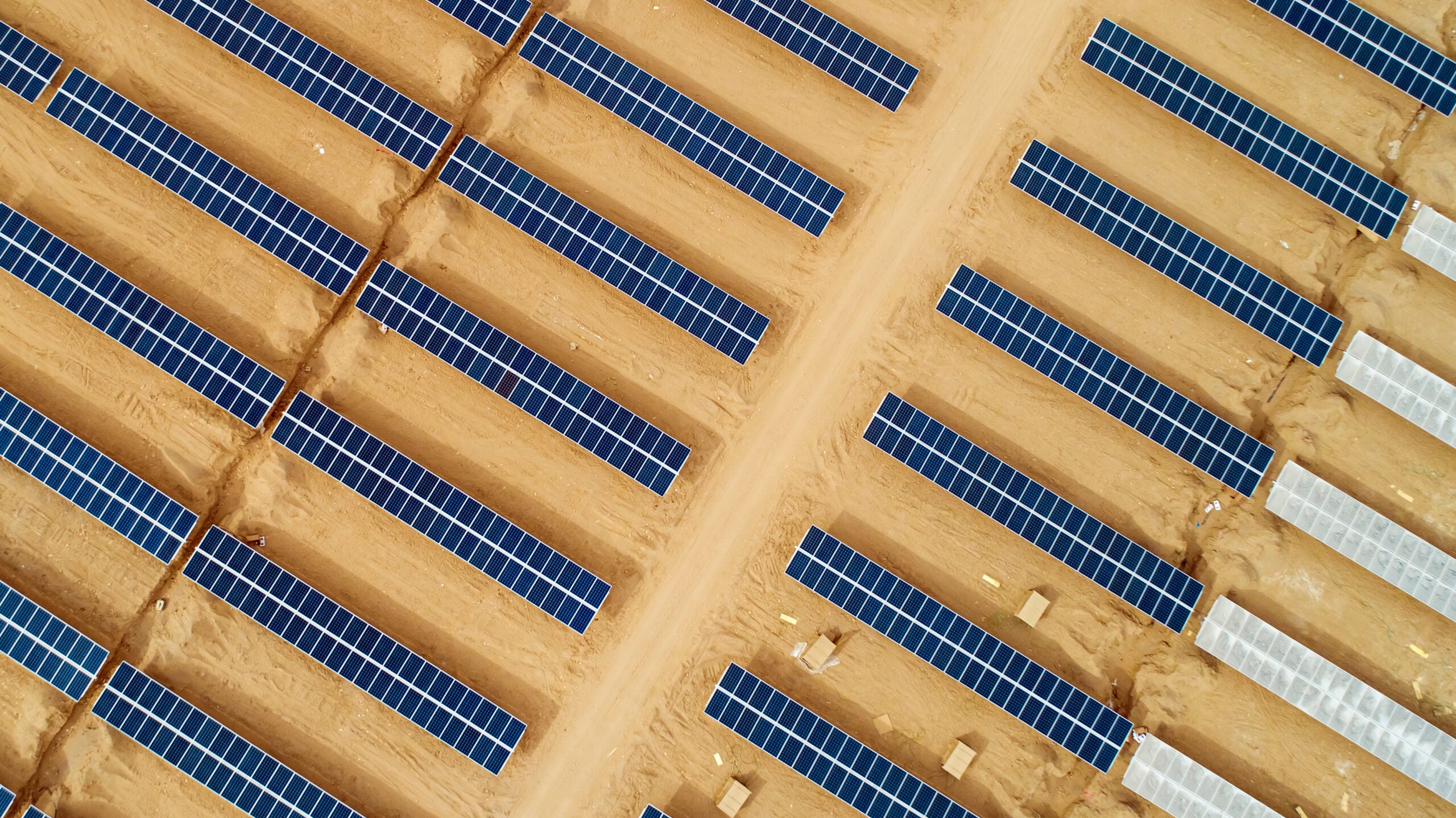 Delve into the renewable energy prospects for Morocco
In its new low greenhouse gas (GHG) emission strategy to 2050, submitted to the United Nations (UN), the Ministry of Energy Transition and Sustainable Development (MEM) of Morocco suggested to raise the share of renewable capacity in the country's total power installed capacity mix to 80%. 
Morocco currently aims to increase the share of renewables in total power capacity to 52% by 2030. The new strategy plans to increase the share of renewable capacity to 70% by 2040 and 80% by 2050.
GlobalData's expert analysis delves into the current state and potential growth of the renewable energy market in Morocco. We cover:
The 2020 target compared to what was achieved

 

The 2030 target and current progress

 

Energy strategy to 2050

 

Green hydrogen

 

Predictions for the way forward 

 
Download the full report to align your strategies for success and get ahead of the competition.  
by GlobalData