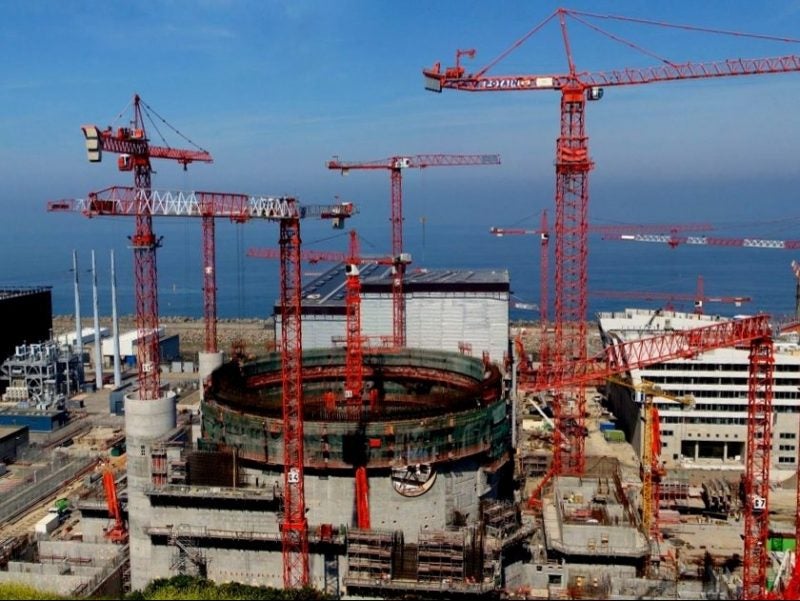 In September 2019, EDF Energy announced that Unit 2 of its third-generation European Pressurised Reactor (EPR) technology at the Taishan nuclear power plant in China was set to enter commercial operation – a year after the first reactor at the site was successfully installed.
For the technology and EDF, the announcement was a rare bit of good news. Three other projects deploying EPRs in Europe are now notoriously over budget and grossly delayed.
But while the completion of Taishan effectively proves the technology (the viability of which many were beginning to doubt), the ongoing problems with the European projects still raise concerns about its future, especially in a changing energy ecosystem.
Delays and overspend
Designed in the 1990s, the EPR was created to replace large one-gigawatt reactors in France and was supposed to represent a new, more modern generation of nuclear reactors.
Drawing on lessons learned from both the Three Mile Island and Chernobyl accidents, its creators claim that the technology offers improved safety and enhanced environmental and financial performance.
It should also be more efficient. It is said to be capable of achieving around 1,650 MW of power output (compared to 1,450 for the most modern reactors) with a higher yield than previous models and requiring 17% less fuel.
Crucially, for an industry that has a cost problem, as well as being safer, the reactors were touted as also being cheaper to build.
However, that hasn't turned out to be the case. Building of reactors at Flamanville, in the Manche region of France, commenced in May 2006 with an end date of 2012, but is yet to be completed. In June 2019, it was announced Flamanville would be delayed yet again. It will take up to three more years, after the French regulator said constructors needed to repair eight faulty weldings in the reactor's containment building. Costs for the project have risen from an estimated €3bn to €10.9bn.
Similarly, another EPR reactor being built in Finland at Olkiluoto power plant is now over 10 years late and costing three times the original estimated price.
Hinkley Point C, one of the newest EPR projects, which is being built in Britain, hasn't fared much better. In September 2019, EDF said the plant will cost up to £2.9bn more than thought and was 'at risk' of being delivered 15 months late.
Another reactor is planned to be built at Sizewell in the UK, but that is now in doubt. Even the Chinese projects recently delivered were around five years late.
The end of the EPR?
Professor Steve Thomas of Greenwich University says the EPR technology is, quite simply, a 'bastard to build'.
"The technology was designed to minimise space and complexity, but consequently became very complex to build," he says.
The problems with the welding at Flamanville demonstrate this. EDF wanted to send in robots instead of people which need to contort themselves to do the job, but the regulator wouldn't allow it.
Thomas highlighted the problems of the EPR in a paper entitled The EPR in Crisis nearly 10 years ago and says the situation has only got worse.
Chris Gadomski, lead analyst for nuclear at BloombergNEF, agrees. Asked why China were able to complete their projects while the ones in Europe continue to face delays, he says: "One could make the argument that Western Europe has forgotten how to build these large reactors. All the people who built them have reached retirement age and are no longer in the business, whereas in China, they've been cultivating their expertise over the last 20-30 years, so they have a much more robust labour pool."
However, Dr Jonathan Cobb, senior communication manager at the World Nuclear Association, says learning from the construction of the Finnish, French and Chinese plants should be a major benefit for completing Hinkley Point C, minimising future delays.
"The experience of building the first unit at Hinkley Point C is already bringing benefits to the construction of the second unit. What is important now is, having rebuilt the skills base in Europe, that we take advantage of that expertise and move ahead with new nuclear build projects, such as Sizewell C," he says.
Does the technology have a future?
Besides the technological challenges, ironically, nuclear power's unique capability among low-carbon generation to generate at full output is not necessarily an advantage in today's energy ecosystem. Despite improvements in flexible output of the EPR, Gadomski says the technology still doesn't complement the intermittency of renewables very well, which are increasing their share of the electricity market.
"The technology was created in an era where electricity needs were different. These large reactors are very cumbersome and it's very hard to push so much power onto the grid and take it off the grid in response to variations in wind and solar," he explains.
So, does the EPR technology have a future? Possibly. EDF has announced it is developing an evolution of the EPR design, called EPR 2, with the intention of it being available from 2030. The technology is said to be a simplification of the design that has caused problems at Olikiluoto-3 and Flamanville-3.
But Thomas says EDF is facing a diminished customer base.
"The proposed Sizewell project is reliant on financing and there is no sign of China considering buying any more," he says.
"The only other prospect for EDF is India but reactors were ordered about a decade ago and they are still doing no more than talking about it, so I think the odds are against that project proceeding," he says.
However, EDF could find custom closer to home. According to reports, leaked French government documents indicated France could develop new reactors in the 2020s if they proved cost-competitive. At the moment, that is a big 'if'.
The future of nuclear is with agile technology
According to Gadomski, the future of nuclear is not with the EPR but with newer, more agile technology – such as small modular reactors.
"These are a fraction of the cost, whereas the EPR projects underway are massive capital investments that really stress out the finances of the utility building them, it's very risky for them to do that," he says.
Furthermore, smaller reactors will typically be manufactured in factories and can be built more quickly and standardised.
"I guarantee you, the first small modular reactor will be operating in North America before the English project [Hinkley Point C] will be completed," says Gadomski.
An American company called NuScale has small reactor technology that is currently going through regulatory processing. The company hopes to start building in 2022 and it claims, according to Gadomski, it can build its technology in five years as opposed to ten for Hinkley Point C.
He sees a trend ending the building of large reactors in the US, South America, Europe and possibly the Middle East.
"The availability of both small modular reactors and large reactors will help broaden the range of applications to which nuclear energy can be applied, such as SMRs for smaller grid infrastructure and to provide process heat, desalination or clean hydrogen production."
Where the EPR will fit into this decarbonised future depends largely on the successful completion of the three ongoing projects, Hinkley Point C in particular.