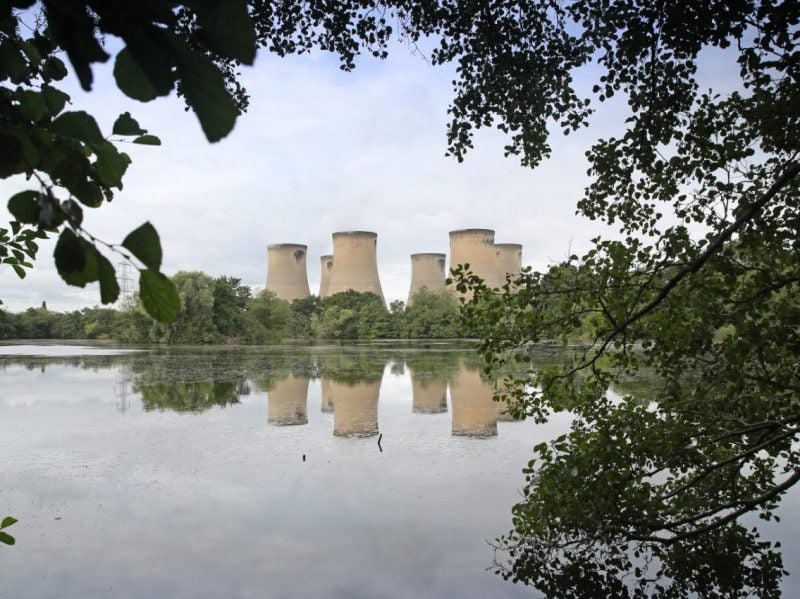 Almost 50 years of coal-fired energy generation at Drax Power Station is expected to come to an end in March 2021 – a landmark moment in the UK's efforts to reach net zero emissions by 2025, and part of Drax's own personal milestone in becoming carbon negative by 2030.
The news has also been followed by the announced closures of other coal-fired facilities in the UK – Fiddler's Ferry in Cheshire, and Aberthaw power station in Wales, marking the beginning of a significant turn away from this carbon-intensive source.
A new leaf for Drax
Will Gardiner, Drax Group CEO, says that the company began planning to move away from coal more than ten years ago.
"Drax recognised over a decade ago that the writing was on the wall for coal," he says.
"That was when work began to transform the power station using sustainable biomass."
Over that proceeding decade, four of the power station's six generating units have been converted to use biomass, delivering carbon savings of more than 80% compared to when coal was used. The site is also working on plans to develop bioenergy with carbon capture and storage (BECCS), as part of its overall efforts to achieve a carbon negative status by 2030.
The road to a greener future was not, however, without obstacles, and Gardiner says it required not only technological changes to the site's operations, but also the creation of a new global supply chain to deliver it. The push to achieve its renewable ambitions also saw Drax investing more than £700m into the site's conversion – the majority of which went towards fuel handling and delivery systems.
Yet the investment has seemingly paid off – and Drax has been transformed into the UK's largest renewable power generator and the biggest decarbonisation project in Europe, with the capacity to generate electricity for six million households. In addition, the site's provision of 5,700 jobs throughout its supply chain is no mean feat considering the climate of closures currently happening across coal-fired power stations. Indeed, Drax may be seen as something of an example for others in the industry seeking to pursue low-carbon alternatives.
A green pioneer?
Perhaps most exciting in Drax's evolution is its development of BECCS, which has been highlighted by both the Intergovernmental Panel on Climate Change and the UK Committee on Climate Change as instrumental in achieving net zero emissions. In the UK Committee on Climate Change's 'Net Zero' report, BECCS was estimated to be able to generate up to 173TWh of electricity by 2050, and capture up to 51 million tonnes of CO2 .
"The highly skilled, innovative engineers who were integral in transforming the power station from coal to biomass have now turned their attention to pioneering the negative emissions technology BECCS," says Gardiner. "This is the only negative emissions technology which enables the permanent removal of CO2 from the atmosphere whilst renewable electricity is generated."
The BECCS pilot plant at the station was in fact a global first – successfully capturing carbon from a 100% biomass feedstock.
"With an effective negative emissions policy and investment framework," Gardiner adds, "BECCS could be deployed on the first biomass generating unit at Drax as soon as 2027."
The site's proposed use of BECCS has led some to predict it could become the 'anchor' for the Zero Carbon Humber initiative – a scheme intended to establish the UK's Humber region as the first net zero industrial economy in the world.
"Deploying BECCS at scale here could enable other industries to decarbonise across the Humber – the region of the UK where more carbon is emitted than anywhere else due to the high concentration of industry," says Gardiner. "The power station could become the anchor for the UK's first zero carbon industrial cluster, whereby the infrastructure needed to transport the CO2 from Drax to be stored in aquifers under the North Sea, could also be used by other industrial emitters in the North."
This, Gardiner says, would help industries in the region to decarbonise operations, and safeguard 55,000 jobs in the process.
While the example of Drax may ramp up efforts by other UK operations to kickstart their own transition to renewable sources, the site is not alone in its early response to the UK's 2025 target.
Coal's loosening hold
The closure of other UK coal-fired facilities – including Fiddler's Ferry in Cheshire, and Aberthaw power station in Wales – are tangible indicators of the country's dwindling interest in coal-fired power, and when you look at the figures, previously-sourced data also validates this change.
Statistics released by the UK government at the end of March showed that coal-powered electricity dropped by nearly 60% in 2019 as compared to the previous year, with plant closures and coal's dwindling popularity cited as primary reasons for this. In addition,  the International Energy Agency said last December that cheap natural gas had "shattered coal's competitiveness in the European Union in 2019."
On a global scale, there is also a marked shift away from this carbon intensive power source. In January, Germany's federal government announced its decision to phase out coal-fired power stations, and both Austria and Sweden have this year unplugged their remaining coal-fired power stations from the grid – Vartaverket in Stockholm and Mellach near the Austrian city of Graz.
Other European countries are also expected to follow suit by 2025 or earlier, including France, Slovakia Portugal, Ireland, and Italy – all of which have zero-carbon targets between 2022 and 2025. Such moves are necessary to adhere to the Paris Agreement – which targets 2030 to end coal generation in Europe.