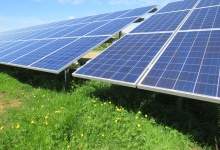 Founded in 2013, cleantech startup Open Utility announced this March that it intends to run a pilot of its first-ever service offering.
The service, known as Piclo, will be an online interface for commercial buyers and sellers of renewable energy that will lay bare the supply chain, allowing consumers and generators to interact directly. Piclo, which is currently funded by government grants, will feature a "trading engine enabling peer to peer trading of energy", says James Johnston, CEO at Open Utility.
The pilot of the new service will be run in partnership with renewable energy supplier Good Energy, which is acting as the licensed supplier for the project. The companies are currently working together to build the portal and to get mid-size renewable energy suppliers and commercial energy consumers onboard so they can launch the pilot in August.
Heidi Vella-Starr: How will Piclo work?
James Johnston: At the moment the industry standard is a 100% green tariff. We're taking that to the next step and saying 'you can now choose to buy from a certain technology in a certain location, from a particular site or a particular type of energy'. We want to give that extra control to commercial energy users.
Will Vooght, research and product innovation manager at Good Energy: Our approach is that buying from Good Energy is like buying from a farmers' market rather than a supermarket – you have direct, tangible attachment to where your energy is coming from. Piclo turns it up a level. Rather than buying from a farmers' market, you are buying direct from the source. The online platform is about increasing that level of tangibility around where your energy is purchased and giving the tools to users to make a more informed choice around exactly where their money is going, from who they are buying their energy from or selling their energy to.
HVS: So, how is the trial going?
JJ: Right now we are in the building phase of the project. We have been working with Good Energy's various software and training and building teams to integrate our layer of transparency and peer-to-peer trading ability into their systems. It's not a small amount of work!
---
---
Trials at the Smarter Network Storage facility, the largest electricity storage facility of its type in Europe, began last year.
---
WV: We are also in a phase of capturing expressions of interest. We have been putting out news about Piclo and what the project is doing and trying to capture anyone who might be willing to participate. We are getting a decent volume of people sending their details across – both generators and consumers of power. To date, the information we have been putting out has been quite high level, but we are going to be providing additional details quite soon about what the expectation will be of the people who are going to participate and how it is going to work. We're leading towards getting detailed conversations set up with people and eventually getting people to sign a contract to participate.
HVS: Why did Good Energy want to get involved with Piclo?
WV: We have always tried to set up our business as transparent and clear but one of the themes we are picking up on, and receiving a lot of customer demand for, is an increased level of transparency about where their power is coming from.
We have a lot of generators who are active around their local communities and the Piclo proposition will provide a really tangible way for them to get local businesses involved; for them to share some of the benefits of having a generator close to them.
At quite a different end of the scale, there is a much, much greater level of scrutiny around corporate social responsibility policy and sustainability; again Piclo ticks a lot of boxes in regards to this. We also have a number of customers on our books that may have a portfolio of generators and portfolios of usage sites, but they may be in different geographic locations. The Piclo model is a really nice way for them to close the loop between their generation and their supply.
HVS: You mention transparency, why does the renewable energy market need more transparency?
WV: There is quite a significant amount of distrust in the energy market around suppliers. A lot of that is seeded from some of the practises of some of the big energy players. Also around renewables there is a bumpy history of misinformation which certainly tarnishes growing companies like Good Energy.
Regulators have done quite a bit to make the domestic energy market more transparent but the business market is much more opaque and it is often a lot less clear to know what you are purchasing. Even though these people might have a £100,000 or £1m bill they still might be misinformed when making their purchasing decisions. Good Energy tries to dispel a lot of those practises and hold up what we do as really clear, really open and really honest.
"There is quite a significant amount of distrust in the energy market around suppliers."
HVS: What challenges have you guys faced developing the service?
JJ: The challenge for us [Open Utility] right at the beginning was finding the right partner. We made a decision very early on in the company's history that we weren't going to get a supply license ourselves and we would take the route of partnering with licence suppliers and keeping our core skill in software development and websites as the thing that we do.
I guess the second constraint is around regulation. Initially we were playing around with the idea of launching the service with residential customers but we were pretty much stopped in our tracks for a number of reasons, and regulation played a big part in that.
WV: The main challenge from a Good Energy perspective is doing a lot of the operational bits and pieces and making sure people are billed effectively; that there is someone on the end of the phone if they have a query. There are going to be lots of cogs turning, lots of processes running, computation happening in the background, but from the customer's perspective it has got to be slick and it has got to be easy. Open Utility is so great at building those interfaces because the customer is in mind all the way through.
HVS: How will pricing work and how will Piclo make revenue?
WV: The price [of energy] is backed up by Good Energy's normal kind of pricing. We aim to be as transparent and ethical as possible so that does come with a slight premium. It's not going to be the cheapest stuff out there but it is definitely not the most expensive.
JJ: Part of the requirements of the company's government grant is that it doesn't earn any revenue from the pilot. But [revenue] is an ongoing conversation we are having with Good Energy. I wouldn't say we have got that completely nailed down yet, but it is likely to be some form of transaction charge or subscription service.
Our intention is to prove Piclo is a useful service and then we can move into commerciality, hopefully, with Good Energy in 2016.
---
---
Is London on the cusp of an electric vehicle revolution?
---
HVS: How big is the market for this kind of service?
WV: At the moment there is a great market for this kind of proposition. I am not going to tell you now that Piclo is going to work for everyone; we know that it won't, but for the right kind of consumer it is going to tick every box imaginable.
Definitely this is a growth sector of the market. If we roll back in time, six to eight years ago energy was really mono-directional, transactional – you sign up with someone, they send you a bill and that was the level of engagement you could expect. We are seeing much more disaggregation and disruption in the market and greater scrutiny on things like supply chains. You can see similar trends in manufacturing and clothing and food production. There is much more scrutiny around not just who I am buying it from but where they have got it from – the whole supply chain.
HVS: What are your plans going forward?
JJ: At Open Utility we are in the process of raising some seed investment which we may announce next month. It's a longer-term ambition to see if Piclo can work in other regions around the world. I guess one of the things we bear in mind when designing our service is not making things too specific for the UK market, to get that balance right – this is not going to be this year or next year but it's at the back of our minds.