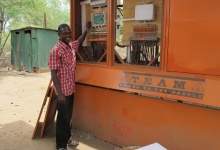 "You cannot solve climate change without an energy revolution," Kandeh Yumkella, former United Nations Under-Secretary-General, told a packed audience at the Ashden International Conference on 9 June, two days before the annual Ashden Awards.
The awards, which Sarah Butler-Sloss first started in 2001 as a spin-off from The Ashden Trust founded in the 1990s, are an increasingly important and unique event on the sustainable energy industry's calendar, where small, innovative and, most importantly, impactful projects, that provide clean energy to those often most overlooked, are celebrated and supported.
The aim of the annual event is to promote organisations working at the grassroots and local level in different countries and the UK so that other people can replicate what they do.
"As such, we are hoping to tackle the sustainable energy crisis and international development faster and quicker," says Chhavi Sharma, international programme manager at Ashden, the charity the awards support.
Providing clean energy where others won't
"We see energy as a means to an end. It's not necessarily the end in itself," explains Sharma.
To illustrate her point, she discusses the Sarhad Rural Support Programme (SRSP), winner of one of the international awards, the Ashden Award for Increasing Energy Access. SRSP, a non-profit ogranisation, operate in mountainous regions in Pakistan on the border of Afghanistan, where the Taliban was once active.
---
---
Cleantech startup Open Utility and renewable supplier Good Energy are hoping to give customers 'more democratic access to renewable energy'.
---
"No government is trying to extend the grid to that area," says Sharma, "Businesses will never want to go there because it is a really tricky place to be, so what choice do they have?
"They have to let the organisations working in those communities find a solution for them and therefore SRSP has come up with a micro-hydro programme.
"The moment you start putting in a microgrid project to provide electricity, you immediately realise there is all this untapped economic potential which you can then tap into and local businesses can thrive and emerge because they have electricity.
"The large infrastructure projects are never going to trickle down to this level, where it is needed."
Since 2004 SRSP has built 189 micro-hydro schemes, bringing electricity to around 365,000 people and transforming communities in the process.
Masood Ul Mulk, CEO of SRSP, said at the conference that the project works because sustainability was built in very early and SRSP has an "organisational relationship" with the community whereby income from electricity goes into sustaining the hydro systems, as well as schools, and the community is charged with maintaining the systems.
Another example of the transformative effect simple clean technologies can have on small off-grid communities is BURN manufacturing, winner of the Ashden Award for Clean Energy for Women and Girls.
"The moment you start putting in a microgrid project to provide electricity, you immediately realise there is all this untapped economic potential which you can then tap into and local businesses can thrive."
BURN is helping to improve the lives of women and girls in East Africa with its efficient charcoal-burning stove jikokoa. Yumkella noted in his speech that more people in the world die due to cook stove pollution than malaria, aids and tuberculosis combined, and 80% of these are women and children. BURN is also providing employment opportunities by moving manufacturing of the cook stoves from China to Kenya and hiring a 50/50 female/male workforce.
At the conference, Hilda, sales manager at BURN, who first started working in the company's factory, spoke of how employment had enabled her to go from living in a slum in Kenya to owning her own home, driving a car and supporting her family while her husband was temporarily laid off work.
Other inspiring winners at this year's awards – a total of five are awarded £20,000 each, and the Gold Star winner gets an extra £20,000 – include Enervita, winner of the Ashden Award for Energy and Agriculture. The grassroots company helps Costa Rican dairy farmers enjoy higher incomes, thanks to new specially designed solar water heaters. According to the company, they have helped 340 dairies to save 700 tons of CO2 per year.
SteamCo won the International Gold Award and Ashden Award for Business Innovation for providing hardware, monitors and control systems to renewable energy microgrid owners in Kenya, helping them better manage payments and data from their systems. And EcoCasa, which unlocks financing to build low-carbon social housing with the aim to transform Mexico's social housing market, won the Ashden Award for Sustainable Buildings.
UK companies and those operating in the travel industry are also honoured in a separate awards categories.
Addressing challenges
As well as recognising talent, the events around the awards attempt to deal with the many challenges faced by small start-ups and non-profit organisations working in remote locations with poor communities. As was heard at the conference, these include logistical challenges, changing of mindsets within communities, and finding and managing appropriate payment schemes for communities that find it difficult to purchase a $20 item.
---
---
Researchers in Spain have developed an 'autonomous' street lamp with integrated solar and wind turbine technology.
---
Some of the discussions at this year's events included the need for more collaboration between NGOs and socially driven enterprises, as highlighted by Dominic Brain from Christian Aid; the need for small companies to make themselves attractive to investors and to prioritise gender targeted marketing when working in communities where gender equality may not be well established, as highlighted by Niki Armacost, managing director for Arc Finance. There is also a need for social donors to move their money into lobbying for better energy policy to bolster the abilities of grassroots companies, as suggested by Sam Duby of SteamaCo.
Duby believes commercial investment in microgrid businesses is "slow but this is changing", therefore donor money could be better spent lobbying governments.
Ul Mulk also highlighted at the conference that, when companies or non-profit organisations go into a community, it is important to remember that they are "not just dealing with geography, but mindsets".
These points just scratch the surface of what was discussed at the Ashden events, proving that the week-long event is a valuable forum for exchanging ideas and influencing policymakers and practitioners alike.
Continuing the good work
While the 2015 awards may be over, the work of Ashden's winners will go on. At the time of Ashden's impact report for 2013/2014, the charity had awarded 170 sustainable energy pioneers, who together are saving eight million tonnes of CO2 per year and benefitting 45 million people.
And while this is not quite a revolution, the figures are certainly impressive, and prove that smaller projects need to be recognised just as much as larger ones – it should never just be one or the other.
"The top down and bottom up need to work together," says Sharma. "It needs to be a collaborative process if we are going to tackle all the energy issues."