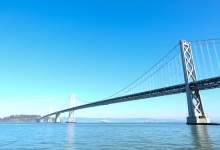 On 17 January, 16 hand-picked UK-based cleantech start-ups hit San Francisco – home to the densest concentration of cleantech investors in the world – on an entrepreneurial mission to drum up American interest in their inventions ranging from solar panels to energy storage.
For many of the chosen companies the mission was an opportunity to make contact with potential suppliers, partners and venture capitalists (VCs), as well as refine their pitching skills, before heading back to Cleantech Forum San Francisco in March.
The long-term aim of the mission attendees is, of course, to secure foreign investment – doing so can be the difference between slow or fast growth or even keeping a business afloat for another six months.
In the previous four missions, in locations such as Colorado and Brazil, post-mission companies collectively secured investment of over £500m, according to Mike Pitts, lead specialist for sustainability at Innovate UK, the mission's primary sponsor.
But the missions are about more than just securing early investment; for some companies they provide a steep learning curve on how to do business in a particular overseas market.
Pitch perfect
Before heading off on the mission, which was organised by The Long Run Venture, companies were given feedback and advice from investors on how to improve their sales techniques, from the copy in their brochures to the pitches they had prepared for VCs. The mission organisers even helped companies create multimedia content to better engage their audience.
Pitts offers some advice from his experience going on various missions: "Investors want to feel the person leading the business is committed to that business, so if you have a bit of a story about why you are doing what you are doing, communicate it. It helps investors believe you are going to see the business through the tough times because it is almost like a personal crusade. If you don't communicate that, your pitch isn't as strong."
---
---
Researcher Alexa Spence has spent years looking at the psychological issues around recent advances in energy technology.
---
"A lot of investors have said they are looking for someone who really believes in what they are doing, are full-time and totally committed to the business and making it happen," he adds.
When pitching to investors it is also very important for companies to sell the problem they are solving to create the appetite for the solution, says Pitts.
"A bit like the classic movie story, you have to set the villain up as a real credible challenge first before you sell them a solution."
John Hingley, managing director of Renovagen, a two-year old company that has developed a large-scale flexible and rollable PV array material for use in remote locations, says one of his takeaways from pitching to 30-odd VCs on the mission was to have his total addressable market figures carefully nailed down and backed up with data for future pitches.
"I got challenged on the figures on how big I said the market was. It is a very difficult thing to get the analysis right so it is credible but also displays a figure that is big enough to trigger the appetite of some of these guys."
Hingley learned the importance of ambition in any business plan. "My business plan is a very British way to go about doing things, which is how can we organically grow a business," he says. "I think American VCs particularly don't want to see an organic growth business plan, they want to see a business plan which dumps a huge amount of money going out and aggressively attacks the market."
Renovagen didn't gain any investment leads during the mission but Hingley says he met potential businesses partners and suppliers which could prove useful if the company moves to the US. Like many of the companies on the mission, Renovagen has so far relied on grants from Innovate UK, angel investors and crowdfunding.
Think big
Feedback from the missions suggests investors in the Valley are open to investing in businesses outside of California and are looking to diversify their portfolios.
"A bit like the classic movie story, you have to set the villain up as a real credible challenge first before you sell them a solution."
But investors aren't interested in what they consider meagre investments – so think big.
Daniel Becerra managing director of Buffalo Grid, which has developed a portable device to bring internet and phone charging to off-grid communities, says his company was asking for $1m, nowhere near enough for American VCs to consider.
"They said go back to England, reschedule and get a long-term plan and come back and see us," he says. "They wouldn't invest anything less than $10m."
Buffalo Grid never secured investment at the January mission but Becerra says he'll be going back in March to follow up with a potential investor who says he has a big plan for the company.
Hingley had the same problem. "There is very much an attitude of 'go big or go home' – they don't want to see any conservatism in the numbers, they are looking for multibillion dollar markets and multibillion dollar business plans."
Pitts says many Silicon Valley investors are looking for short-term investments and gains not suited to cleantech companies.
"Cleantech is very different from software-based businesses," says Hingley.
"You can put a lot of money in [software] businesses and get a return very quickly. With cleantech start-ups you are creating real hardware that takes a long time to develop and a long time to get into the market."
---
---
Apple's personal assistant app Siri is set be powered by Irish and Danish wind.
---
This, in particular, is why the mission is described as entrepreneurial rather than trade-based, because it gives companies a taste of what they need to do when they reach the right size for US VC investment – something Hingley says his company is not quite ready for yet.
Nick Kitchin, managing director of Cumulus Energy Storage, says his company has not received any investment directly from the mission but it's his expectation that the company will be able to get something like £4-5m from it in the future. He believes the previous Colorado mission enabled the company to net £1.05m in investment.
At the Cleantech Forum in March, Kitchin wants to talk to VCs and angel investors to secure $1.5m in first round investment. Then in September he hopes to secure $6m in a second round of investment and to have his company's tech commercial and on the grid by 2017.
Although none of the companies secured funding during the mission, the trip enabled them all to make valuable connections.
"I wanted to meet the likes of Google or Facebook and try to grab their interest," says Becerra. "With these events I met three or four people who can make introductions to talk to the right people at Google and Facebook…It is just a matter of networking your way to the people who can hear and make a difference to your work and that is why we are going back," says Becerra.
Culture clash
Not only do American VCs think bigger in terms of numbers, but there are minor cultural differences it's useful to be aware of as well.
For example, Pitts says Brits tend to underplay their strengths or explain their technology in a very honest way rather than talk it up, which is what Americans tend to do.
"They're almost being modest, it is just being that bit more ambitious," he says.
"Once you start to get an idea with some traction [in the US] the chances of it getting around to the person who might want to hear about it are pretty good."
It is also better to dress more informally. "The suit and tie thing certainly doesn't work in the Valley, unless you really want to overplay the posh Brit thing," Pitts says.
"One of the things we were really surprised about," he adds, "is just how much the investment community there talked to each other."
."Once you start to get an idea with some traction [in the US] the chances of it getting around to the person who might want to hear about it are pretty good," he adds.
This is a feeling echoed by Hingley who says, generally, everyone is "really supportive of entrepreneurial activity and the people putting themselves out there to risk everything to try and make a business".
Kitchin agrees: "The culture is one that promotes clean living, the whole cleantech mentality."
Future missions
The UK is a tough market for cleantech start-ups with very few cleantech-focused investors, so branching out abroad can be a lifeline. The Clean and Cool Mission, which costs only around £3,000 for companies, is an excellent starting point.
There is no date or location set for the next mission but Pitts suggests that it might, like the mission prior to San Francisco, be held in Brazil, as there are a lot of agricultural and clean energy opportunities.
Pitts has some advice to give companies applying for future missions. "Be very clear about why you want to go to the market we are going to," he says. "We want to see why this is the right time for you, the right location for you. We want to see scalable solutions to global challenges."
And for entrepreneurs in two minds about whether the mission is a good fit, Kitchin says simply: "Try it out. It's competitive but if you're good, do it, apply!"