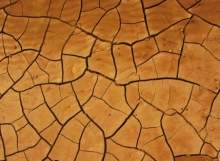 Pic: courtesy Lisa Redfern
Advancements in hydraulic fracturing and horizontal drilling techniques are quickly driving the development of the world's shale resources, which are located in vast quantities everywhere from China to Mexico, and could increase the planet's supply of clean-burning natural gas by an incredible 47% if they were all developed.
But there's one big problem facing the energy prospectors looking to develop these technically recoverable untapped resources: water. While shale gas development in theory could be a boon for many countries, strengthening their energy security at the same time as cutting emissions, the process for extracting the resource, hydraulic fracturing or 'fracking', requires colossal amounts of water, something that simply isn't available in the quantities required (as much as 25 million litres for each well) in many of the planet's most promising regions for shale gas development.
Indeed, a recent report by the World Resources Institute (WRI), 'Global Shale Gas: Water Availability and Business Risks', has revealed, really for the first time, the scope of the challenges that could be faced across the globe if shale gas development does not progress hand in hand with responsible water management.
Not only did the analysis find that 38% of the world's shale resources face high to extremely high water stress or arid conditions, it also reported that 386 million people live on the land above shale plays, meaning that diverting significant amounts of water in those regions for shale gas development could severely affect local economies and the environment.
"In areas that the report identifies as very arid or in areas with very high levels of competition for water before any development activity has even taken place, there could potentially be challenges in the future, should demand for water increase," says Paul Reig, an associate at WRI and lead author of the recent report.
China, which boasts the world's largest estimated deposits of shale gas (1,115 trillion cubic feet according to the US Energy Information Administration), is likely to face the biggest problems, as, although it is home to vast shale gas assets, 61% of these reserves are located in areas suffering from high to extremely high water stress or arid conditions.
---
---
Plans for underground coal gasification (UCG) in the Thar Desert of Pakistan – a region prone to drought and famine – have drawn fierce criticism.
---
"High levels of competition among agricultural, domestic, and industrial water users could represent higher costs, reputational risks, and increased regulatory uncertainty for operators trying to access water for hydraulic fracturing and drilling operations," the WRI said in its report, as a warning to businesses seeking to operate in China.
Recommendations for companies
But that doesn't mean that the development of the planet's vast shale gas resource is an impossible task; indeed, far from solely pointing out the challenges the industry could face, WRI's report also offers several recommendations for how both oil and gas companies and governments can sustainably manage freshwater availability if shale resources are developed. These include: conducting water risk assessments; increasing transparency and engaging with local regulators, communities, and industry; ensuring adequate regulatory oversight; and minimising fresh water use through techniques such as recycling.
"One of the first things oil and gas companies need to do is to have a good understanding of what the [water sourcing] risks are first at the portfolio level across all their assets and secondly at a local level," Reig remarks. "They need to really understand the local context, taking into consideration not only their demands but the demands of users in the area and the natural environment."It's then absolutely crucial, Reig emphasises, for operators to be totally transparent about their water management plans with investors, thereby reducing reputational risk, as well as engaging with local regulators and communities.
Monika Freyman, senior manager at the water program at US-based non-profit sustainability organisation Ceres, agrees. "We want companies to proactively engage with communities before they really take off in the region," she says. "If you really engage with communities before you come in, communities will feel much more empowered to help companies make better decisions. Local regulators can be such key partners, so it's essential to really engage with them in advance, too."
Investing in technology to recycle or reuse water, use brackish water, or otherwise reduce freshwater withdrawals, is the third action step both Freyman and Reig recommend for oil and gas operators. "Companies need to invest in water efficiency and also in water networks," Freyman advises. "We'd like to see more oil and gas companies working together because in a lot of cases it doesn't make sense economically to set up a whole recycling centre, for example, on your own. If you set it up collaboratively, however, it does make sense."
"One of the first things oil and gas companies need to do is to have a good understanding of what the water sourcing risks."
Yet, she's also keen to emphasise that recycling is by no means a silver bullet. "It can be a real advantage, allowing companies to thrive in an area where others cannot anymore because they don't have the water. But even if you do commit to 100% recycling, this may only drive down your water requirements by 20% or 30%, so you still need to think about where the rest of the water will come from."
Reig, therefore, recommends companies adopt a holistic water stewardship approach, encompassing improvements in water use across their entire operations and the rest of the value chain. "They need to think about water not just as it relates to their demand, but more systematically and collectively. Water is a shared resource so it's not only important to know how you use it, it's important to understand how others use it too and ensure there's enough to go round for everyone, as well as the environment," he believes.
More regulatory pressure needed
Governments, too, have a key role to play in making the future of shale gas development sustainable. "They really need to increase their investments in collecting and monitoring water supply and demand information; it's very important to have robust and transparent baseline information on how much water is available and how much is needed," Reig notes. "Building that strong shared knowledge can inform policy development, goal setting and adequate enforcement of regulations, but without that really robust baseline, it's hard to do.
Freyman agrees that more focus on the regulation of water management is absolutely crucial. "Currently there are very little requirements for companies to report how much water they're using and where they're getting their water; there isn't regulatory pressure yet," she notes. "But this should be the first step; we really have to start with better transparency and reporting in from industry, not only on what they're doing now but what their needs will be in the future."
Clearly, there is no golden solution; neither increased regulation nor more widespread water recycling, for instance, will solve the water sourcing problems faced in many regions of the globe alone. Rather, energy explorers, local communities and regional and national legislators must work together to not only increase the use of technologies to recycle or reuse water, but also encourage better monitoring and reporting, increased transparency and, ultimately, comprehensive water management programmes industry wide.