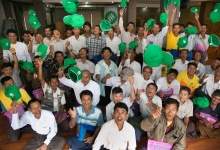 Innovative clean energy projects from India, Tanzania and Myanmar have been announced as part of the 10 finalists for the 2014 International Ashden Awards.
The competition, which was originally set-up in 2001, aims to shine a spotlight on trailblazing sustainable energy projects from around the world.
Five winners from the 10 projects will be announced on 22 May at an awards ceremony at the Royal Geographical Society in London. The winners will be awarded £5,000 to £40,000 in prize money as well as business support, access to investors and a global platform to build their profile.
The finalists range from a clean cookstoves business to a biogas plant business that helps people manage manure and produce clean gas for cooking to a project that provides electricity to some of the poorest communities in India via micro-grids.
Ashden founder-director Sarah Butler-Sloss said of the finalists: "Our role at Ashden is to shine a light on those organisations around the world that are helping reduce carbon emissions and finding ways of adapting to the effects of climate change."
There are also ten UK finalists for the 2014 UK Ashden Awards, of which five winners will also be announced in May.
Looking ahead to the awards ceremony in May, Power Technology profiles one finalist from each sub-category for the international awards.
Clean Energy for Women and Girls Award – SURE
Sakhi Unique Rural Enterprise (SURE) is a not-for-profit social enterprise in central Maharashtra, India that has trained and supported more than 600 women entrepreneurs to sell clean energy products like solar lanterns and cleaner cookstoves to other women.
It was established in 2005 in a bid to alleviate the physical drudgery and health hazards associated with rural women's fuel collection and cooking. SURE, which has also partnered with petroleum company BP to develop a commercial biogas stove, enables women to become clean energy entrepreneurs, boosting their income as well as earning prestige within their village.
Citi Ashden Award for Financial Innovation – Mera Gao Power
Mera Gao Power builds, owns and operates micro-grids in Uttar Pradesh, India, serving off-grid villages with high quality, dependable lighting and mobile phone charging services at cheap rates. So far it has connected more than 20,000 families to clean, affordable power.
One system, which can provide 32 houses with light and mobile phone charging, costs $900, which works out around 25 British pence a week for a year, per household. This is cheaper than traditional kerosene fuel. The micro-grid helps transform the lives of local people because it provides better indoor air quality, allows children to study at night and reduces the risk of children accidentally drinking kerosene, which is a known risk.
USAID Ashden Energy for Agriculture Award – Proximity Designs
Proximity Designs creates simple solutions to age-old problems experienced by farmers in Myanmar. From 'user-based research', Proximity, which has grown from 13 staff in 2004 to 350 today, has brought much-needed agricultural technologies that use sustainable energy sources, including treadle pumps and solar irrigation, so farmers no longer have to break their backs lifting water from wells and carrying it across fields.
Combined with water-saving drip irrigation, these simple technologies can dramatically increase yields and incomes for rural people. 137,000 households have benefited so far and 34,000 families have received an income from one of Proximity's infrastructure projects.
Waterloo Foundation Ashden Award for Avoided Deforestation – SimGas
Tanzania-based SimGas, which was founded by brothers Sanne and Mirik Castro, sells affordable biogas plants to people living in subtropical regions. The biogas plants help people manage manure and produce clean gas for cooking instead of charcoal and wood, helping reduce deforestation in the process.
According to SimGas, a family that operates a six cubic metre biogas system can meet its daily cooking needs, burn a gas-lamp at night, and save money or time (at least three hours a day) otherwise spent on purchasing or collecting wood for fuel. They will also increase agricultural productivity, and improve household sanitation conditions.
The biogas systems are made of plastic and are created in a factory so are quick to install. SimGas has just installed the largest plastic injection-moulding machine in East Africa, creating the potential to roll out biogas across the region.
Ashden Award for Sustainable Buildings – Infosys
India-based IT giant Infosys has reduced electricity consumption per staff member by 44% saving more than $80 million from its energy bills since 2008.
To do this, the company has rigorously seized every opportunity to reduce energy consumption at its existing buildings by, for example, reducing the size of chiller plants for air conditioning, as well as simple solutions such as painting roofs white so they reflect the sun and heat. Employing cutting-edge design for new buildings has also helped to keep offices naturally cool and bright.