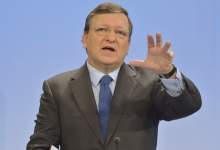 As European Commission President Manuel Barroso addressed the assorted luminaries of the environmental and political world to announce 2030 climate change targets, there were no fireworks. The agreement, reached over tense negotiations dogged by polarised views, was one that was never going to completely satisfy any one passionate stance. It was, as Barroso put it, a framework designed to be both "ambitious" and "cost-effective". A plan with one eye on the horizon and the other on the purse strings of the members of this once bullish union.
Under the proposals, which will come into effect in 2020, members will have a decade to reduce their carbon emissions to 40% lower than those emitted in 1990. Far below the 55% that more strident organisations like Greenpeace see as a minimum to avert climate change catastrophe, but probably significantly higher than Poland, with its heavily-polluting coal industry, would have opted for given free rein.
"A good start"
""It was, as Barroso put it, a framework designed to be both "ambitious" and "cost-effective""
Ed Davey, Liberal Democrat Secretary of State for Energy, was both praising and critical in his appraisal.For him, the target is "a good start that the UK worked hard for" but should not be immune from being moved upwards, should the rest of the world's powers opt for a 50% target when they meet in Paris next year.
Having set out the goalposts, the Commission then altered the rules of play. Under the current framework, established in 2009 and seemingly set to be achieved with ease by the 2020 deadline, members were not only set a target but also instructed, to a degree, on how to reach it.
More precisely, each member state must increase the contribution from renewable energy sources such as solar and offshore wind to its energy mix up to 20%. Under the next framework, the legally binding state-level requirement has been diluted to an EU-wide aspiration of 27%. The main consequence of this shift will be to give countries leeway when deciding how to calibrate their required emission levels.
Shale gas gets a boost
---
---
The coal industry was recently criticised for running a coal and climate event alongside UN emissions negotiations in Poland.
---
Renewable technology will of course still play a prominent part, but it will now be joined by energy sources currently left out in the cold courtesy of the fact that while they offer lower levels of carbon emissions than the dirtiest-burning fossil fuels, they do not count as renewables. This camp of inbetweeners includes the old standby nuclear and the young pretender that is shale gas, with carbon capture and storage also bringing the prospect of rejuvenation for the coal industry, though the jury is still very much out on the feasibility of that technology.
Unsurprisingly, this move was also received with equal parts applause and derision. Those keen to get European fracking established, led by David "we're going all out for shale" Cameron, will take it as a tacit endorsement for delving deep into the cavernous depths of their countries, with shale's commercial entities such as IGas and Cuadrilla no doubt joining in the celebrations. Their spirits will have been buoyed further by the fact that the Commission stopped short of issuing binding regulations for exploration and opted instead for recommendations.
""Under the next framework, the legally binding state-level requirement has been diluted to an EU-wide aspiration of 27%.""
Investor confidence dashed
Of those soured by the EU's soft touch on fracking, Germany, with its sizeable share of the renewable technology industry, will take it as an affront. The previous regime offered the investment community, who hold the real power, a cast-iron guarantee that there would be a growing market for renewables up to 2020. Under the next regime, that confidence will be significantly diminished.
The blithely optimistic might have hoped that the negotiations would have led to a build up ahead of the UN meeting in Paris next year. But after months and years of negotiation, debate and nit-picking over numbers, that didn't happen. There were no big steps forward, no surprise measures and no ambitions cooked up outside of the confines of ongoing economic fragility.