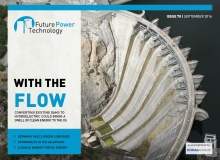 Hydropower delivers more clean energy to the US than wind and solar combined but could more be done to tap this reliable resource using existing infrastructure? The US Department of Energy estimates that converting the country's non-powered dams could generate 12GW of new clean energy. We test the waters for converting normal dams into mass energy providers.
Also in renewables, while the Galapagos Islands is embracing green energies to protect its delicate ecosystem, we hear why Germany is halting its subsidies in the sector, and ask how realistic is a single market for European energy that addresses the needs of multiple nations.
Plus, we see how pioneers of a new carbon capture method are storing CO2 in basalt rocks to create safe and inert limestone, and speak to researchers at Binghamton University, New York about a new tool for remote detection of power grid faults.
Read the issue for free on your iPad through our app, or if you're on a desktop computer you can also read it in our web viewer.
In this issue
The long road to single market Senior Platts analysts have warned that flaws in the design of European power markets will cause major reliability issues unless the European Commission and EU member states jointly act to complete the single market. But can we ever solve the numerous national issues? Read the article here.
Germany's Energiewende: for better or worse Once hailed as leader in renewables, Germany seems to have put the brakes on with new legislation to slow growth and control costs. By removing Feed-in Tariffs to only reward tenders, has the government made the right decision? Read the article here.
Galapagos: making the switch The Galapagos Islands have been running off dirty and expensive imported diesel fuel, which threatens precious birds, animals and plant life. Following the installation of wind turbines and solar panels, and recent plans for more clean energy, we take a look at the islands' journey towards 100% renewable. Read the article here.
US dams power up Hydropower delivers more clean energy to the US than wind and solar put together, and the supply is steady. But could a country like the US be doing more to tap hydroelectric energy with its existing dam infrastructure? Read the article here.
Iceland rocks at CCS In what could be the most significant development for carbon capture technology, a pilot project in Iceland has shown that carbon dioxide can be safely stored in basalt rocks. We find out more about the approach and its potential applications. Read the article here.
Grid protection: the data revolution Researchers at Binghamton University in New York have successfully adapted the Singular Spectrum Analysis algorithm to provide what they say is the best tool for remote detection and location of power grid faults. We find out if this theory be effectively applied in the real world. Read the article here.
Next issue preview
Momentum – a joint venture between Amec Foster Wheeler, Assystem and KEPCO – has won a €174m contract for the world's largest fusion reactor. The project will build an environmentally clean, safe source of energy, but there have been doubts over whether this is even possible. We find out the scale of the project and its influence on nuclear.
Plus, we have an in-depth analysis of why some MPs want to remove National Grid from its role as the UK's energy management, and speak to long-time fossil fuel traders about how they're sustaining their businesses under the growing threat of renewable energy markets.
Also, we look into a new wave power technology developed by Finnish AW- Energy, hear the latest on an innovative multi-rotor wind turbine design, and catch up with UK not-for-profit enterprise South East London Community Energy (SELCE) about its mission to fit solar panels to local school roofs using money gained from fundraising.
Digital magazine FAQ
You can read Future Power for free on the iPad. Download our app from the App Store to read the latest issue and browse the back issues in our archive. Sign up for a free subscription in the app and never miss a new issue.
You can also continue to read the desktop version for free on our web viewer. (Browser compatibility: The web viewer works in the latest two version of Chrome, Firefox and Safari, as well as in Internet Explorer 9 and 10. Some features may not be compatible with older browser versions).