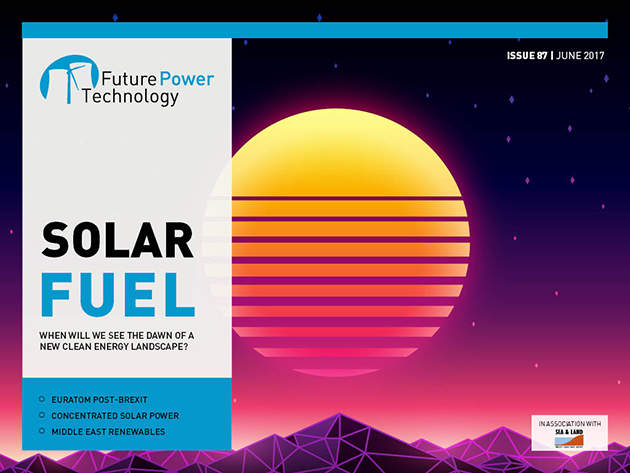 Solar fuels could one day be a reality, according to scientists. Unlike solar power which generates electricity, the sun's energy is used to produce fuels, such as splitting water to yield the hydrogen. Now, researchers at Caltech and Berkeley Lab have found an unprecedented number of materials which have the potential to be used in solar fuel production, and we speak to the teams to find out more and when we can expect a prototype.
Also, we discover how several UK bodies are partnering with African universities to help enhance capabilities and skills in concentrated solar power (CSP), we assess the likelihood of the Middle East turning away from its destabilising oil wealth to embrace its abundant renewable energy resources, and consider the effects of post-Brexit Europe as the UK prepares to leave the European Atomic Energy Community (Euratom).
Plus, we find out how the UK's electricity demand has fallen to 1970s levels, and look into two organisations using gamification to help users improve their energy management skills.
You can read Future Power on your iPad via our app or in using the web viewer. It's free to read and you can join the conversation on Twitter.
In this issue
Fully renewable in the Middle East Researchers at Lappeenranta University of Technology have produced a report showing that major oil-producing countries in the Middle East and North Africa region could turn abundant renewable energy resources into lucrative business opportunities and go fully renewable by 2013. Could it really be done and what stands in the way? Read the article
Cultivating solar strength in Africa Imperial College London has partnered with the Royal Society and the Department for International Development to help enhance academic skills in concentrated solar power (CSP) in Africa. Working with the Universities of Pretoria in South Africa, Lagos in Nigeria, and Mauritius, the project partners aim to build local research and training capacity. We talk to the project team. Read the article
Solar fuels: a new energy landscape Caltech and Berkeley Lab researchers have found an unprecedented number of materials known to have the potential for use in solar fuels – energy created using only sunlight, water and CO2 – in a process as simple as splitting water. How far are we from a viable prototype? Read the article
Exiting Euratom: the countdown begins The UK Government's plans to leave the EU, and consequently the European Atomic Energy Community (Euratom), could threaten nuclear new builds, decommissioning and jeopardise energy security in the country, according to a new report by the Institution of Mechanical Engineers. But is the picture really so bleak? Read the article
Tuning in to energy demand Total energy consumption in the UK has fallen to 1970s levels over the last decade, in the most part thanks to more efficient networks and technologies. Is this a sign that energy policy is performing? We speak to the experts to get a clearer picture of the country's energy demand. Read the article
Level Up! with gamification How do you motivate consumers to curb energy use, especially at peak times? Pilot sites in Helsinki, Nice and Vienna are trialling gamification – using a game-like tablet app to make cutting down fun and competitive – while in the UK a hackathon-inspired 'nudgeathon' will test the use of nudge theory on students behaviours We find out the results. Read the article
Next issue
Scotland set a new record for wind power output in March, jumping more than 80% year-on-year and covering 58% of the country's monthly electricity demand. We ask what it will take to bring the cheapest form of wind energy back into the mainstream. While in nuclear, we look at plans for Hitachi's Horizon to build a new nuclear power in Wales and find out if fusion-fission reactors could be the latest alternative in nuclear technology.
Also, we unpack the complex Blockchain technology – an emerging key enabler of energy innovations for producers and micro-grid systems, hone in on generation issues, such in Madagascar – a country with virtually no electricity grid – where Bushveld Minerals and Sinohydro plan to build a 60MW coal power plant and transmission infrastructure, and speak to start-up Prescient Transmission Systems in the US about its predictive methodology designed to ensure the working safety of the US Power Grid.
Digital magazine FAQ
You can read Future Power for free on the iPad. Download our app from the App Store to read the latest issue and browse the back issues in our archive. Sign up for a free subscription in the app and never miss a new issue.
You can also continue to read the desktop version for free on our web viewer. (Browser compatibility: The web viewer works in the latest two version of Chrome, Firefox and Safari, as well as in Internet Explorer 9 and 10. Some features may not be compatible with older browser versions).