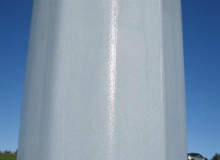 Years of war have decimated Syria's energy grid, leaving thousands of people with little or no access to power. Now, The Union of Medical Care and Relief Organisations is installing solar panels in buildings with urgent need, such as hospitals, to bring reliable off-grid power to those in most need. Here, we examine the state of Syria's energy sector and ask how effective is the support of renewable energy technologies in supporting Syrians.
In another outreach project, we speak to Pamir Energy about its work renovating abandoned hydropower plants in Tajikistan through public-private partnerships, and plans to expand into Afghanistan and Pakistan.
We also examine the future of clean coal following the failure of the flagship carbon capture project at Kemper power plant in Mississippi, US, look inside the Caribbean's only nuclear reactor, consider the precarious position of the UK's tidal sector, and learn about a breakthrough in effecting wireless power transference over short distances.
You can read Future Power on your iPad via our app or in using the web viewer. It's free to read and you can join the conversation on Twitter.
In this issue
Tidal: competing on cost  
Approved plans for a new tidal energy park off the Isle of Islay, Scotland, have stoked excitement for the UK tidal sector, but other developments have been hit by a barrage of difficulties. With mixed messages in abundance, what's the bottom line on tidal energy's position in an increasingly cost-competitive renewable energy market, and how can these projects secure a better financial footing?
Read the article
Restoring hydropower in Tajikistan 
Pamir Energy is in the business of renovating abandoned hydropower plants in Tajikistan and, through public-private partnership, has brought hydro energy to the country's most remote regions. Having expanded into neighbouring Afghanistan, and with Pakistan next, we speak to company CEO about how bringing electricity to remote regions can create prosperity and strengthen resistance against the Taliban.
Read the article
Solar support for Syria
Syria's power grid has been destroyed by years of war, leaving thousands in the dark or with intermittent power. Now, the Union of Medical Care and Relief Organisations (UOSSM) is installing solar panels on hospitals to help bring off-grid, clean and reliable power to those most in need. We take a look at the project and how access to energy is benefitting the people of Syria.
Read the article
Inside the Caribbean's only nuclear reactor 
A team from the IAEA recently visited a research reactor operated by the International Centre for Environment and Nuclear Sciences at the University of West Indies in Kingston, Jamaica, following its conversion to low-enriched uranium fuel. We find out more about the history of and hopes for the Caribbean's only nuclear reactor.
Read the article
Is there hope for clean coal? 
Kemper power plant in Mississippi is widely regarded as one of the world's biggest proof of concept cases for clean coal yet, it has failed to deliver. The carbon capture technique has been declared too costly and problematic, prompting the decision to burn natural gas to create electricity instead. So what now for clean coal? We investigate.
Read the article
Working on wireless power transfer 
A recent breakthrough has allowed researchers at Stanford University, California, to transfer power over short distances without wires and without loss. The project is currently focused on the transfer of power for moving objects and, if successful, it would mean devices could be charged while driving, easing strain on the grid. We take a closer look.
Read the article
In the next issue
The International Atomic Energy Agency low-enriched uranium (LEU) bank in Kazakhstan has officially opened and is on schedule to be fully operational quite soon. The bank will contain 90 metric tonnes of LEU as a back up for all IAEA Member States, should exceptional circumstances mean they are unable to obtain nuclear fuel. We attended the opening ceremony to join in with this landmark moment for nuclear power.
In another major project, we profile ownership arrangements for the four Dogger Bank offshore wind projects, speak to the team behind the Clean + Cool 2017 wave energy start-up, and with General Electric suing Vestas over patent infringement claims, we examine the shifting dynamics in the increasingly lucrative wind energy sector.
Finally, with a focus on technology, we assess the cyber security measures of energy technologies and find out how millennnials feel about user-utility relationships.
Digital magazine FAQ
You can read Future Power for free on the iPad. Download our app from the App Store to read the latest issue and browse the back issues in our archive. Sign up for a free subscription in the app and never miss a new issue.
You can also continue to read the desktop version for free on our web viewer. (Browser compatibility: The web viewer works in the latest two version of Chrome, Firefox and Safari, as well as in Internet Explorer 9 and 10. Some features may not be compatible with older browser versions).