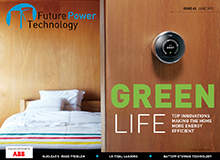 Future Power Technology is now free for the iPad. Download our app from Newsstand to read the latest issue and browse our back issues for free.
Whether it's smart thermostats or vegetation blankets, the market for energy efficient home products is growing rapidly. We find out which companies are making a name for themselves in this sector and take a closer look at their weird and wonderful innovations.
Developers of the Swansea Bay Tidal Lagoon say it could power more than 155,000 homes in the area for 120 years. We get an update on the company's plans to build six tidal lagoons in the UK and look into arguments for and against the technology.
We also investigate changing attitudes towards nuclear; is rejection of nuclear power putting climate change mitigation efforts at risk, or will recent support – such as the promotion of safer and cheaper nuclear technologies by environmentally minded groups – improve its image? In addition, we speak to POWER-GEN Europe's advisory board about nuclear's role in Europe's drive towards energy decarbonisation.
Moreover, we look into the latest in a line of clean energy deals between China and the US, ask how the growth of battery storage could impact the grid and report on an online portal aiming to give customers more democratic access to renewable energy.
Read the issue for free on your iPad through our app, or if you're on a desktop computer you can also read it in our web viewer.
In this issue
Fresh IdeasA project in Wales aims to use the rise and fall of the tide to generate electricity and act as a proof of concept, or scalable blueprint, for future full-scale developments throughout the UK. Gary Peters reportsRead the full article.
Uniting for EnergyThe US and China have renewed their commitment to the US-China Clean Energy Research Centre to address the issue of water use in energy production. Adam Leach asks how the project will increase collaboration and open up new business opportunitiesRead the full article.
Going GreenFrom smart thermostats and heat-absorbing paint to vegetation insulation and chimney umbrellas, the market for energy efficient DIY products is expanding rapidly. Adam Leach profiles some of the most weird and wonderful inventionsRead the full article.
Possibilities Vs PracticalitiesWith the nuclear sector at a crossroads, members of POWER-GEN Europe's advisory board consider the role of nuclear in Europe's drive towards energy decarbonisationRead the full article.
An Image ProblemDespite nuclear energy's potential as a low-carbon replacement for baseload fossil fuel generation, the public remains sceptical. Chris Lo asks if a widespread rejection could put the world's climate change mitigation efforts at risk.Read the full article.
The Atomic DivideIn recent months, several new environmentally minded groups have emerged to proclaim what sounds like a green heresy – that the use of nuclear energy in addressing the world's climate and energy challenges is in fact necessary and beneficial. WNA Communication Manager David Hess takes a closer look at some of themRead the full article.
Help or HindranceWith projects such as the Tesla Powerwall and 'Second Life Batteries' being introduced to the area of battery storage technology, Adam Leach looks at whether the technology will better or batter the gridRead the full article.
Taking ControlCleantech startup Open Utility and renewable electricity supplier Good Energy are hoping to give customers 'more democratic access to renewable energy' with a new online portal. Heidi Vella-Starr caught up with the ownersRead the full article.
Next issue preview
Following discussions between Prime Minister Narendra Modi and France, Canada and the US, we investigate India's nuclear power ambitions and ask where the country's help is likely to come from. Meanwhile, Russia's been called a world leader in fast neutron reactor technology. We examine the country's potential role as a driver and exporter of atomic technology and expertise.
In renewable energy, we learn more about the potential of 'invisible' light for solar power, ask if digital technologies can help wave energy achieve its potential, and analyse how cities and towns plan are committed to being 100% renewable.
Digital magazine FAQ
You can read Future Power Technology for free on the iPad. Download our app from Newsstand to read the latest issue and browse the back issues in our archive. Sign up for a free subscription in the app and never miss a new issue.
You can also continue to read the desktop version for free on our web viewer. (Browser compatibility: The web viewer works in the latest two version of Chrome, Firefox and Safari, as well as in Internet Explorer 9 and 10. Some features may not be compatible with older browser versions.)