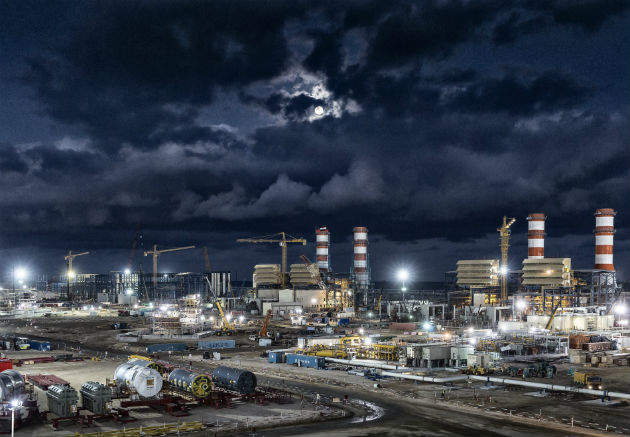 Beautiful and benighted, since the Pharaohs commissioned the great pyramids, Egypt has gradually evolved into a modern, industrialised nation, yet remains mired in political and religious turmoil; its fragile economy reliant on agriculture, tourism and remittances from Egyptians working abroad.
Energy shortages continue to retard Egypt's industrial growth, while the ageing power grid struggles to cope with the rapidly expanding population in what is already the world's largest Arab country.
Now, that could all be about to change thanks to a collaborative project involving Siemens and two local Egyptian companies that constitutes a landmark in modern turnkey power plant construction.
"In 2015, Siemens and Egypt signed an €8bn contract for the construction and turnkey delivery of three combined-cycle power plants with a capacity of 4.8GW each and 12 windfarms with up to 600 wind turbines," says Peter Ullrich, project director of the plants at Siemens Power & Gas Division.
"In March 2017, German Chancellor Angela Merkel and Egyptian President Abdel Fattah El-Sisi inaugurated the first phase of a 'megaproject' which, when completed, will boost Egypt's generating capacity by 45%. The inauguration is a significant milestone in what is essentially the simultaneous construction of three massive combined-cycle gas-fired (CCGT) plants at separate locations.
"Most notably, it sets a new industry benchmark in terms of modern power plant construction ­– the connection of 4.8GW of new capacity to the grid in only 18 months, 400MW more than promised."
Vital statistics: the Egypt megaproject by numbers
Over-delivery is not an expression one often associates with major power generation projects, but Siemens, faced with the largest single order in the German firm's 169-year history, pulled it off.
After completion in 2018, the three stations at Beni Suef, Burullus and Egypt's new capital will be the largest CCGT plants ever built and operated, capable of supplying electricity to 45 million Egyptians.
"We committed to the Egyptian Government that we could deliver 14.4GW of new gas-fired power plant capacity and we said that 4.4GW of this capacity would be available just 18 months after the contract was signed – a record schedule for a record project," says Ullrich. "In January 2017, 18 months after the signing, we achieved 4.8GW; in short, 10% more generating capacity than originally promised. Never before has the energy system of an entire country been developed so fast."
The efficiency of the new power plants equipped with Siemens H class gas turbines will far exceed the average for the electricity system, saving Egypt an estimated $1.3bn per annum in natural gas consumption.
"A 1.5% efficiency improvement reduces a power plant's annual CO2 emissions by approximately 320,000t," explains Ullrich. "Gross power output of the SGT5-8000H gas turbine stands at 400MW. Statistically, a single turbine can provide electricity for around 1.4 million people.
"The three power plants in Egypt will have an identical design, each comprising four 1,200MW combined-cycle blocks in a multi-shaft or 2-on-1 configuration, i.e. two H class gas turbines, each with its own generator and heat recovery steam generator (HRSG), with steam from the HRSGs feeding a single steam turbine with its own generator. Each plant will have an electrical efficiency of over 61% and the H-class turbines are quick to react to demand for additional or reduced output."
Breathtaking in scale and ambition, the Egypt megaproject requires more than 20,000 workers to be engaged at the construction sites and over 1.6 million tonnes of materials are being handled.
In addition to the 24 turbines, the scope of supply comprises 12 steam turbines, 36 generators, 24 heat recovery steam generators and three 500kV gas-insulated switchgear systems. As project director of the three CCGT plants, Ullrich offers a unique insight into the operational challenges.
"Global sourcing was one of the early hurdles," he notes. "Keep in mind that when you import over 1.6 million tonnes of goods into a country, they had to have been produced somewhere beforehand.
"The three construction sites require 960,000t of concrete, 48,500t of rebar steel, 40,000t of piping. The plants will also require 1,000km of instrumentation and control (I&C cable), 10,000 transmitters and 400 high-tech control technology cabinets. Managing the whole process has been a huge logistical challenge, but we managed that successfully thanks to the support of the local authorities in Egypt."
Human capital: Siemens' power plant training programme
Ullrich identifies Siemens' mutually beneficial relationship with the Egyptian Government and local partners Orascom Construction and Elsewedy Electric as a key driver of the megaproject's success.
"We made a promise to Egypt and we kept our word," says Ullrich. "This was only possible by an outstanding collaboration between the government, Ministry of Electricity, the Egyptian Electricity Holding Company, our two consortium partners, and a dedicated and competent Siemens team."
Investment and expertise from abroad is vital to Egypt's long-term prosperity, but equally important is a real commitment to nurturing talent in its energy industry at a local level, as Ullrich explains.
"The first 50 Egyptian engineers and technicians who started their extensive training at Siemens in April 2016 completed the initial phase on the simple cycle power plants' operations in October," he says. "To ensure the career-starters can operate the mega-sized plants, Siemens is building in Egypt. A further 200 Egyptians were trained in 2016, and 350 more are expected to be trained in 2017.
"The plants will initially be operated in 'open cycle' mode. By subsequently adding heat exchangers and steam turbines they will be expanded into combined-cycle mode, each reaching a total installed capacity of 4.8GW. Once the open cycle commissioning interval is completed, trainees will receive a further one-month of vocational training on the combined cycle technology and steam turbines.
"The trainees take away valuable insights on the technologies, processes and challenges involved in operating large power facilities," he continues. "With the aid of the power plant simulator, practical experiments were conducted to help students put themselves into the position of a real operator.
"The training course also encompassed component-specific parts and field visits, psychological and communication modules, and language, management, leadership and supervisory competencies."
Renewables revolution: Egypt embraces sustainable energy
Reliability and sustainability are the priorities for Egypt's domestic energy industry is it continues to target private regional and foreign capital to support the country's flourishing renewables sector.
According to EFG Hermes, one of Egypt's leading investment banks, under the national feed-in-tariff scheme wind and solar photovoltaics could potentially attract $6bn in investments to 2018.
"With our customers and the Egyptian Government, Siemens has worked on various energy mix scenarios that could fit the availability of natural gas and other domestic natural resources," says Ullrich. "We all came to the conclusion that a combination of high-efficiency combined-cycle power plants and renewable sources are best suited to overcome the power shortages in the country.
"Together with Egypt, Siemens is building a foundation for progress in order to unlock the country's vast potential," he continues. "Our powerful energy mix system will underpin Egypt's growth and economic development to the benefit of all citizens. There will be more jobs, because business will be able to flourish, and people and their families will feel more comfortable and more fulfilled."