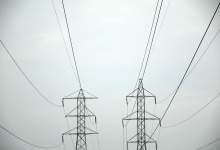 Creating energy access for all is seen as one of the most important objectives in the pursuit of liberating poor societies; the UN has even named it a primary goal to be achieved by 2030. But, as more households connect to the grid, will a rise in harmful CO2 emissions not follow?
Not so, says a new study by the Institute for Applied Systems Analysis. After examining data detailing electricity access and carbon emissions in India over the last 30 years, Dr Shonali Pachauri says this is a misconception and, in fact, the increased emissions are negligible.
From 1981 to 2011, household electricity access in India, where around 400 million people live without electricity access, improved from about 25% to between 67 and 74% of the population, an increase of approximately 650 million people. This improved electricity grid access accounted for 3-4% of the rise in total national CO2 emissions during this time – amounting to climate impacts which are "very small", says Pachauri.
Pachauri details what else she discovered through her research and the key points she wants policy makers to take on board.
Heidi Vella-Starr: Why did you decide to conduct this study?
Dr Shonali Pachauri: My feelings were that there was a lot of misinformation, unfounded concerns – about what the implications of providing energy access universally could be for the climate.
There have been some studies already, and I have cited them in the paper, where it has been shown these implications are negligible – very, very small. But still there was, even in the press, often articles suggesting there was some kind of fear that by connecting everyone to modern energy sources this would have big implications for climate change. So I thought, I have data historically for India, it would be interesting to try and assess what those implications actually are. That was my main motivation for doing the study.
HVS: Your findings confirmed your suspicions…but did anything surprise you?
SP: Exactly. It was surprising in some respects because the quantification of it was completely new. I mean, I sort of guessed it won't be a large share, I knew that instantly based on my previous work, but I sort of really had not tried to quantify this before, so when I did I was surprised it is indeed so small.
In fact doing it separately for different sub-groups of the population and so on also provided a lot of new insights that I intuitively had a feeling for but didn't really have a sense of how much it would be.
HVS: When you say 'electricity access', what level of access are you referring to?
---
---
With a binding agreement elusive, are the world's governments capable of decisive action before it's too late?
---
SP: What I am looking at is the total electricity use by the household sector. In India, of course, electricity use by households is by average a lot lower than anywhere in the OECD world. Of course one has to take into account that is the case, but what I did in the analysis was look at total electricity use by the household sector and decompose how much of the emissions from that electricity use were because of increasing access versus increasing numbers of households, and also calculating increases in the use per household, for example.
What the work did was really try and quantify how much of the emission increase was because of increasing number of connections, increasing use per connected households and increasing number of households. Each of those parts where quantified in the paper.
HVS: You found that once households had access to electricity, use generally increased?
SP: Yes. Over the last 30 years the average use per household has more or less doubled.
If electricity use increases very, very rapidly and if that electricity is generated from fossil fuels, clearly that will have climate implications. What I tried to show in the paper is that when you are providing basic access to households, for basic services like lighting and some small appliances, that does not contribute much to climate change. However, with increasing incomes there is a faster rise in electricity use in these connected households. If that electricity is generated by fossil fuels it will have climate implications.
HVS: During your analysis did you take into account lifecycle emissions from mining fossil fuels etc?
SP: In this analysis that has been taken into account. In planning electrification governments need to focus on trying to find solutions which are low carbon and, wherever possible, renewable. However if some fraction of their generation system is still fossil fuel based, as long as those systems are efficient and wherever possible low carbon solutions are being put into place, it's going to be fine in terms of emissions implications.
HVS: Is this study India-specific, or can its finding be applied to other developing nations?
SP: India is an interesting case study to look at because, for one thing, it is a country that has already electrified a large part of the population, but then at the same time has a lot of people who are still not electrified. It still has a lot of work to do in terms of electrifying universally.
India is also an interesting study because there are a lot of Sub-Saharan African countries and other countries around the world that are in similar situations, but India, being very fossil fuel focused, it gives you, in a sense, an upper-bound estimate in terms of what the emission implication would be. These other countries have a much higher ratio of renewables in their generation mix, be that from hydro or anything else. In those countries the emissions implications are likely to be even lower.
I think the methods are quite straight forward and can be applied to any developing nation. The data is the more difficult thing to find; you need to have that historical data in order to be able to do the analysis.
HVS: What do you hope policymakers will take away from your research?
"Over the last 30 years the average use per household has more or less doubled."
SP: I think there are several things that can be taken away from the study. One is the fact that providing electricity access is essential to development and this is something that is increasingly recognised. The United Nations Sustainable Energy for All's goals very specifically targets this. One needs to work faster to connect households because, basically, the access is fundamental for development.
Also, it is important to understand that providing this basic level of access to households is not really going to have a big climate impact; the emissions implications are very, very small. Of course, wherever possible, one should use renewables, that certainly makes sense from many points of view, not just for the climate but for other reasons as well.
However, in places where one has to depend on fossil fuels it is not going to be the end of the world because, for that basic access at least, the emissions implications are not significant. But after incomes rise, which is what one wants, then, of course, higher consumption levels mean those emissions levels become important.
HVS: Do you think governments are doing enough to ensure energy access for all?
SP: In some cases yes, in some case no. I think as far as electrification is concerned there is a lot more focus and governments are trying to scale-up solutions, whether they be centralised or decentralised. However, we do a lot of work on access to modern fuels for cooking and in that case the recent trends are a lot less optimistic than what we would want them to be. So in other words, [the number of] people who cook with biomass or solid fuels has been rising more or less the same over the last few decades. That is quite disillusioning because access to modern fuels for cooking is as important as access to electricity for most of the world's poor populations.
HVS: Do you have any follow-up studies planned?
SP: Yeah, there are a lot of different things we are looking at. Currently there is one paper we have submitted in which we are looking at the implications of kerosene use in India. This is because people who don't have access to electricity often use kerosene lighting and this has major implications for health and environment and for government budgets, for the economics. Therefore what we have tried to do with India as a case study is find out what are the implications of kerosene use for lighting for health, environment and economics.
Then we are doing other analysis where we are looking at; if countries like India were to accept climate mitigation goals, sign some kind of climate treaty, then would having a climate mitigation policy affect achieving universal energy access goals?