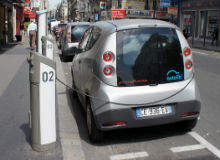 It was back in 2009 that Mayor Boris Johnson said: "The time for simply talking about electric vehicles is over – we need real action on the ground to make the electric vehicle an easy choice for Londoners."
This week that aim was strengthened when it was revealed that London will attempt to transform the use of electric vehicles (EVs) in the city through a contract with French company Bolloré.
The ambitious plans include a move towards 6,000 charging points and 3,000 battery-powered cars, painted in double-decker bus red, in the city by 2018. Bolloré is also behind the Autolib scheme in Paris, which started in 2011 and allows the public to share cars on a paid subscription basis.
Autolib, used by 220,000 drivers, has been responsible for taking approximately 31,000 petrol or diesel cars off the road in Paris, with nearly 5,800 recharging stations.
But, how can London use this to kick start its EV infrastructure?
---
---
China has signalled plans to invest $16bn into its electric vehicle (EV) charging infrastructure.
---
The proposal is for around 50 'Boris cars' to be on the road by the start of next year, which the public can rent for what is expected to be £5 for every 30 minutes. Cars don't have to be returned to their original space, and reports suggest the scheme will cost £100 a year to join. The first ten of these were introduced on Friday.
While this is good news, much remains to be done. London has struggled to comprehensively push the use of EVs, mainly because of poor infrastructure.
Time for London to gets its act together
Criticism has been forthcoming from Conservative MP and London Mayor hopeful Zac Goldsmith, who labelled London's use of EVs, or lack of it, as "extraordinary".
During a debate on London's air pollution in the House of Commons, he added: "Despite falling costs, the fact that getting around in electric cars is dramatically cheaper than conventional alternatives and the installation of 1,400 new charging points in the past three years – a consequence of the Mayor's intervention – that revolution simply has not happened.
"It will inevitably happen. The market dictates that it will but the market needs a boost."
One reason why London has failed is that roughly just 1,400 places are currently available to charge vehicles.
Run by Source London, approximately up to 40% of these points are unfit for use at any one time, according to the Evening Standard. A report by the Telegraph last year also found that the network was struggling to cope.
"It will inevitably happen. The market dictates that it will but the market needs a boost."
Mark Walker, UK managing director of Zipcar, a car-sharing network, claimed that London had failed to get "its act together", and criticised the lack of clarity on the future of the necessary infrastructure.
Ensuring points are reliable is crucial. If it is made easier to charge, conventional wisdom follows that more people would be more inclined to at least consider using an EV.
The DriveNow share scheme, operating across Hackney, Islington, Haringey and Waltham Forest, has recently added 30 BMW i3s to its service, but will itself charge any i3 that is low on power to avoid any issues with charging on the go.
As well as this, last year Source London said that to make progress, it had to agree with London boroughs for the ability to work on the charging infrastructure, something highlighted by Christophe Arnaud of Bolloré, who added that the biggest challenge for the new scheme will be access deals with the Source London's 27 town hall partners – so far five deals have been signed.
With the number of EV charger units expected to grow to more than 12.7 million by 2020, London is at risk of being left behind.
The key now is to increase both the coverage and reliability of the charging points, giving those who want to use EVs the possibility to do so, and making sure the revolution takes hold. It is not just about the pure numbers of charging points, but about making sure each one is fit for purpose.