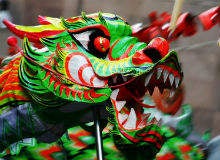 In October, the Chinese Government under President Xi Jinping fired the latest salvo in its battle with Russia for hegemony as the world's leading exporter of affordable civil nuclear technology.
The strategic investment agreement between China General Nuclear Power Corporation (CGN) and EDF Energy to build an £24.5bn, 3,200MW nuclear power plant at Hinkley Point in Somerset is part of a wider partnership that includes new nuclear facilities at Sizewell in Suffolk and Bradwell, Essex.
The Hinkley Point C deal attracted the most headlines, but for energy analysts a controlling stake at Bradwell – potentially the first Chinese-designed nuclear power plant in the West – is the real prize for President Xi Jinping and his government, and represents a significant milestone in China's 'go global' strategy to export nuclear technology, including heavy components in the supply chain.
"We have worked with EDF since the 1980s… we know each other and we can bring the experience and expertise we have gained in China to the UK," Zheng Dongshan, senior VP at CGN told the BBC.
"Learning from the past is very valuable and that includes the [Hinkley Point] nuclear project. EDF is building in France, and with EDF we are building European pressure reactors (EPRs) in China… the expertise we gained from those projects will certainly contribute to the success of Hinkley Point.
"We will certainly not bring a lot of Chinese workers. What we need is to bring the Chinese expertise and experience to serve the project, to work with local UK people and the [project] partners."
Dongshan's comments follow the Chinese Ccabinet's announcement in January of new incentives and financing for nuclear power on the back of $103bn of total outbound trade and investment in 2014.
"We will certainly not bring a lot of Chinese workers. What we need is to bring the Chinese expertise and experience to serve the project."
China's nuclear industry moved into the rapid development phase in 2005 and has become largely self-sufficient in reactor design and construction, using technology from France, Canada and Russia.
Domestically, the National Energy Administration (NEA) aims to make nuclear energy the foundation of China's power generation system over the next two decades. Adding up to 300GWe of capacity will help China reduce air pollution levels and the nation's dependence on imported oil and gas.
According to a recent report published by the World Nuclear Association (WNA), China currently has 29 nuclear power reactors in operation and a further 22 under construction, amounting to a three-fold increase in the nation's nuclear capacity to at least 58GWe by 2020 to 20-21, and 150GWe by 2030.
Go West: why Chinese nuclear expertise is in global demand
China's new nuclear export programme is based around the CAP1400 reactor, an enlarged version of the AP1000 pressurised water reactor developed from the Westinghouse original by State Nuclear Power Technology Corporation (SNPTC), with consulting input from the US energy giant. Crucially, SNPTC has intellectual property rights over the design, paving the way for exports abroad.
Customers for China's nuclear technology have so far comprised countries such as Pakistan, Romania and Argentina, with the developed world opting instead for US, Japanese and French technology.
The WNA reports that two new 300MWe CNP-300 PWR units are being built at Chasma in Pakistan by China Zhongyuan Engineering Corporation, joining the two built there earlier, supplied by CNNC.
In 2013, China's National Nuclear Corporation (CNNC) announced a $9.6bn export agreement for twin ACP1000 units for Pakistan's Karachi Coastal Power station. This will now be built by China Zhongyuan Engineering Corporation (CZEC) using technology from the Hualong One reactor.
In May 2014, Romania's Nuclearelectrica signed an agreement with CGN to build two new reactors at Cernavoda in the north of the country, followed two months later by a deal between CNNC and Nucleoeléctrica Argentina for construction of a third reactor at the Atucha plant near Buenos Aires .
In November of that year, SNPTC signed an agreement with Turkey's largest electric power utility EUAS and Westinghouse to begin exclusive negotiations to develop and construct a four-unit nuclear power plant in Turkey; two plant construction agreements in South Africa followed closed the next month.
Given the UK's nuclear heritage – its first power station was built at Calder Hall in Sellafield in 1956 – and internationally recognised safety standards, a contract to build a Chinese-designed plant in Essex would give China an invaluable imprimatur of quality as it seeks to salvage its reputation in the wake of the Tianjin chemical warehouse disaster last month and the Fukushima tragedy in 2011.
Safety and numbers: dDoes Hinkley Point represent value for money?
So, will the new 'golden decade' in Sino-British relations, as characterised by UK Chancellor George Osborne, enable China to leverage its nuclear technology for commercial advantage abroad?
Industry and city analysts, having crunched the numbers, remain deeply sceptical that the Hinkley Point C project can go ahead in its current form. The heavily subsidised project is already over budget, the original £16bn price tag – $6bn of which is to be paid by CGN – having risen to £24.5bn.
Wholesale power prices have fallen 16% since November 2011 when the UK Government agreed to pay EDF what amounts to £92.50 per MW/h for 35 years for Hinkley Point's output, funded through household bills. The subsidy scheme is currently being investigated by the UK National Audit Office.
"Industry and city analysts, having crunched the numbers, remain deeply sceptical that the Hinkley Point C project can go ahead in its current form."
A report by HSBC energy analysts outlined eight key challenges to the project including a catalogue of setbacks in Finland, France and China for EDF's EPR model, the type planned for Hinkley Point and Sizewell C in Suffolk. In September, EDF revealed that its EPR plant at Flamanville in France would not be completed until 2018, six years later than planned, and that costs had tripled to €10.5 billion.
Peter Atherton, energy analyst at investment bank Jefferies, calculated that Hinkley Point will cost as much as Crossrail, the London 2012 Olympics and the revamped Terminal 2 at Heathrow combined, and that, for the same price, almost 50,000MW of new gas-fired power capacity could be built.
"This level of new gas build would effectively replace the entire thermal generation fleet in the UK – much of which is old and inefficient – with brand new, highly efficient, low -carbon, gas generation," said Atherton in The Guardian.
In its defence, the Department for Energy and Climate Change claims the building programme will save UK households £74 a year in today's prices by 2026 to 20-30. The Tory Conservative administration also insists that the Hinkley Point project will create 25,000 jobs and enough energy to power six million UK homes.
Opponents have also raised security concerns about allowing China a central role in Britain's nuclear future and that the Chinese Government may be in a position to leverage its role as a key provider of nuclear energy to the UK to exert undue political influence, something Zheng Dongshan refutes.
"Absolutely not, because, as an enterprise, we are delivering clean electricity to consumers," he told the BBC. "We must build -up our reputation, we need a good image here and we need the support of the UK public."
Winning that trust, and convincing the public and environmental campaigners that safety standards will be upheld at Hinkley Point, Sizewell and Bradwell, are just two of the major hurdles that China faces as it strives to become the world's leading exporter of affordable civil nuclear technology.