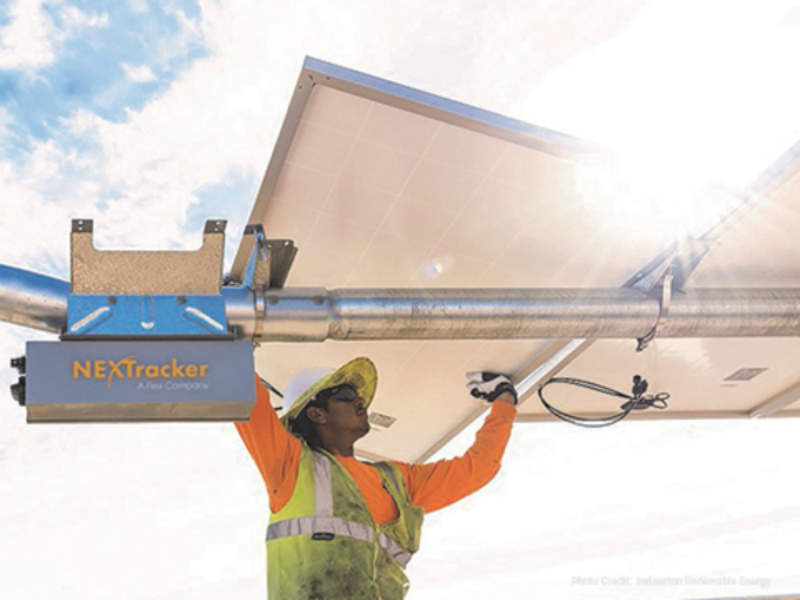 Flex company NEXTracker commenced supplying advanced single-axis trackers to a 750MW solarpower plant in Northern Mexico.
Being one of the largest solar facilities in the Western Hemisphere, the grid-connected plant will supply the Northern Mexico region under a long-term contract.
Expected to enter commercial operations by the middle of next year, NEXTracker has delivered more than 200MW of single-axis trackers to the project site.
---
Nuclear Power Corporation of India (NPCIL) received government approval to build ten new units of locally-designed pressurised heavy water reactors (PHWR).
With a total installed capacity of 7,000MW, each of the ten PHWR units will have a capacity of 700MW. The approval will boost India's domestic nuclear power programme and help increase its nuclear power generation capacity.
India currently has 22 power plants in operation with a total installed nuclear power capacity of 6,780MW. With completion of reactors under construction and the addition of the ten new reactors, installed nuclear power capacity of the country is expected to reach 20,480MW.
---
Siemens secured an order from energy utility company Vattenfall Europe Wärme to build a new natural-gas fired cogeneration plant in Berlin, Germany.
Siemens will function as a general contractor for Vattenfall to build the natural-gas fired combined-cycle plant with district heat extraction.
The order also includes a long-term service agreement covering the gas turbine-generator set.
---
US-based independent solarpower developer 8minutenergy Renewables expanded its business into the energy storage market with a 1GW project pipeline.
The company focuses on the development of standalone storage and hybrid photovoltaic (PV) and storage systems.
GTM Research has predicted that the annual energy storage capacity in the US will rise to 655MW next year, reaching more than 2GW by 2021.
---
Power company Vattenfall began full operations at its Pen y Cymoedd onshore wind energy project in South Wales, UK.
Being Wales's largest onshore windfarm, the Pen y Cymoedd facility is currently supplying electricity at full capacity in the region.
Construction work started in late 2015 and the project is the company's largest windfarm on land.
Engineering services company SNC-Lavalin secured a mandate of more than $22m from PSEG Power Connecticut for its 485MW Bridgeport Harbor Unit 5 combined-cycle project in the US.
Under the deal, SNC-Lavalin will be responsible for providing engineering and procurement support for the  plant, which is located at the company's existing Bridgeport Harbor Station site in Connecticut.
In addition, the company will deploy certain key personnel to help PSEG Power enhance its on-site construction management team.
---
Global clean power developer and operator ET Energy completed the development of six solar projects with a total installed capacity of 26MWp in the UK.
Built on a turnkey basis, the company developed the solarpower facilities on behalf of funds managed by Octopus Energy Investments, whose head Matt Setchell said: "Our solar experience, together with ET Energy's development and construction capabilities, proved a successful combination.
"We're pleased to add these projects to our continually growing clean energy activities."
---
Nova Energy received consent from the Otorohanga and Waikato councils in New Zealand to build and operate a 360MW gas-fired power station.
Nova Energy submitted consent applications to the two councils and results have been released after joint hearings involving independent commissioners.
It was also recommended that Transpower, which owns and maintains the national electricity grid for New Zealand, confirms arrangements to connect the new plant with its existing power transmission system.
---
Construction of Barakah Nuclear Energy Plant's first unit was completed in the United Arab Emirates (UAE) but operations have been postponed to 2018.
The Emirates Nuclear Energy Corporation (ENEC) and Korea Electric Power Corporation (KEPCO) finished construction activities this month and is ready for testing and commissioning by KEPCO's unit Korea Hydro and Nuclear Power (KHNP).
The key contract was awarded to KEPCO in 2009 for construction of the plant.
---
Utilities company Fortis entered an agreement to acquire two-thirds of Teck Resources' interest in the Waneta Dam and related transmission assets in British Columbia for $1.2bn.
Under the deal, Teck Metals will be granted a lease to use Fortis' interest in the Waneta hydroelectric power plant for 20 years to generate electricity for industrial operations in Trail.
Fortis' president and chief executive officer (CEO) Barry Perry said: "Waneta is a high-quality, renewable energy facility located in an area central to our British Columbia operations, making this acquisition a natural fit with our strategy to increase our investment in sustainable energy."