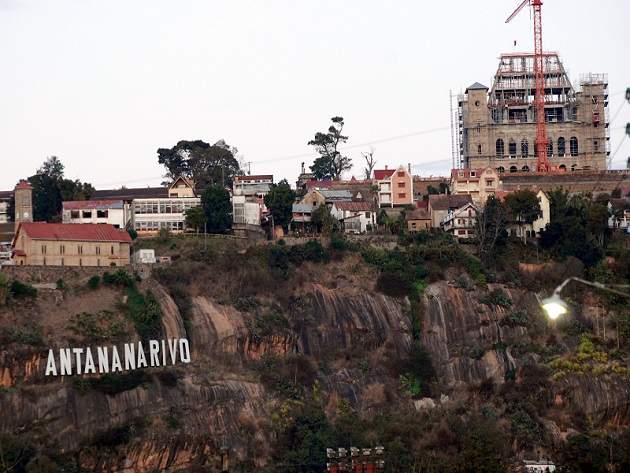 Fed up with repeated electricity black-outs, the residents of Toamasina in north-east Madagascar finally lost their patience on 22 December 2014. According to local media reports, hundreds of protestors marched through the African port town towards the headquarters of the national utility company, Jirama, where they set fire to the front door and hurled rocks through windows. Five people were injured and two died in subsequent clashes with the police.
It had been a long time coming. For years rolling cuts in Madagascar's energy sector had crippled businesses and forced people to work under candlelight, while others lacked any kind of power at all. According to the World Bank, only 14% of Madagascar's population currently have access to electricity, a low figure even by the standards of sub-Saharan Africa. In rural areas the number of households connected to the grid is just 4%.
One of the reasons for this situation is political instability. Since independence from France in 1960, Madagascar has suffered a string of political crises: a coup in 1975 led to sixteen years of rule by military dictator Didier Ratsiraka, and four decades later in March 2009, another military-backed coup d'état ousted then-President Marc Ravalomanana, replacing him with Andry Rajoelina.
While the election of Hery Rajaonarimampianina in January 2014 led to optimism that the worst days were in the past, Madagascar's investment climate remains uncertain. "You can get a license but you don't really know what is going to happen when a new government comes to power," says Dennis Thomsen, chief marketing officer at Fluidic Energy, a US energy storage company operating in the country. "You may have an agreement but as they say, in Africa, five years is forever."
"Gigantic corruption" in Madagascar
Ask insiders who is to blame and many will also point the finger at Jirama, which is on the brink of bankruptcy and regularly unable to pay its bills.
"Madagascar suffers from the same chronic disease that so many sub-Saharan African countries suffer from: gigantic corruption and mismanagement of resources," says one NGO worker in the country who asked not to be named in order to speak freely. "The utilities have been used to line the pockets of the politicians. They have basically been stealing money from them and now they are bankrupt."
""Madagascar suffers from the same chronic disease that so many sub-Saharan African countries suffer from: gigantic corruption and mismanagement of resources."
Without a functioning utility company, there is little hope that Madagascar's Government will be able to bring communities onto the grid, the NGO source adds. "They are not connecting new people anywhere. There is really only power for three cities in the entire country and there's no connecting grid."
Last year the World Bank approved an International Development Association loan worth $65m to help the Madagascan Government improve its electricity sector operations. One of the key development objectives is improving governance "of the state-run utility company through improved efficiency, transparency, and accountability in supply, commercial functions, and management of corporate resources".
But not everyone is optimistic that a loan will help. "They have tried it before and they always end up in the same place," says the NGO source. "After a year or two the whole thing is back to where it was before and the money is gone. I sympathise with the government not wanting to sell its utility but the corruption and ineptness runs so deep that if anything is going to change you have got to privatise."
Going off-grid with renewables
As Jirama struggles to improve access to electricity various private sector initiatives are being introduced to improve the situation. In southern Madagascar, Bushveld Minerals and Sinohydro recently announced plans to build a 60MW coal power plant and transmission, which, according to the companies, will deliver electricity to their own mining sites as well as tens of thousands of people in the surrounding area currently without access to power.
"The?project?is anticipated to have a transformational impact on?Madagascar, as currently, no?electricity?grid exists in the southern part of the island," the companies said in a press statement.
Fluidic Energy, which delivers advanced energy storage solutions is also working on a project to provide a mini-grid solution to one hundred remote villages and communities in rural parts of the country.
Working with partners, the company is pairing its batteries with solar panels to help store energy at a low cost. It says that more than 400,000 people will have access to energy for the first time, as part of the largest off-grid rural electrification project in Africa.
"We are building an off-grid utility," Thomsen explains. "We are using photovoltaics (PV) together with our own long-duration energy storage system. The villages we are fitting will have almost 900 homes connected from day one with the latest technology in energy storage, PV and smart meters. We are selling power at 49 cents per kilowatt hour.
"When you are building an off-grid utility you have to have scale though. The villages that we address are not your ten hut kind of villages. We only go after the ones with at least 1,000 households and preferably more."
Madagascar's renewable future
The project certainly came with its share of challenges. "At first we went to the Madagascar Government and proposed that we would be selling to Jirama as an independent power producer," Thomsen continues. "In the end though, we decided to take care of everything ourselves: the power plant, distribution, billing, smart meters. We just asked them for the license.
"They have plenty of sun and plenty of hydro," Thomsen says. "Madagascar's dependence on decentralised diesel is frustrating. It should vastly expand its renewable power."
As Jirama continues to struggle, Fluidic Energy's project shows the potential of renewable resources in a country where diesel-powered?electricity?generation remains the norm.