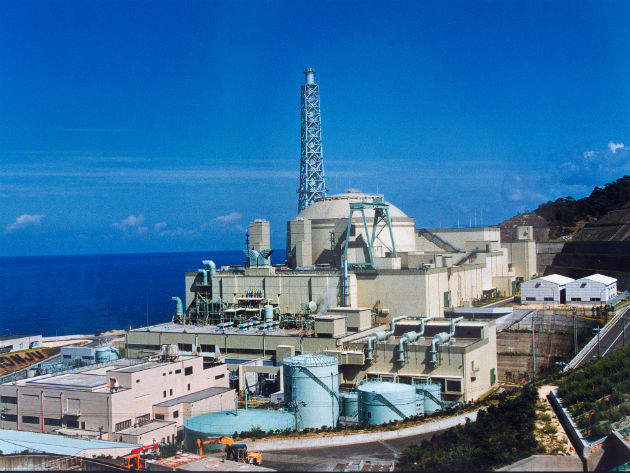 The Monju power plant in Tsuruga, Fukui Prefecture, is one of two experimental nuclear reactors set up in the 1980s in Japan. The fast breeder reactor was designed to use the plutonium created as spent fuel by other reactors, thus maintaining a reliable power source for Japan's future. However, the expensive project endured a string of problems, only ever running for less than a year within three decades.
In a cabinet meeting in September the decision was finally made to shut Monju down. The owner Japan Atomic Energy Agency (JAEA), a government-affiliated company, has often been accused of mismanagement due to the high number of failures and scandals surrounding the plant. The Nuclear Regulations Agency (NRA) suggested last November that the reactor be run by someone else or be closed, but with no one apart from JAEA qualified for such a complex project and in the face of mounting expenses and safety concerns, there was no alternative but to close down the project.
The history of Japan's fast breeder reactor
Monju is a demonstration reactor, designed to be a small-scale example of the potential of the fast breeder technology. The National Nuclear Laboratory's chief technologist Dr Richard Stainsby explains that "fast breeder reactors use high energy, or fast, neutrons to enable nuclear fission" as opposed to conventional nuclear reactors which use slow, thermal neutrons.
By using fast neutrons the reactors are able to utilise plutonium, which is otherwise discarded. "The advantage of using fast neutrons in fission reactions is that these reactions yield a surplus of neutrons, beyond the number needed to sustain the chain reaction," Stainsby says. "These surplus neutrons are then used to convert the most abundant form of uranium (uranium-238), that cannot normally be used as fuel, into plutonium, which is a very good reactor fuel."
"Japan invested heavily in nuclear technology as a cleaner alternative to coal."
Fast breeder reactors have long been a part of Japan's nuclear strategy, and continue to be. As it became clear that a sustainable alternative to fossil fuels was needed, Japan invested heavily in nuclear technology as a cleaner alternative to coal. The ability of fast breeder reactors to not only create energy but do so while using spent fuel from conventional reactors could help to protect Japan's energy security indefinitely and minimise the environmental risks of nuclear waste.
Monju was always going to encounter problems. As one of the first fast breeder reactors it was not designed to create large amounts of energy but to perfect the technology on a smaller scale. It was one of two fast breeder reactors constructed in Japan in the same decade, the second of which, JOYO has faced considerably fewer issues, although it is also currently non-operational.  Monju is only one of eight fast breeders currently in existence around the world, but of these three are non-operational and a further two are experimental, leaving only three operational.
In a controversial move, in September the Japanese Government also announced plans for a roadmap to build more fast breeder reactors to be released by the end of 2016.
Why did Monju fail?
Monju first reached criticality in 1994, before being shut in 1995 due to a sodium leak causing a fire. This was the first in a series of accidents which has kept the reactor closed for most of its life, including the discovery in 2012 that JAEA hadn't adhered to safety regulations, failing to check up to 10,000 parts.
The plant's reputation has been further marred by the lack of public explanation for the failures throughout. Whilst Stainsby highlights that "overall and looking globally, nuclear power has a safety record at least as good as any other form of large-scale electricity generation," Monju's record is far from exemplary.
"Continuing to maintain the reactor would cost a further ¥500bn ($4.2bn)."
Although Japan has the third-highest number of nuclear reactors in the world, its reputation for nuclear power was hit hard following the 2011 Fukushima Daiichi nuclear disaster. Between 2011 and 2013 the percentage of the Japanese population who supported nuclear power at current or increased levels dropped from 50% to just 22%. This means it is now more crucial than ever for the country to maintain the safest of nuclear technology in order to prove its necessity.
The problems that hounded Monju have also been costly. The fast-breeder program was always expensive, and at its most recent estimate has cost a trillion yen (around $8.5bn). Continuing to maintain the reactor would cost a further ¥500bn ($4.2bn), as education minister Hirokazu Matsuno stated following the cabinet meeting. But decommissioning the plant is also expensive, costing an expected ¥300bn ($2.5bn).
Decommissioning: the final chapter in the Monju story
Decommissioning will bring its own set of challenges, not least the large amounts of plutonium stored for use at Monju. Because fast breeder reactors use spent fuel from other nuclear reactors Japan has stockpiled 48 tons of plutonium, or enough to build 1000 nuclear weapons. Furthermore Japan has already begun building the Rokkasho reprocessing plant, designed to produce eight to nine tons of separated plutonium annually which would feed Monju. Ministers have affirmed that it will continue to be built, dramatically adding to a stockpile of plutonium Japan will struggle to get rid of.
"Removing the fuel removes almost all of the radioactivity from the plant and this can typically be done over two to three years," Stainsby explains. "Removing the fuel from a sodium cooled reactor typically takes somewhat longer than for a light water reactor as the sodium has to be kept pure and in its liquid state. This is then followed by a period of "care and maintenance" which extends over a number of years to allow residual radioactivity to decay and to reduce the radioactive classification of the resulting decommissioning wastes."
"Japan has stockpiled 48 tons of plutonium, or enough to build 1000 nuclear weapons."
There are a number of ways in which this plutonium could be used. "Some of the plutonium can provide fuel for JOYO, assuming JOYO's experimental programme is maintained," Stainsby says. JOYO will not use all of it, however, and it is more likely that the bulk will be used elsewhere.
"The rest [of the plutonium] could at some point be re-introduced into [Japan's] commercial fuel cycle as mixed-oxide fuel, MOX, for their light water (thermal) reactor fleet," Stainsby suggests. Alternatively it could be given or sold to other countries looking to run fast breeder reactors, but as of yet there is no clear plan.
The end of fast breeder reactors?
The failure of Monju will be a blow to the nuclear industry globally. As nuclear tries to brand itself as a clean energy alternative to fossil fuels the waste disposal promised by fast breeder reactors would bolster the industry. But Stainsby believes this will not have a long-term effect. "It will be a blow to international generation IV / fast reactor programmes to lose Monju, but the industry could survive such a blow."
He continues: "France closed their Superphenix commercial demonstration reactor in the late 1990s for a number of technical and political reasons. At the time this was considered by some to be the end of global efforts in fast reactors." But that has proved untrue, he adds, as "other countries, such as Russia, India and China followed by South Korea have pushed ahead with the technology and a few private companies in the US now have their own programmes for commercial reactors."
Fast breeder programmes are going to continue regardless of Monju's failures, and they will be able to take away valuable lessons from the experimental reactor. Stainsby emphasises that "one of the key pieces of learning has been to treat prototype reactors as experimental facilities and demonstrators." Monju was always supposed to be learning curve.
"In France today, the need for nuclear power to remain sustainable for the long term has given rise to a new sodium-cooled fast reactor programme, ASTRID, which is scheduled to begin construction in the mid-2020s" Stainsby explains. As the largest nuclear energy producer in the world, France has a wealth of experience going into its project and there remains optimism that the technology can become commercially viable.
But for Monju the educational journey is coming to an end, leaving just the decommissioning.