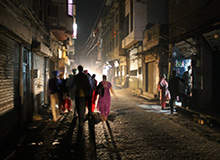 India – July 30-31, 2012 (700 million people affected)
The worst blackout in recent history occurred in northern India on two consecutive days in July 2012. The first blackout occurred on 30 July in the Northern grid, affecting 300 million people in nine states including India's capital region New Delhi.
A bigger blackout occurred the next day in the NEW grid which comprised the Northern, Western, Eastern and North-Eastern grids after the Northern grid was restored and synchronised with it. It affected a total of 700 million people across 20 Indian states.
Overdrawing of electricity by certain states and weak inter-regional power transmission corridors were cited as the reasons behind the blackout.
The incidents caused trains to fail and traffic lights to stop working, causing multiple traffic jams. Surgical operations were cancelled and construction and mining work was halted across the northern region of the country.
India – January 2, 2001 (230 million people affected)
India witnessed another blackout on 2 January 2001 due to the collapse of the Northern grid, which affected approximately 230 million northern Indians depending on the second biggest interconnected network in the country.
The failure of a substation in the state of Uttar Pradesh triggered the collapse, while poor and inadequate transmission equipment were also blamed.
More than 80 trains were stranded across the region and other businesses and services were also halted. The grid took 16 to 20 hours to be restored, causing an estimated loss of up to INR 5bn.
Java and Bali, Indonesia – 18 August 2005 (120 million people affected)
A power outage occurred across the Indonesian islands of Java and Bali in August 2005, affecting 120 million people or nearly half of the country's population. The capital city Jakarta and its neighbouring province of Banten were completely blacked out, and parts of West Java, Central Java and East Java also suffered blackouts.
The Java-Bali power grid, which had an installed capacity of 19,615MW, collapsed due to the failure in a 500kV transmission line between Cilegon and Saguling in West Java.
Transport services were disrupted and a number of international and domestic flights were delayed or cancelled due to the outage. The grid system was, however, fully restored within 24 hours.
Southern Brazil – 11 March 1999 (97 million people affected)
Approximately 97 million people were left in the dark across south and south-eastern Brazil in March 1999 after a bolt of lightning struck an electricity substation in Sao Paulo. The incident caused a chain reaction that resulted in the shutting down of Itaipu, one of the world's biggest hydroelectric power plants.
The blackout, which lasted for five hours, paralysed Sao Paulo and Rio de Janeiro, two of Brazil's biggest cities.
Approximately 60,000 people were stranded in Rio's underground subway. To prevent looting and assaults, 1,200 military police officers were deployed in Rio and the city tunnels in São Paulo were closed.
Brazil and Paraguay – 10 November 2009 (67 million people affected)
Major parts of Brazil and the whole of Paraguay were blacked out for two to four hours on 10 November 2009 when strong winds and heavy rains caused three transformers on a high-voltage transmission line to short circuit, affecting a total of 67 million people.
Six states in central and southern Brazil, including the cities of Rio de Janeiro and Sao Paulo, were blacked out, which eventually led to the shutdown of the Itaipu hydroelectric dam after the lines connecting to the plant went down.
The dam, which is situated on the Paraguay-Brazil border, stopped producing 18,000MW of electricity, affecting both countries. A number of car accidents were also reported during the blackout due to lack of street lighting.
Italy – 28 September 2003 (57 million people affected)
Italy experienced a blackout on 28 September 2003 after a power line which supplied electricity to the nation from Switzerland was damaged by an uprooted tree during a storm.
The incident occurred at about 3:00AM in the morning, affecting almost the entire 57 million population of Italy. It also brought 110 trains carrying more than 30,000 passengers in Italy to a halt, while trains were held at the Swiss border for more than 3.5 hours.
The Geneva Canton region of Switzerland experienced three hours of black out while Rome was most affected as the outage occurred during Nuit Blanche, an all-night arts festival. About 90 percent of the power was restored after eight hours though some regions were blacked out for as long as 18 hours.
Northeast United States and Canada – 14-15 August 2003 (50 million people affected)
Approximately 50 million people were affected across Southeast Canada and eight northeastern U.S. states in a blackout that occurred in August 2003. The blackout lasted for two days in places and cost $6bn in damages, making it the worst black out in the North American history.
The blackout occurred due to the shutdown of a high-voltage power line in Northern Ohio after it came in contact with overgrown trees. A faulty alarm system of the FirstEnergy Corporation failed to alert the operators, leading to a domino effect that resulted in three other lines being shut down.
Following the incident, a joint task force was created between the U.S. and Canada to prevent future blackouts.
Northeast United States and Northern Canada – 9 November 1965 (30 million people affected)
A blackout that occurred during rush hour in parts of Canada and several northeastern U.S. states on 9 November 1965 lasted for approximately 13 hours affecting more than 30 million people in New Jersey, Connecticut, Massachusetts, Rhode Island, New Hampshire,Vermont, Quebec, and Ontario.
The blackout was caused by a faulty or improperly set safety relay at Sir Adam Beck Station on the Ontario side of Niagara Falls that resulted in the tripping of a 230kV transmission line, leading to a domino effect.
The event left nearly 800,000 people stranded in the New York City subway. To prevent looting and vandalism, 5,000 off-duty police officers and 10,000 National Guardsmen were called into service. The blackout, which occurred during the full moon, ended peacefully.
New York, USA – 13 July 1977 (9 million people affected)
A lightning bolt caused a power outage in New York City during July 13th and 14th 1977. The Indian Point nuclear generating plant was rendered offline due to tripping, while a second lightning strike caused two more 345kV transmission lines to shut down.
Subsequent power surges, malfunctioning safety equipment and human error left nine million residents without electricity for nearly 24 hours.
The power outage sparked mass looting across the city, with approximately 1,600 stores destroyed by rioters and 1,000 fires set by arsonists. It led to the city's biggest mass arrest of 3,776 people.
Quebec, Canada – 13 March 1989 (6 million people affected)
The entire province of Quebec, Canada, suffered a blackout for 12 hours on 13 March 1989. A solar geomagnetic storm was responsible for the collapse of Hydro-Québec's electricity transmission system, leading to a blackout which affected six million people.
The geomagnetic storm caused a variation in the earth's magnetic field, thus tripping the Hydro-Québec power grid.
Montreal Metro and Dorval Airport were forced to temporarily suspend operations, while schools and businesses were shut down during the blackout.