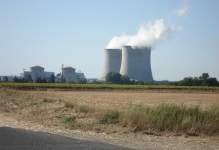 Nuclear power owes an awful lot to France. It was in France that physicists Henri Becquerel and Marie and Pierre Curie conducted the research that led to the original discovery of radioactivity, an achievement that would see all three awarded the Nobel Prize for physics in 1903 and Becquerel's name fixed as a unit of radiation. It was also the country that, in 1974, under the leadership of Pierre Messmer, announced that it aimed to generate all of its electricity through nuclear in response to the impact of the 1973 oil crisis.
While it never quite achieved the aim of what became known as the Messmer plan, France has led from the front in nuclear for a number of decades, driving down costs and advancing the technology that has preserved its importance as an energy source around the world. The country currently generates 75% of its total electricity produced from the 59 nuclear reactors that operate within its borders, all of which are under the control of Électricité de France (EDF), which is the highest contribution in the world.
Such enduring and strong support for nuclear power has enabled the country to build a strong industry around its own domestic operations, while at the same time exporting its expertise and technology around the world as more countries have started turning to it as a power source and others have started down the path to renewing their nuclear programme. It has also gained the status of being the centre of Europe's nuclear sector, with its decisions and policies around the energy source being adopted and followed by others.
Nuclear support cools
But now that fulsome support appears to be waning, with the recent announcement that legislation is being put together to cap the contribution of nuclear to the country's energy supply. Speaking in June, energy minister Ségolène Royal promised to usher in a more diverse energy future, with nuclear dominance being slowly reduced by renewable energy technology. She explained that the country will look to reduce it from the current level of 75% to 50% by 2025.
---
---
A powerful era of private pursuit of energy's holy grail may be about to begin.
---
The move is intended to force a transition over to non-nuclear renewable sources of energy, with technology such as solar and wind power to contribute 40% of electricity by 2025 and 32% of all power by 2030. Announcing the proposed laws, Royal was keen to stress that nuclear would continue to play an important part in the energy mix, but that it was important to advance other sources of power generation. She said: "We are not exiting nuclear, but its part must fall. It is thanks to nuclear that we can make a secure energy transition."
In order to reach the target contribution of renewables, which currently produces 15% of output mainly through hydro and wood power, France faces big decisions on what to do with its nuclear plants. The Government has indicated that to support the transition, it may close up to 20 of the 58 reactors currently in operation. So far, the Fessenheim plant, located just 1.5km from the German border in Alsace, is the only plant slated for closure.
Economic dominance under threat
While the proposal has played well with supporters of renewable energy and President Francois Hollande's supporters, who were promised a reduction in nuclear power during his election campaign, it has been met with opposition from the business side. Arnaud Montebourg, who sits in Hollande's cabinet as industry minister, has defended the importance of nuclear and maintained that it will continue to contribute at least half of the country's electricity needs.
"The Government has indicated that to support the transition, it may close up to 20 of the 58 reactors currently in operation."
While EDF has yet to comment directly on the proposals, it has indicated that it is confident that nuclear will remain a key part of the French energy market in the medium to long term. In a statement to accompany its half year results on 31 July, Henri Progrilo, EDF chief executive, told analysts that nuclear would play a key part in any long-term transition to renewable sources of power. In the same results, the company reported a marked improvement in performance of its renewable arm EDF Energies Nouvelle, and announced that construction on three new solar farms in the country was running ahead of schedule – indicating the company is preparing to mitigate the potential negative impact of a move by the Government away from nuclear.
Fears that the move will negatively affect the country's economy are not just confined to domestic operations. Having been Europe's biggest supporter of nuclear since the 1974 decision, the French nuclear industry has flourished on a global stage. EDF first exported the 900MWe pressurised water reactor(PWR) design to Iran in 1979, though this was later cancelled for political reasons, and has gone on to sell to South Korea, South Africa, China and recently penned a deal with the UK to build the 3.2Gw Hinckley Point C power station in Somerset.
An uncertain future
Areva, formerly known as Framatome, partnered with EDF in designing the established nuclear reactors and underwent significant growth as nuclear was adopted in Germany, Switzerland and Finland. Areva has suffered of late, as many of its main customers, Germany in particular, responded to the Fukushima disaster by transitioning away from nuclear. Areva is also under threat after the news that EDF has partnered with China Guangdong Nuclear Power Corp to build a new smaller reactor, which has been judged by analysts as a sign that EDFno longer sees strong growth prospects in the PWR reactors itdevelops with the company.
---
---
Factory built, transportable and re-locatable Small Modular Reactors (SMRs) offer exciting potential.
---
Further concern has been raised over the prospect of the move, resulting in France being replaced as the standard bearer in nuclear power development. While it was not the first to build a nuclear reactor, EDF was the first to move away from a gas-cooled system when it designed and launched PWRs, which were then adopted across the industry. It has also spearheaded development of the European Pressurised Reactor with Areva, which has emerged as the favoured solution for countries looking to increase safety following Fukushima, courtesy of its increased safety features, such as four independent emergency cooling systems.
In a G7 report, energy security expert Gal Luft warned that, unless developed countries maintaintheir support for developing nuclear power, it will be left up to the developing world to set best practice and standards, with China and Russia likely to lead the way in charting nuclear power's future. He recommended that countries such as France maintain dominance and focus on making it safer and more effective.
In the aftermath of the 1973 oil crisis, it was France that backed nuclear most strongly as an alternative source of energy and it has maintained that support for more than four decades. While others reduced their support, France was robust in its support. Now, it may be set to turn from leader of nuclear power to follower of renewable energy, which does not bode well for the global nuclear picture.