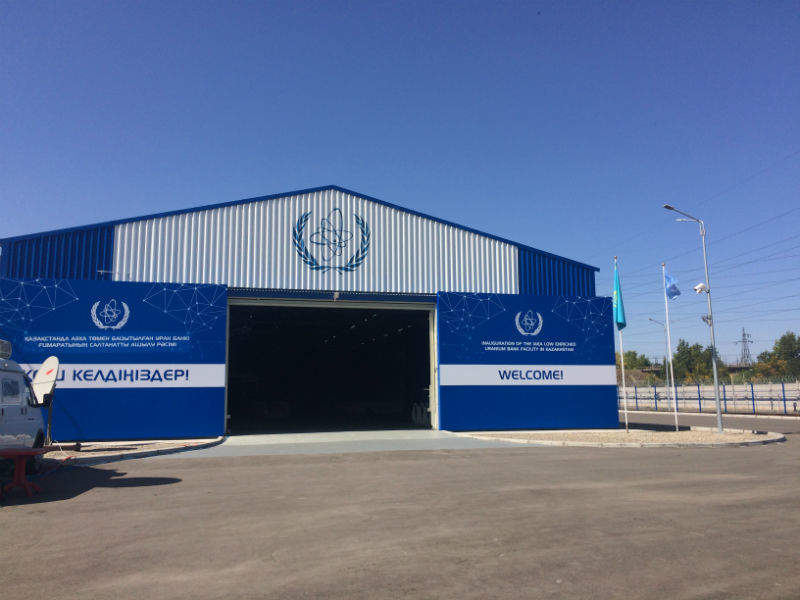 On the 29th of August 2017, the eighth anniversary of International Day against Nuclear Tests, the International Atomic Energy Agency (IAEA) opened the Low Enriched Uranium (LEU) bank in Kazakhstan. The bank will act as an assurance plan for nuclear reactors around the world, ensuring that should there be exceptional circumstances affecting the uranium market, a source is still available.
At the official opening ceremony in the countries capital, Astana, the president of Kazakhstan Nursultan Nazarbayev presented the IAEA's director general Yukiya Amano with a symbolic key. "We are here on a significant day, special not just for our country but for the global community" Nazarbayev proclaimed.
The bank is costing US$150 million, which has been provided by a number of donors, including the US, the Nuclear Threat Initiative and the European Union.
The bank has been built in Oskemen in the north east of Kazakhstan, within the ULBA meteorological facility. It can hold 90 tons of uranium hexafluoride (UF6), which will be stored in 60 cylinders each containing 1.5 tons. This quantity of uranium is equivalent to the full load required by a light water reactor which produces 1000MW of energy, or enough to power a large city for several years.
The IAEA, the United Nations watchdog for nuclear power, will run the facility and its director will be solely responsible for accepting a member states application for the fuel. A country must meet a set of stringent criteria to purchase the UF6, ensuring its safe and proper use as fuel.
A deterrent as well as a stockpile
Whilst the main aim of the bank is to provide a guaranteed stock of nuclear fuel, it may also deter nations from building their own enrichment facilities. It is hoped that removing the need for domestic enrichment facilities may safeguard against the use of those facilities for the construction of nuclear weapons.
"The goal is to form a guaranteed supply of fuel for countries that do not have to the ability to enrich uranium," said Armani. "The creation or the bank will help stop the spread of enriched uranium."
There are other nuclear fuel banks globally, including one in Russia, but this will be the first owned by the IAEA. As such, it is not concerned with political grievances or power struggles and operates outside of bilateral nuclear agreements.
The LEU will be protectively cased with high resistance steel to ensure that it does not give off radiation and can withstand stress. Enrichment will also be limited to 4.95% for safety. The site will be protected by the Kazakhstani National Guard.
The uranium will be bought by the end of this year, with the hope to have it in the facility by next year. It is thought is will be bought from a number of sources.
"I am confident that the IAEA LEU Bank will make a valuable contribution to international efforts to ensure the availability of fuel for nuclear power plants," Amano said.