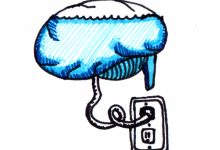 With smart meters offering a detailed breakdown on how a household consumes its power and micro-generation adding a new layer of engagement into the energy market, there are a number of psychological issues that businesses, policy makers and campaigners must consider in relation to how we consume and create energy.
Working across the psychology department and the Horizon Digital Economy Research unit at Nottingham University, assistant professor Alexa Spence has carried out research into a number of areas where technology, energy and psychology intersect. Here, she explains her research and ideas.
Adam Leach: You've carried out research on energy consumption in the workplace. What can companies do to drive down consumption in the office?
Alexa Spence: Taking the technical conclusions, social science and psychological conclusions together, it seems to imply that using preformed, spatially organized groups, where you've already got social processes going on and people already know each other and monitor and see each other, is likely to be most beneficial. Energy just hasn't been the key focus, but similarly energy isn't the key focus in the workplace.
We've done some more work on motivations in the workplace, which will be published in the future, and people don't see energy saving as a primary motivation and it's not something they think their bosses see as important. It's not something you necessarily want to be seen doing at work.
AL: Your research suggests that 'fear and guilt' are powerful emotions in driving energy efficiency. How could that be maximised?
AS: Whether we want to maximise the negative emotions is an interesting question, as we'd naturally shy away from it, but it would be done in a similar way to how we did it. It would be about promoting the goals while not providing more information; by making the idea of reducing energy usage salient, while not providing people with the feedback on their behaviour to know whether they are the ones doing it or not.
There are a few things that come to mind with that; one is whether fear and guilt would continue long term or whether people would get annoyed and give up trying, and the other is whether fear and guilt would result in other types of social conflict that are less productive, which is something we didn't look into in the study.
---
---
Momentum is building behind the concept of continent-wide grid.
---
That is one thing that the more detailed displays did do, so the anger associated with who did what does actually prompt people to say 'hey, stop doing that', and that in itself can be a very productive thing and achieve step changes in energy usage.
AL: How else could energy displays change people's energy use?
AS: We did a paper on engaging people with energy displays and whether carbon or cost was a better frame for motivating people. We mocked up feedback displays and we had versions that engaged people with either straight energy units (KWh), cost (£ and p) or with carbon (CO2 units). With the cost display we found that they were significantly more likely to say that it wasn't worth the effort when they saw the feedback of how much they would save by turning a few things off, so there's an indication that cost savings could actually be disheartening in the context of individual actions.
With the carbon display, perhaps an obvious but still an important step, we found that it does make people think more about climate change and also the motivations to save energy for climate change purposes. We found that that actually transformed not only into greater intentions to undertake better energy behaviour but also other types of environmental behaviour, so a kind of spillover behaviour. So people might recycle more, make more sustainable food choices, even change transport choices.
AL: In the course of the research on energy efficiency in the workplace, have you come across any offices or companies that were particularly good at engaging staff?
AS: I don't know of any that have been really good at engaging their workforce with energy, but the best in terms of efficiency are those that are automated. However, that doesn't always result in a happy workforce. In those places where everything is automated, the temperature is set and the lighting is controlled, so you're not allowed desk lamps or extra heating equipment, you can't even turn your computer off. Those are the best in terms of energy efficiency, but in many of them, the staff are pi**ed off.
AL: In the study 'Energy sharing and energy feedback: affective and behavioural reactions to communal energy displays' you found that an energy display that showed overall in a group worked better than a display that singled out individual users. Is too much data can be counter-productive?
AS: Yes, [our finding] does suggest that. We're a bit reluctant to be too pushy with that conclusion because it's kind of the first study in the area, but it shows that average overall energy displays are better in that respect, which goes against the natural idea that more detail is better.
"We found that they were significantly more likely to say that it wasn't worth the effort when they saw the feedback of how much they would save."
There are obvious reasons why more detail can be better, such as it is more empowering and gives you more control, but getting at peoples motivations is something a bit different. In our study, which focused on people's intentions to use energy and their emotional reactions, we found that more detailed displays are good for managers and consultation – so more detail is clearly useful for some purposes. However, for a display for a broader group of users or broader population it's not necessarily the way to go because you've got to think about how it will affect social processes and how people interact with each other.
AL: What other insights or thoughts did you take from the outcome of the study?
AS: I think it's also important to consider the positive emotions associated with people working together and achieving energy savings. We've gone with the negative emotions where somebody uses more, but what about the opposite where people see that they've managed to use less, either because one person has cut their amount or the group as a whole has. As we all start getting displays on energy use, that sort of stuff will become really important.
AL: In 'Smart grids, smart users? The role of the user in demand side management' you assessed how participants' engagement with energy use differed and how that might be influenced. What did you find?
AS: We got people to think and reflect on their energy use and we found that people shifted between 'energy consumer' and 'energy citizen' behaviour. One of the most interesting things we found was the tension between people wanting to get more information on their energy use because they didn't know what their bills were based on, and actually being given that information and the options that created. It was a tension between wanting more information and not actually wanting to spend time changing it.
People want the energy but don't really want to have to think about it. That kind of behaviour kind of typifies the energy consumer. The energy citizen behaviour was found in people really engaging with energy usage and was found quite a lot in people involved in micro-generation who were getting the extra benefit of a feed-in tariff. By joining that up for them with the smart meter data, they found it really useful and really productive."
AL: Does that suggest that a move to increase community energy projects would increase engagement in energy efficiency?
AS: I think it does, both from the idea that giving people ownership will engage them more and also from the idea of cooperation and that in smaller groups there is more visibility of individuals behaviour, making people more inclined to cooperate in smaller groups. So yes, I think it does support that kind of move.
AL: What other psychological issues interest you in relation to energy use?
AS: A big one that interests me is how to engage the public in public spaces like libraries, leisure centres and museums and things like that. People are scared to switch things off in case they wreck something but I think it's quite an important one to try and tackle.
Also, in terms of demand side management and smart grid stuff, we still don't know enough about what people actually want, which is obviously very important. I'm not saying that it should be left up to the public, but we do need to take people's perceptions and considerations into account.
AL: If you could carry out an experiment on the entire UK population in order to cut energy use, what would you do?
AS: I would be tempted to switch people off for periods of time during the day and encourage people to only use essential services during that time to see how people could shift and give them a greater appreciation of their energy. I also think it could create some good community benefits as well, promoting go-slow ideas and stopping people playing on their computers and phones for a little bit to bring them back down to reality, though it might be seen as slightly extreme.