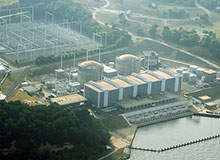 Baltimore Gas and Electric Company, US
The Baltimore Gas and Electric Company (BGE) is the world's first and longest running gas and electric utility. BGE was founded in 1816 as The Gas Light Company of Baltimore to light the streets of Baltimore, a feat that was completed in 1890. BGE's customers began using incandescent lamps by 1880.
The Constellation Energy Group became the official holding company for BGE in the 1990's while the utility became a subsidiary of Exelon Corporation in 2012 following its merger with Constellation Energy.
BGE, headquartered in Baltimore, is Maryland's biggest gas and electric utility and supplies electricity to more than 1.25 million customers and natural gas to more than 650,000 customers in the state. Its electric infrastructure comprises more than 25,000 circuit miles distribution power lines and approximately 1,300 circuit miles transmission power lines. Its natural gas pipeline network covers more than 7,100 miles.
Consolidated Edison, US
The history of Consolidated Edison or Con Edison, one of the biggest energy companies in the US, dates back to 1823 when the New York Gas Light Company was founded. Its biggest utility subsidiary, Consolidated Edison Company of New York, provides electricity and gas to most of New York City and Westchester County, as well as steam to Manhattan.
Six major gas companies from New York City, including the New York Gas Light Company, merged to form the Consolidated Gas Company of New York in November 1884. The company acquired a number of gas, electric, and steam companies in the region and was renamed Consolidated Edison Company of New York in 1936.
Con Edison distributes natural gas to more than one million customers in New York City and Westchester County and provides electricity to more than three million customers. Its natural gas network includes more than 4,200 miles of gas mains and nearly 400,000 service pipes while its underground electric cables span 94,000 miles along with 36,000 miles of overhead electric wires.
AGL Energy, Australia
AGL Energy, headquartered in North Sydney, Australia, was originally established as Australian Gas Light Company in 1837 to light the city with gas lamps. The company introduced natural gas to Sydney in 1976 and also installed the longest pipeline in the country from South Australia to Sydney.
The Australian Gas Light Company merged with Alinta in 2006 to form two new entities, Alinta and AGL Energy.
AGL Energy is one of Australia's leading integrated energy companies with a diverse power generation portfolio comprising thermal generation as well as renewable sources including solar, wind, hydro, landfill gas, and biomass. The company provides natural gas and electricity to more than 3.8 million residents and small businesses across New South Wales, Queensland, Victoria and South Australia.
PECO, US
PECO, an energy delivery subsidiary of Exelon Corporation, is the biggest electric and natural gas utility in Pennsylvania. It originated as The Brush Electric Light Company of Philadelphia in 1881. It was incorporated in 1902 as the Philadelphia Electric Company and adopted the name PECO Energy Company in 1994, before changing it to PECO.
PECO merged with Unicom in 2000 to create Exelon Corporation. It operates 500 power substations and 31 gas gate stations, as well as 29,000 miles of power distribution and transmission lines and 6,600 miles of underground gas mains.
Headquartered in Philadelphia, the company serves approximately 1.6 million electric customers and more than 500,000 natural gas customers in Pennsylvania.
CenterPoint Energy, US
The origin of Houston-based domestic energy delivery company CenterPoint Energy dates back 1866 when the Houston Gas Light Company was formed to supply gas for the street lights in a small village in southeast Texas.
HGL was incorporated in 1882 and renamed Reliant Energy in 1999 upon merging with NorAm Energy Services. The company was further renamed CenterPoint Energy in 2002 after spinning off its retail electric sales and selling its power generation assets during the restructuring of the Texas electric market.
CenterPoint Energy is involved in electric transmission and distribution, natural gas distribution and energy services operations. It serves more than 2.2 million electric customers and more than 3.3 million natural gas customers, using approximately 50,000 circuit miles of overhead and underground distribution power lines and approximately 3,700 circuit miles of power transmission lines. Its natural gas main and service lines span more than 118,188 miles.
Energy Future Holdings, US
Dallas-based Energy Future Holdings, previously known as TXU Corporation, is made of companies whose predecessors date back as far as 1882, when the first electric light was lit in North Texas.
Three utilities, Dallas Power & Light, Texas Electric Service Company and Texas Power & Light Company, joined to form a holding company named Texas Utilities Company in 1945. The company adopted the new name TXU in 1999 and Energy Future Holdings in 2007. Its subsidiaries include retail electric provider TXU Energy, transmission and distribution utility Oncor, and the wholesale electricity generation provider Luminant.
TXU Energy has the biggest share of the Texas retail electricity market while Luminant generates more than 15,400MW electricity including 2,300MW of nuclear power and 8,000MW from coal. Oncor delivers power to more than three million customers and operates more than 117,000 miles of transmission and distribution lines in Texas.
Wisconsin Public Service, US
Wisconsin Public Service started operations in 1883 as the Oshkosh Gas Light Company and was incorporated in 1922. WPS Resources Corporation, the holding company of WPS, was renamed Integrys Energy Group in 2007 following its merger with Peoples Energy Corporation.
WPS produces approximately 60% of the electricity from coal-fired power plants, 35% from natural gas plants and 5% from alternative sources such as hydro plants and wind farms. The utility purchases natural gas directly from gas producers and marketers.
Headquartered in Green Bay, Wisconsin, the energy utility serves more than 445,000 electric customers and more than 323,000 natural gas customers in northeast and central Wisconsin as well as part of Upper Michigan.
Edison S.p.A, Italy
Edison is Italy's first electric utility and the second biggest company in the Italian electricity market. It was established in 1884 as the General Italian Edison-System Electric Company in Milan. The company's founder Giuseppe Colombo was instrumental in opening Santa Radegonda, the first power plant in continental Europe.
Now a part of the French electric utility EDF Group, Edison is involved in the production, import and sale of electric power as well as the procurement, exploration, production and sale of natural gas and crude oil. It operates 47 hydroelectric plants, 35 wind farms, 21 thermoelectric, nine solar plants and 1 biomass plant.
Edison has a total installed capacity of 7.3GW and distributes approximately 300 million cubic meters of natural gas to 145,000 customers in northern and central Italy a year.
Edison International, US
California-based utility company Edison International traces its roots back to 1886 when the Southern California Edison Company's predecessors Visalia Electric Light and Gas Company and Santa Barbara Electric Light Company began operations. The two companies merged in the early 1900s and were incorporated in 1909 as Southern California Edison Company after acquiring the assets of Edison Electric Company.
SCEcorp, the holding company, was renamed Edison International in 1996. Edison International has two subsidiaries, Southern California Edison (SCE) and Edison Energy.
SCE provides electricity to more than 14 million people in central, coastal and Southern California. Its electrical infrastructure includes 1.4 million power poles, 103,000 miles of distribution and transmission lines, and 700,000 transformers. Edison Energy is involved in the development of new products and services in the energy marketplace.
Consumers Energy, US
Consumers Energy, the principal subsidiary of CMS Energy and Michigan's biggest electric and natural gas utility, was founded in 1886 by William Augustine Foote to illuminate the downtown area of Jackson, Michigan. It was renamed Commonwealth Power Company in 1904 and Consumers Power Company in 1910.
The CMS Energy holding company was created in 1987 with subsidiaries Consumers Power and CMS Enterprises. Consumers Power changed its name to Consumers Energy in 1997.
Consumers Energy generates electricity from fossil fuels such as coal, natural gas and oil as well as from nuclear and renewable resources including hydro and wind. It supplies power to more than six million Michigan residents in all 68 of the Lower Peninsula counties. Its gas distribution network serves more than 1.7 million customers in Michigan and operates more than 27,000 miles of transmission and distribution pipelines.