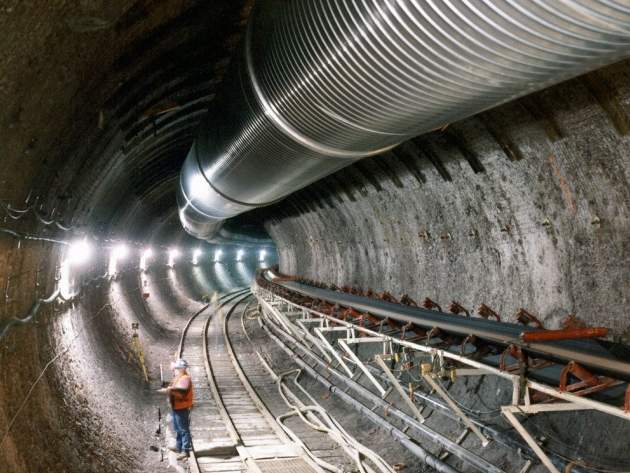 In February 2014, an incident occurred at the Waste Isolation Pilot Plant (WIPP) in Carlsbad, New Mexico when a 55-gallon drum containing radioactive waste popped its lid, contaminating 3,000ft of underground tunnels at the facility before rising through the exhaust shaft to escape in small quantities into the surrounding desert. The culprit, it was later discovered, was cat litter. The litter was used by the Los Alamos National Laboratory to seal a drum before sending it on to WIPP for storage. The organic absorbent – with which concerns had previously been raised – reacted violently with the nitrates in the waste and caused the leak.
While the US Department of Energy (DOE) was quick to downplay the immediate risks the leak posed to plant workers and nearby communities, the long-term ramifications of the incident – both in terms of direct consequences and wider implications – have added salt to the open wound that is America's ongoing nuclear waste storage issue.
The plant, which has been used as a long-term storage site for transuranic radioactive waste from US nuclear weapons research and production since 1999, is not scheduled to resume full operations until 2021. The political and economic fallout from the incident could last much longer, with significant knock-on effects for the nation's fleet of commercial nuclear plants.
WIPP leak: the political and economic fallout
The costs associated with rehabilitating WIPP – the only underground nuclear waste repository in the country – have ballooned since 2014, with delays and complications bringing the total cost of the clean-up to a potential minimum of $2bn, according to analysis published by the Los Angeles Times in August. This puts it on par, in terms of cost, with the clean-up after the infamous partial meltdown of the Three Mile Island nuclear plant in 1979.
On top of the approximately $640m cost of the clean-up itself, the expense of potentially extending the facility's operation for an additional seven years to make up for the prolonged closure could add $1.4bn to the bill.
Further costs include a $74m settlement paid by the federal government to the state of New Mexico for the leak and a truck fire that occurred just days before, as well as the added expense of continuing to store and maintain nuclear research waste at temporary sites such as the Hanford Site in Washington state, which is waiting to ship 24,000 drums of waste to WIPP. The delays caused by the leak also exacerbate already fractious relations between nuclear storage states and the federal government over the need to move waste from temporary processing facilities.
"The costs associated with rehabilitating WIPP – the only underground nuclear waste repository in the country – have ballooned since 2014."
"Safe and successful clean-up of the nuclear waste stored at Hanford is of utmost priority for the people of Washington state and the Pacific Northwest," said Washington Governor Jay Inslee in March 2014, just a month after the WIPP incident. "The federal government has a moral and legal obligation to oversee the successful cleanup of the waste that remains. Fifty-six million gallons of hazardous and radioactive waste continue to be held in Hanford's storage tanks – now decades beyond their intended use."
Politically, the loss of the New Mexico site would be damaging to the US government's commitment to dispose of plutonium, about which it has signed mutual agreements with Russia. This is yet another reason why the DOE seems unwilling to consider abandoning WIPP, despite the huge cost and complex technical issues associated with its repair.
"The facility was never designed to operate in a contaminated state," said the Southwest Research and Information Center's director of nuclear waste safety Don Hancock in an interview with the LA Times in August. "It was supposed to open clean and stay clean, but now it will have to operate dirty. Nobody at the Energy Department wants to consider the potential that it isn't fixable."
Commercial waste storage: if not WIPP, then where?
Perhaps of most concern to the operators of commercial nuclear power plants is the loss of WIPP as a potential permanent storage site for nuclear waste from the civil energy industry. The facility and its use of salt formations to seal waste has been mooted as a potential frontrunner model to permanently store non-defence, uranium-based nuclear waste from power plants.
The prospect of expanding WIPP to host commercial as well as defence-related waste had been mooted, but this seems highly unlikely given the incident and the plant's now-compromised situation. This is a problem for the US civil nuclear fleet, which has by now accumulated around 75,000 tonnes of spent nuclear fuel, at a rate of approximately 2,200 tonnes a year.
The vast majority of this high-level radioactive waste is currently being stored on an interim basis at temporary facilities, usually at the sites of the operating or decommissioned power stations themselves. These sites, which store spent fuel in pools to cool for five years before being transferred to dry casks, are not intended for long-term storage, and their continued use represents both a leak risk and an enormous cost to plant operators, who spend millions to process and maintain waste, and to the government, which is liable for part of these storage costs as a result of industry lawsuits related to its failure to take possession of spent fuel by the required date of 1998. DOE figures put the amount paid in damages to the nuclear energy industry thus far at $4.5bn, with an estimated $22.6bn in future liabilities. As such, the need for a permanent storage site for commercial nuclear waste is acute.
Case in point: WIPP was originally suggested as a replacement for another long-term nuclear storage option that has been on the table in the US since as far back as 1987, when the Nuclear Waste Storage Act of 1982 was amended by Congress to make it the only site under consideration as a permanent solution. That site is Yucca Mountain in Nevada, the development of which is a decades-long saga that has left the US no closer to solving its waste dilemma.
Yucca Mountain: fold or double down?
Having been identified by Congress as the prime candidate for permanent spent fuel storage in the late 80s, Yucca Mountain – intended as a deep geological storage facility on federal land underneath the mountain – was due to start accepting waste in 1998 for 10,000-year storage. However, today the site is still undeveloped; in 2010 the Obama administration essentially mothballed the project, ruling it out as a storage site due primarily to intense local opposition led by Nevada Senator and Senate minority leader Harry Reid.
The DOE and other agencies have repeatedly reiterated the technical soundness of the Yucca Mountain storage plan, and the Government Accountability Office (GAO) has noted that public resistance, rather than technical viability, is the main reason that it's proven impossible to develop Yucca Mountain or any other permanent storage site.
"Social and political opposition to interim storage and permanent disposal sites, not technical issues, is the key obstacle to selecting a site and building a facility," the agency has stated. "States are likely to be leery of hosting interim storage sites until a permanent disposal facility has been sited. Important tools for overcoming such opposition include transparency, economic incentives, and education."
"Public resistance, rather than technical viability, is the main reason that it's proven impossible to develop Yucca Mountain or any other permanent storage site."
Some optimistic proponents of the Yucca Mountain scheme believe the project could gain a new lease of life after the exit of the Obama administration and the upcoming retirement of Senator Reid in January 2017. At a DOE National Cleanup Workshop in September, Lincoln County Commissioner Varlin Higbee, cited two Congressmen who believe shifting politics in the US could bring Yucca Mountain back into contention as an interim or permanent storage site.
"They both said, depending on the winds of politics, how this election goes, Yucca Mountain may again become one of the repository sites," Higbee told the Lincoln County Record in October.
Former Democratic presidential candidate Hillary Clinton made it clear that she would likely follow the Obama administration's lead on the Yucca Mountain site, telling the Las Vegas Sun in January: "There should be a continuing science-based effort to try to figure out what to do about nuclear waste, and I'm open to talking with experts who have been studying this and listening to local communities about what their preferences might be. But I would keep Yucca Mountain off the table."
Divisive Republican candidate Donald Trump, now President-Elect after a shock election victory over Clinton, was characteristically detail-light when quizzed on the site in a KSNV interview in October. "I will tell you I'm going to take a look at it because so many people here are talking about it," he said. "I'll take a look at it, and the next time you interview me, I'll have an answer."
It seems unlikely that Yucca Mountain will go ahead as a permanent storage site after decades of stalwart opposition. The DOE is now considering various technologies and sites after promising in 2015 to develop a new "consent-based" approach to finding a new site. Storage methods such as deep boreholes, salt beds, underground salt domes, and granite and shale repositories are on the table and, in many cases, in active development in Europe and elsewhere. But whatever method proves the most advantageous in the US, site selection will be an essential and hard-to-navigate obstacle to overcome if the country is ever going to face up to a nuclear waste backlog that is getting longer every year.