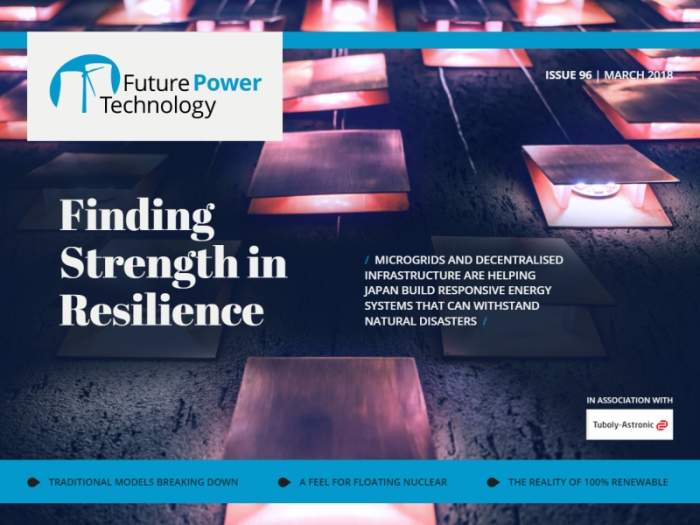 You can now
read Future Power Technology
magazine
across all devices, including mobile, for free!
The 2011 tsunami decimated much of Japan's energy infrastructure but, never one to shy away from progress, the country saw this as an opportunity to change its approach to power. As such, the city of Higashi-Matsushima rebuilt its systems using a design by Takao Kashiwagi, a professor at the Tokyo Institute of Technology. Funded by the National Resilience Program, the area installed microgrids and today runs off 25% decentralised power, with plans to push this further. Following this success, the programme received a budget increase to help roll out this system across Japan. In this issue, we take a look at this smart city that rose from disaster to inspire a nation.
Also making major changes, India will soon have the capacity to operate on 100% renewable power. But with energy poverty rife across the country, we ask what it would take for India to actually achieve this.
Across the sectors, we see how traditional energy supply models are breaking down due to disruptive technologies, learn about the new smart energy sources emerging to support smart cities, ask if China is leading the way in floating offshore nuclear and assess the future of South Korea's nuclear industry as the country reaches a phase-out crossroads.
Click here to read the latest energy industry news and analysis, and join the conversation on Twitter.
In this issue
Where do utilities stand in the brave new energy world? UK energy watchdog Ofgem has warned that, as the power market becomes more decentralised, the traditional 'supplier hub' model of energy supply is breaking down. In the not too distant future, customers could be buying energy from various sources peer-to-peer and generating some of it themselves. We speak to Ofgem to find out why they believe change is coming. Click here to read
Building a solar-powered district With construction underway on the Denver CityNOW project, Panasonic and its partners are hoping to reveal the future of smart cities. Chris Lo speaks to Panasonic USA vice-president for CityNOW George Karayannis, who outlines the company's vision for a smart city development that could work anywhere Click here to read
A 100% renewable India: can it be done? India will have the capacity to operate on a fully renewable electricity system by 2050, according to research by the University of Technology (LUT) in Finland. It's a bold claim for a nation of more than a billion people, many of whom still live without any electricity at all. We chart the milestones required and the stumbling blocks that could stand in the way. Click here to read
The Resilience Programme: Japan's microgrid renewal Following the 2011 tsunami, the Japanese city of Higashi-Matsushima rebuilt itself and carved out new decentralised energy infrastructure using microgrids. Funded by the National Resilience Program, the area was converted into a smart city which now runs off 25% decentralised power, with plans to push this further. A recent budget increase for the year will see the concept being rolled out across Japan. We take a look at this smart city that rose from disaster to inspire a nation. Click here to read
Floating nuclear power in the South China Sea China is finalising its first offshore nuclear reactor, to be deployed in the South China Sea by 2020. The technology is hoped to help realise the country's dream of becoming a strong marine power, by ensuring that oil and gas rigs have a secure and reliable source of electricity. But with plans to set-up in disputed waters, what are the benefits and risks of moving nuclear offshore? Click here to read
Does nuclear power have a future in South Korea? Nuclear power provides a third of South Korea's electricity demand but President Moon Jae-in is promising to phase-out both nuclear and coal power in the coming years. A recent government poll found that the majority of South Koreans support completion of two controversial nuclear projects, while a small number are for the phase-out. We assess the situation and ask whether South Korea will proceed with a full German-style energy transition. Click here to read
Issue preview – Future Power April
China has announced plans to roll-out the world's largest carbon market. Initially covering the power industry, it will regulate the offsetting and trading of 3.3 billion metric tonnes of emissions, dwarfing the EU's Cap and Trade scheme. How will it work and will this bold move be the impetus for similar schemes elsewhere? We find out.
In technology, we learn about subsea tech company Rovco's unique 3D visualisation system that could help reduce the cost of offshore wind farm inspection by up to 80%. We explore the market shifts helping renewable generation step up its competition with fossil fuels, such as the European Investment Bank investing $400m in solar power in India; we take a look at plans to build the biggest ever wave energy park off the coast of Bali, and assess Shell's decision to expand its renewables portfolio.
While in utilities, Origami Energy argues that flexibility is the future and explains the value of real-time energy control.
Free on all devices
We've changed! With the launch of our fantastic new website, you can now read Future Power Technology for free across all devices, including mobile. It is still free to read and you can sign up for a subscription to get all the latest news, analysis and insight on the global energy industry delivered straight to your phone.
You can also browse our back issues in our web viewer, available on desktop and on iPad.