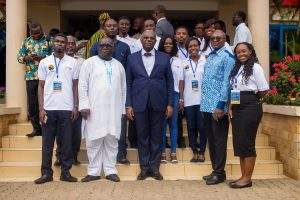 Despite being one of the most stable countries in West Africa for nearly a decade, Ghana has experienced a deep energy crisis exacerbated by a weak economy and skyrocketing growth in electricity demand.
Even now, the country faces high energy prices, electricity outages and a heavy reliance on hydropower that has been hampered by frequent droughts.
The government needs to find cost-effective and sustainable energy solutions for the future to maintain a secure energy supply and kickstart economic growth.
The World Energy Council's Future Energy Leaders' (FEL) programme, under the theme 'building the capacity of young energy experts to think out of the box for a sustainable energy future,' is part of the effort to tackle these ongoing challenges. Here, Heidi Vella speaks to the programme's interim public relations director, Mr Justice Akoto.
Heidi Vella (HV): Why did the FEL choose to launch this programme in Ghana?
Justice Akoto (JA): The consequences of an energy crisis that lasted nearly a decade in the country has brought to light the need to develop alternative and intuitive approaches to cater to the country's growing energy demands.
Therefore, 'building capacity', 'thinking out of the box' and 'sustainable energy future' are the three main phrases of interest in the theme we chose.
As a youthful nation, the country has significant human resource potential in the energy sector, but considerable efforts are needed to build, nurture and harness the capacity of this youth for the benefit of the country.
Nurturing our young energy experts will not only include training and guidance, but also exposure, opportunities, networking and mentorship.
HV: What challenges does Ghana face for its immediate energy future?
JA: Ghana is working on getting an energy mix that will be more efficient and resilient to fluctuating demand, environmental and economic conditions.
Integration of renewable energy systems into the national energy mix has been relatively slow. The current cost of energy is not favourable for the average Ghanaian and there are fears prices could go higher if more efficient systems are not put in place.
If we adopt smart energy technologies into the country's energy sector, future challenges will be adequately solved.
HV: The secretary of the Ghana member committee, William Horsu, said in terms of nurturing new talent, Ghana could learn from Germany. Could you discuss?
JA: Yes, according to the German Federal Youth Council (DBJR), youth organisations are an important and independent part of the educational system because they provide free and independent learning spaces. Youth organisations support young people in their personal development, provide empowerment for an independent life and help them develop their skills.
The DBJR fights for a better recognition of these non-formal learning spaces. Due to their experience and competence, the DBJR member organisations are young people's voice in debates about the future of education and are involved in the decision making in all sectors of the economy.
By putting policies in place to engage and give capacity for the Ghanaian youth to have their say, we can also do better, like the youth in Germany. The FEL Ghana is our opportunity to do this. The Government of Ghana is ready to support youth in the energy sector.
HV: Do you think young people have a different attitude towards energy than their elders?
JA: Today's young generation have a higher appetite and demand for energy than their elders because they have wildly embraced the use of automation and technology in all its forms, which requires much more energy to run.
It is only logical that their demand for energy will continue to grow in the near and distant future. It is in their best interest to actively involve themselves in the global drive towards a sustainable energy future; if this future remains in jeopardy, they will be in trouble.
In addition, a global trend currently observed is the younger generation is that they are more conscious and embracing of energy efficiency and energy conservation.
HV: What specific opportunities does Ghana's energy sector offer its youth?
JA: Educational, economic and professional opportunities continue to avail for young people in Ghana's energy sector.
Presently, the oil and gas sector provides most education, economic and professional opportunities, but there is the hope that renewables, like solar and wind, will eventually match up or overtake the opportunities created by the oil and gas sector.
Specifically, in education scholarship opportunities are available for young women who want to pursue careers in energy.
HV: Is there enough relevant local training and education?
JA: There are some programmes run by both private and public institutions. However, they have predominantly remained as training exercises for special niches of the energy sector.
FEL Ghana seeks to bolster the development of our young energy experts with a world energy academy, workshops, seminars, training sessions, among others things.
HV: What is an example of a great energy innovation in Ghana that others can be inspired by?
JA: There are a few we can learn from, including the Ministry of Energy's mini grid system, energy projects by the Energy Commission of Ghana and other private company projects.
A typical example is the energy project undertaken by Safi Sana Ghana. The company collects both faecal and organic waste, treats it in a digester and converts it into organic fertiliser, irrigation water and biogas which is used to produce electricity. The irrigation water and a portion of the organic fertiliser are used for agricultural purposes.