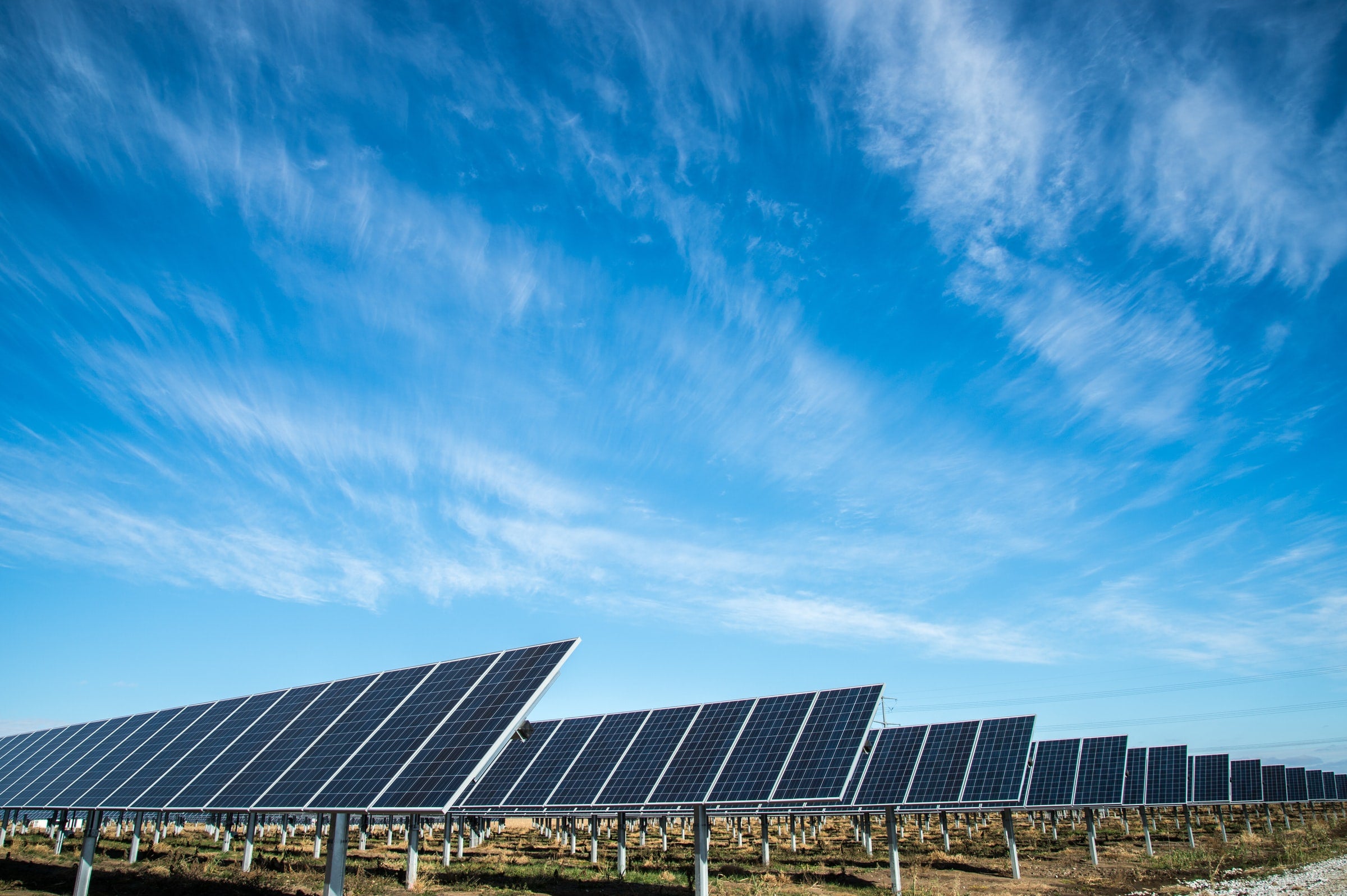 After decades of technological development, it seems the dial is finally shifting in the favour of ramping up large-scale solar development. A recent Renewable energy auction in Chile, for the 390 MW Likana Concentrated Solar Power project, received the lowest bid ever recorded ($0.03399/kWh) for a large-scale PV installation – not just in Latin America –  but globally. The bid is part of a trend of falling prices for the green energy technology.
In August, published in a briefing document, the US Department Of Energy said large-scale solar power could produce as much as 45% of the country's electricity needs, in a scenario where the grid is fully decarbonised by 2050.
Solar is also set to boom in India. Solar currently makes up just 4% of the nation's power supply, but is 'set for explosive growth', according to the IEA, as the government targets 450 GW of renewable capacity by 2030. Do these success stories mean that large-scale solar is finally becoming a viable, and even attractive, investment?
Positive moves for solar
Previously, large-scale solar has been marred by high-costs, inefficiencies, and competition for land use, but as recent developments show, many of these original challenges are starting to ease.
"Solar has gone from a technology that was cost comparable to spacecraft, it was so expensive, to being the cheapest electricity anywhere that's sunny these days", says Seb Henbest, BloombergNEF chief economist and lead author of the recently published New Energy Outlook (Neo ) report.  "That transition over twenty-plus years has been remarkable," he adds.
Wind or solar PV is the cheapest form of new-build electricity generation in almost all major markets, according to Bloomberg 's NEO report.  This means it's now often cheaper to build new renewables than operate existing coal and gas plants in countries such as China, India and much of Europe.
What's more, governments are starting to understand the land challenges solar developments have typically faced, including high costs, competition, and sometimes public resistance to large-scale projects located close to communities.  The US recently said it will look to make federal lands cheaper to access for solar and wind power developers, after low carbon lobbyists argued lease rates and fees are too high to draw investment.
To achieve the target laid out by the department of energy, the US would need to produce twice as much solar energy annually as it did in 2020 over the next four years before doubling the output again between 2025 and 2030.
Projects are continuing to grow, even as the NEO reports that investment has largely remained flat. In 2019, the top five solar parks had a combined capacity of 6.6 GWAC, today it is 12.5 GW.
However, like most other sectors, in the immediate to short term, the industry is facing supply cost challenges driven by the pandemic. During the second quarter of the year, prices rose in every solar-market segment – the first time that's happened since at least 2014 –  according to a report from Wood Mackenzie and the Solar Energy Industries Association. While many solar developers have sufficient inventory for 2021 projects, they will begin to see cost increases next year, it stated.
Short-term shipping and commodities price spikes over the past twelve months are also 'degrading project economics' according to David Dixon, senior renewables analyst at Rystad Energy .
Shoring up the economics
It's clear large-solar is a key fixture of the decarbonised global energy sector. And getting on track for the sector to meet the Paris Climate Change targets means adding up to 455GW of new solar, which is 3.2 times the amount of solar capacity added in 2020, according to the NEO report.  But while costs are falling and governments are looking to ease the pathway for more solar projects, new issues are surfacing.
"There is a rate of change problem," says Henbest.  "Getting the technology cheap is one thing, but then you've got to deploy it through the world economy and to displace the carbon intensive generation. That takes time."
This can be challenging when considering grid constraints and falling spot prices.
"Whilst low purchase power agreement prices will drive more nations towards building out their solar resource, in some established markets this is leading to degrading economics due to higher costs, lower revenue and increased risk of grid congestion, resulting in even less revenue," says Dixon.
"In other words, there's a missing money problem," continues Henbest. "As the level of renewables in the system increases, the wholesale power price falls over time, and revenues start to look less good. There needs to be more certainty around future price signals to mobilise capital."
To guarantee revenue for developers, the UK Government said in September it will provide new feed in prices for solar, as part of a £10m fund, this is for the first time since it slashed subsidies in 2015.Dan McGrail, chief executive of the trade organisation Renewable UK, told The Guardian the scheme could bring forward private investment of over £20bn in a boost to jobs and the UK supply chain, while reducing energy bills and helping the UK to meet its climate targets.
Building out the grid infrastructure
Analysis by Rystad Energy found solar PV in countries across the Asia-Pacific region (APAC ) are set to face a gridlock as generation begins to exceed 10%.  It noted that grids which were better interconnected and had flexible dispatchable generation – typically those found in Europe – were able to absorb significantly more solar and wind generation before spot revenue collapsed. While grids with higher penetration of coal, such as in much of APAC, can accommodate far less PV due to the lack of built-in flexibility, as coal typically can't run on less than 50% capacity. This will be a problem for India, which is currently reliant on coal for nearly 70% of its power supply.
"Governments need to focus on transmission pathways between states and countries and to areas of high solar resource. This has a long development lead time but is critical for the success of solar as most transmission systems were built for large, centralised generators to power cities. This isn't optimum for variable renewables, where diversity in location and resource and interconnection is critical," explains Dixon.
The opportunity for large-scale solar, however, is clear, especially in regions such as North and South America, APAC, India and Europe, particularly Spain and Greece, where solar PV auctions are oversubscribed.
And Dixon says he is 'extremely bullish' on the prospects for the sector but adds that 'it won't be smooth sailing.'
"Investment will peak and trough like commodity markets as grids around the world run into the issue of how to complement the variable renewables with flexible generation/ transmission," he explains, "This takes time, but the build out of utility PV happens relatively quickly if you provide certainty of revenue to investors."