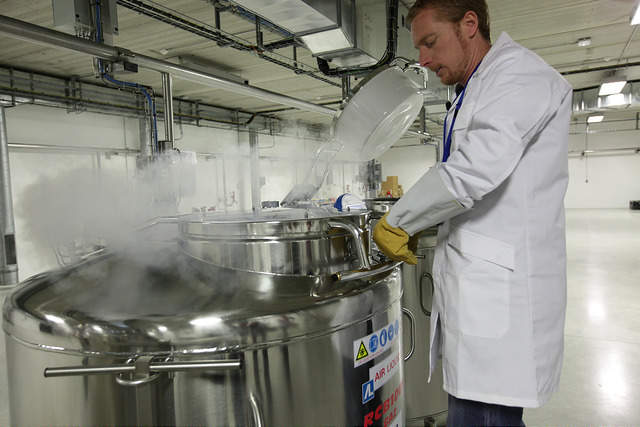 "The French policy is that we should not leave the burden of our [nuclear] waste to future generations: that means we are obliged today to develop a solution to protect them – definitely and actively from the hazard of the waste," says Jean-Michel Hoorelbecke, deputy head of safety at French National Radioactive Waste Agency (ANDRA), the government body charged with managing nuclear waste.
France has one of the world's largest nuclear energy power plant fleets in the world, beaten only by the US.
The cheap and abundant energy produced by these assets provides up to 75% of the country's power supply and has made France one of the largest net exporters of electricity in the world.
Along with energy, however, this fleet is also responsible for producing a significant amount of spent nuclear fuel and radioactive waste. Although there are known protocols, managing radioactive waste still poses a conundrum: cooling of spent fuel takes an inordinate amount of time and there is no known, long-term resolute solution for its disposal.
As part of the ongoing monitoring of radioactive waste required by the European directive on the safe management of nuclear fuels and waste, in January the International Atomic Energy Agency's (IAEA) Integrated Review Service for Radioactive Waste and Spent Fuel Management, Decommissioning and Remediation (ARTEMIS) concluded an 11-day mission to provide independent assessment and advice on the country's spent radioactive nuclear fuel management.
The review encompassed the handling and management of all types of waste, including low and high-level radioactive waste and long-lived spent fuel.
The assessors concluded that ANDRA demonstrated a 'comprehensive commitment to safety with a responsible approach to the management of radioactive waste and spent nuclear fuel' and had only a few suggestions for improvement.
One of the recommendations included facilitating implementation of the requirement for decommissioning to take place in the shortest time possible
Safety first for nuclear waste
Most fuel unloaded from nuclear reactors in France is reprocessed; however, due to its excessive heat it first has to be cooled in 4m-deep 'pools' of water for several years.
This process generates intermediate and high-level waste.
The latter, also known as long-lived waste, is vitrified. This generates immense heat and requires the spent fuel to be cooled for several decades before it can be permanently stored and disposed of. Intermediate-level waste follows a similar treatment process.
Low-level waste and short-lived waste can remain in surface disposal facilities and disposed of relatively quickly after production.
In October, Greenpeace raised concerns that EDF and Areva's spent fuel pools could be vulnerable to attack in a report authored by industry experts. It said the pools, which typically contain the equivalent of one to three nuclear reactor cores, would not withstand external aggression and that a catastrophic loss of cooling could occur.
Areva, however, countered the claim by saying that most of its fuel had already cooled significantly and that the company is vigilant to the threat of terrorist attacks.
Finding the right solution
After decades of cooling, France, like most other nuclear power generating countries, has no long-term solution in place for high and intermediate spent fuel waste disposal.
For now there is no rush at least, as Hoorelbecke says the disposal of high-level waste being produced at present will only happen around 2080, more than five to eight decades after reprocessing.
However, developing a long-term strategy for nuclear disposal in France, as in the US, has been a somewhat lengthy, troubling, but also democratic process.
In 1991, the country passed into law the Waste Management Act, which established ANDRA. The act provisioned three research areas for spent fuel that cannot be accommodated in the surface facility i.e. intermediate and long-lived waste.
The research fields included the geological disposal, surface long-term storage and partitioning transmutation – a process that aims to separate and recycle actinides, including minor actinides (radioactive metallic elements from actinium).
For research purposes, ANDRA built a 500m-deep underground geological laboratory with no waste inside to test the rock's capability of containing waste and resisting disturbances.
Once the research was completed in 2005 and independently reviewed, the safety authority in France, l'Autorité de Sûreté Nucléaire, said that geological disposal was the safest option in the long term. A year of public debate ensued and in 2006 the French parliament voted to start an industrial programme for geological nuclear waste disposal.
Future-proofing nuclear facilities
The national decision drove the establishment of a plan for €25bn, 500m underground rock laboratory in eastern France situated in clays and known as the Industrial Centre for Geological Storage (Cigéo). The structure will comprise hundreds of storage tunnels covering a total area of 25km2 and will last for a century.
The €25bn figure is hefty and, at this stage, is purely an estimate.
"It is very difficult to make a cost estimate of an industrial facility over such a long period, says Hoorelbecke. "The waste producers are obliged to make financial provisions for this project to be financed over 100 years and that is the reason why the government had to define a figure for these provisions; the €25bn is for the construction, the operation and the closure of the facility."
According to Hoorelbecke, construction may start in a few years if granted a licence.
One of the most important factors of the facility is that is must be reversible.
"This is based on a very progressive process," says Hoorelbecke. "It is clear reversibility is required because we are provisioning for a very long period of time and things may change in the future."
For example, research has been ongoing on petitioning and transmutation, with the aim to change long-lived waste into short-lived waste or to potentially reduce the level of the radioactivity of the waste.
But today, Hoorelbecke says this is impossible to do on an industrial scale and no one wants a policy of 'wait and see'.
Charged public opinions
Not everyone is supportive of the proposed geological facility, however, and the issue is hugely contentious in France. This year the site for the facility has seen a number of protests with arrests made and police evicting 15 protesters living in a treehouse.
"People are against the facility because they want to fight nuclear power," says Hoorelbecke. "We have this burden to deal with and we should not leave it for future generations, whether you are against or in favour of nuclear power, it doesn't matter: we have this waste and we need to deal with it now."
He adds that even if petitioning and transmutation worked in the future, Cigéo would still be necessary for current waste.
As in the US, which itself has seen much posturing over the creation of a long-term facility at Yucca Mountain, the legacy of nuclear power is a tricky one. Fukushima showed the world some of the devastating possibilities if it all goes wrong. Yet as the IAEA report shows, nuclear is one of the most regulated industries in the world and will likely remain that way.
Keeping atop of new threats posed should be a priority, as should forging ahead with the best technologically sound disposal solution, as the industry is trying to do.