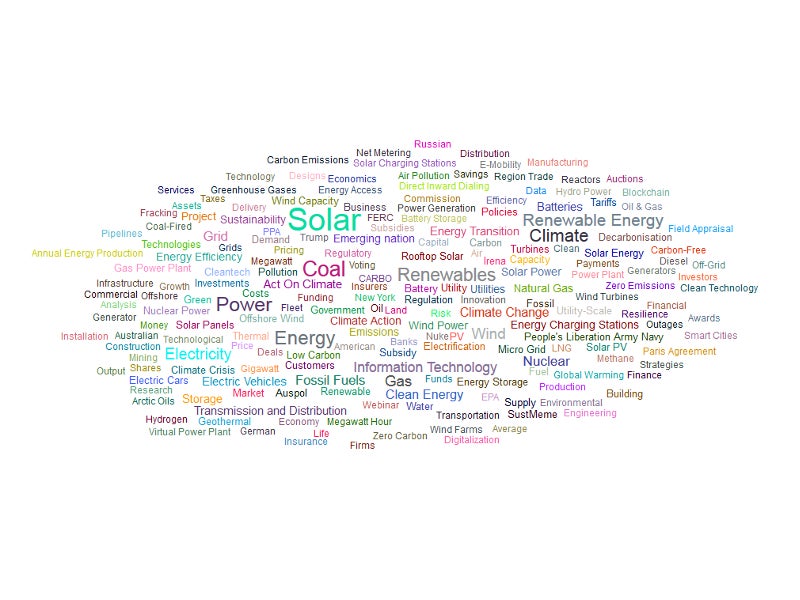 Power Technology lists the top five terms tweeted in power in Q3 2019, based on data from GlobalData's Influencer Platform.
The top tweeted terms are the trending industry discussions happening on Twitter by key individuals (influencers) as tracked by the platform.
1. Solar – 2,165 mentions
Solar-based power projects being implemented across the world were the top topics of discussion on Twitter during the quarter. China is one of the leading countries in the world to develop solar power projects. The country is estimated to install solar panels sufficient to cover a football pitch every hour each day, according to a video from the World Economic Forum.
Other discussions that made solar popular during the quarter were California leading solar power development in the US. This was achieved by passing a new law requiring all new homes being built to be installed with solar panels by 2020. Meanwhile, Japan is emerging as the leader in the development of floating solar projects. Japan is home to 73 of the world's 100 biggest floating solar plants.
https://twitter.com/MikeHudema/status/1173441977368625152/video/1
2. Coal – 1,133 mentions
The need to phase out coal for power generation was widely discussed across Twitter. This made coal one of the most popular terms in power during the quarter. A World Economic Forum video showing how Spain's Balearic Islands are sourcing energy from renewable sources was popular on Twitter. The islands are implementing new measures to curb the use of fossil fuels. These include a ban on diesel cars and new petrol cars by 2035. The government of Spain is also investing $45m in developing solar parks.
Germany also plans to phase out coal plants by 2020 by implementing a new draft law. Meanwhile, India is investing more in solar power than coal and producing the cheapest solar power in the world, according to a video shared by World Economic Forum.
These islands are phasing out coal, banning fossil fuel vehicles and going #solar and electric.

We have solutions to the #climate crisis, let's raise our ambition and implement them.#ActOnClimate #climate #energy #cdnpoli #climatestrike #GreenNewDeal #PanelsNotPipelines pic.twitter.com/fSskER8ydu

— Mike Hudema (@MikeHudema) July 7, 2019
3. Renewables – 1,524 mentions
Discussions on solar, hydro, tidal, and wind power projects being implemented by various countries across the world made Renewables a popular term on Twitter during the quarter. Costa Rica has generated 98% of its electricity from renewable hydro sources for the past four years, according to a new video tweeted by World Economic Forum.
Another video from trust.org shows how the Samso island in Denmark generates 100% of its electricity requirements from renewable sources. The island is self-sufficient in electricity and even supplies to other islands in the country. Further, Denmark is collaborating with Germany and the Netherlands to develop an island installed with 7,000 wind turbines, as shown in a video shared by TenneT. The project will generate enough electricity to power 80 million homes in Europe. This will help the EU meet its 2050 climate change goals.
Costa Rica generated 98% of its energy from #renewables for the 4th year in a row. Now they want to go 100% fossil free. Who's next?

We have solutions to the #climate crisis. The only thing missing is the political will to implement them.

⁠#ActOnClimate #energy #GreenNewDeal pic.twitter.com/XOLYYkndHX

— Mike Hudema (@MikeHudema) July 30, 2019
4. Wind – 544 mentions
Discussions on wind energy projects  across the world made Wind a popular term on Twitter during the Q3. Half of the world's energy requirements are expected to be fulfilled by wind and solar by 2050, as detailed in a video shared by Dr Thomas Hillig, the founder of THEnergy.
Another video from Deveci Tech, details a pilot project being undertaken in Turkey to harness the wind generated by passing buses. This will generate electricity using a new type of wind turbine called Enlil that is fitted with a solar panel. It is estimated that 300 of these turbines can generate power for 20,000 homes.
Bloomberg: Half the world's #energy could come from wind and solar by 2050.BUT: Is this enough to reach the 2 (better 1.5) degree objective of the #ParisAgreement?@BloombergNEF @tictoc @business #EnergyTransition #FutureOfEnergy #ClimateChange pic.twitter.com/WLmi97gmV5

— Dr Thomas Hillig•EUSEW Ambassador•#sustainability (@THEnergyNet) August 17, 2019
5. Gas – 524 mentions
The need to phase out fossil fuels such as natural gas, apart from coal and oil, was a popular topic of discussion during the quarter. The natural gas boom in the US was expected to hinder its plans to reduce greenhouse emissions and focus on renewable sources was among popular tweets.
The impact of emissions is spreading across the world with countries such as Singapore being on the verge of crisis with rising sea levels and increasing temperatures. This was detailed in an article shared by Assaad Razzouk, the CEO of Sindicatum Sustainable Resources. The Australian Capital Territory is already implementing strategies to phase out gas and use 100% renewable electricity to reduce emissions. This according to an article shared by Mark Z. Jacobson, a professor of civil and environmental engineering at Stanford University.
New report shows that America's gas boom as deadly to climate goals as coalhttps://t.co/0YHjgbdfSH

— Bill McKibben (@billmckibben) July 2, 2019