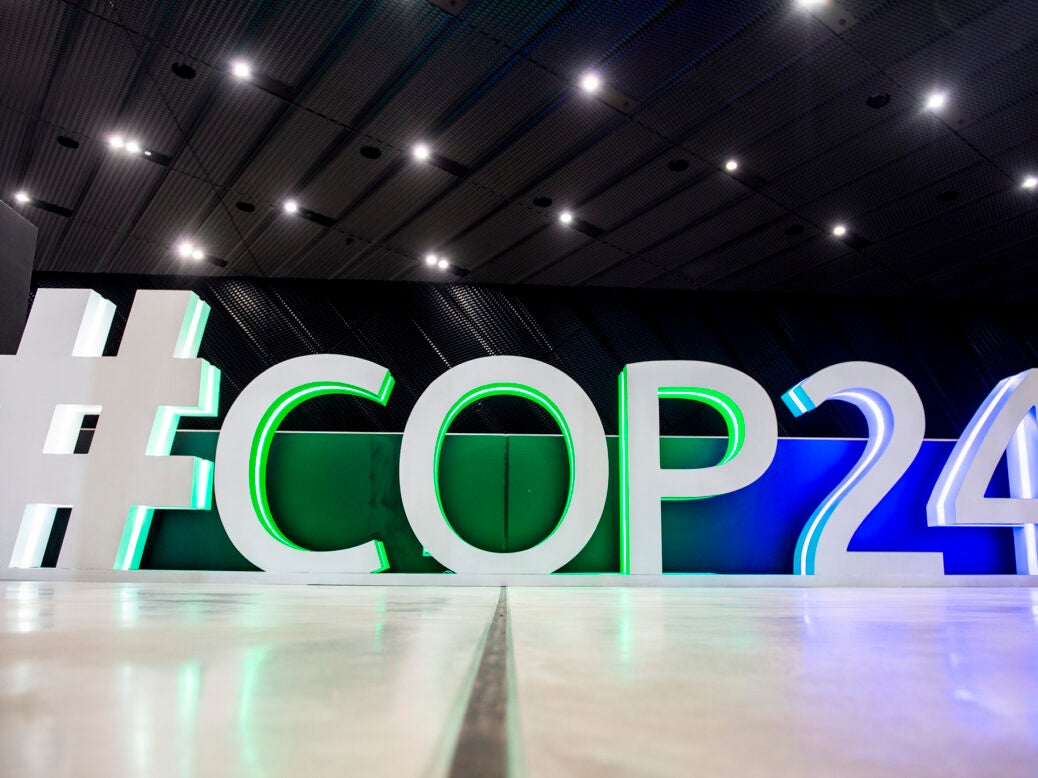 On 3 December 2018, leaders gathered in Katowice in Poland to begin the Conference of the Parties, the United Nations Framework Convention on Climate Change (COP24). The event draws 20,000 people from 190 countries, for talks on decarbonisation over two weeks.
This is not the first time Poland has hosted the event: in 2008 it was held in Poznań and in 2013, in Warsaw. However, this year's choice of Katowice, a mining city, has drawn criticism from environmental groups. Poland continues to rely heavily on coal generation for its electricity grid, and plans to for the foreseeable future.
Around 80% of Poland's electricity is generated using coal, and the country relies heavily on the fuel for heating. At Bloomberg's NEF Future of Energy Summit in October, Polish politician Piotr Naimski explained that the country would not be turning its back on coal, and instead planned to continue mining and burning the controversial fossil fuel.
Poland has begun to adopt renewables, but slowly. Wind turbines are being built in the Baltic Sea, but there is effectively no solar power and little hydro. This is despite the cost of renewables plummeting around the world, and technologies becoming increasingly efficient and reliable.
As a member of the European Union (EU), Poland has decarbonisation goals to meet, so what's holding the country back from embracing renewable energy sources and moving away from coal?
A cultural respect for mining
Poland's dedication to coal is complex, and includes cultural and historical aspects. The entire transmission grid was developed for coal power following the end of the Cold War when Poland began to modernise, turning to its greatest domestic resource, coal, to provide security.
"Poland developed on the basis of coal generation so there is this historical technological development that's there, the know-how is there, the resource is there, waning in a way but there, so for those reasons it's logical and easy to use coal, rather than dive into renewable energy," explains Anna Mikulska, fellow in energy studies at the Baker Institute.
Implementing renewable technology on a grand scale would require a massive overhaul of the grid system, further adding to the cost of the switch.
As coal is predominantly domestically mined, turning to renewables or imports of cleaner power could negatively impact employment. The industry is a major employer in the nation, with more than 100,000 people still working as coal miners in Poland. While this is dramatically reduced from employment rates of the past, these miners hold a highly respected place in society.
"When you look at the respect level of different types of occupation, actually miners are on the top of the list," says Mikulska. "In 2015/16 respect levels for miners were at 82%, which was higher than university professor or doctor."
This respect has historical origins in Poland's time in the USSR, when it provided huge amounts of coal to sustain the nation. The hard working miner was a feature of much of the communist propaganda throughout the period.
Easing the transition for mining communities has been one of the major ways in which the EU has been able to aid Poland in its efforts to reduce coal mining. "Europe has committed to providing funds to alleviate the issues with closing mines and providing financial support to workers who have lost or will lose their jobs, severance, pensions, revitalising the area," says Mikulska.
But such financial aid does not come with the respect of working as a miner.
The political powers held by the miners
Socio-political influences have also increased the importance of coal for Poland. By standing by coal, the country relies less on natural gas, and is therefore not at the mercy of price increases caused by global political uncertainty and trade wars. By sticking with coal, it protects itself from an over-reliance on gas imports from the US or China.
Its importance to Polish society can be seen clearly in the electoral system. "When you look at the map of Poland, both the electoral one and just a general map, you see that the hard coal regions, which are condensed into Upper Silesian, Lower Silesian and the Opolskie region, are very populated and they have quite a lot of electoral power," explains Mikulska. "So out of these three regions, which produce coal, 101 out of 460 seats in the lowest part of the Polish parliament are elected."
This gives them huge political traction, effectively ensuring that a quarter of parliament is supportive of coal. "It wouldn't be as big of a deal if one party was actually prevailing in that region, however this is not the case," continues Mikulska. "Most of the time these are very close races in those districts, so the party in power or the parties there, have to really fight for every single vote."
Political parties from both sides of the spectrum work to please coal mining communities to secure their re-election.
On a social level, given the benefits the fossil fuel brings to communities in these coal producing regions, many Polish people simply do not see coal as a concern. There are major issues with air pollution in Poland, largely caused by the fundamental role that coal and other thermal fuels play in heating. The coal used by individual households for heating tends to be of a low quality, creating large amounts of pollutants. But many households cannot afford even the low quality fuel, and instead have turned to burning rubbish.
This has led to smog being common in the country. For example, breathing the air in Katowice over a year is the equivalent of smoking 1,711 cigarettes. But with such social concerns taking precedence for many Polish people, moving away from coal for electricity is simply not a priority for either health or decarbonisation.
Unique challenges for decarbonisation
Every nation faces challenges in decarbonising its electricity system, with the options available to many developed Western nations impractical and infeasible for many still struggling to develop a secure and broad electricity network. Poland's shift is particularly challenging, given the strong connection between the population and the industry creating cultural difficulties as well as the economic demands.
Mikulska's hope for COP24 was that Poland's unique challenges were accepted, as was its desire to decarbonise.
"The EU has strongly pushed decarbonisation and decreasing emissions and so on, which is a very important thing, but I don't think there's been enough recognition that for some countries it's going to be more difficult than others and why. I know it might not be popular especially in Western Europe where you have governments kind of championing these kinds of issues and societies being very environmentally aware and friendly. But COP24 is important for countries like Poland; it provides a signal that they're not being left alone with their issues that they're being understood. There is no one size fits all solution here," he says.
Coal is expected to account for 50% of electricity generation by 2040, but the amount used overall will roughly stay the same as new renewable technologies will simply meet the increasing demand. The government has committed investment for a number of mines, as well as a new power plant, further cementing its commitment to the controversial mineral.
"The use of our natural resources, that is coal in case of Poland, and relying our energy security on these resources isn't contradictory to climate protection and to the progress in the area of climate protection," said Polish President Andrzej Sebastian Duda in the COP24 opening speech. "Experts point out that our supplies run for another 200 years, and it would be hard not to use them."
But despite its dedication to coal, Poland is progressively reducing emissions, which today are 30% lower than they were in 1988. It hopes to continue to decarbonise by improving efficiency and pursuing technologies such as carbon capture and storage. In doing so, the country may be able to meet its emissions goals without turning its back of the culturally important mineral, although such statements are met by great degrees of scepticism from environmental groups.
"We've been able to ensure energy security and the development of the industry based on efficient coal technology," said Duda at COP24. "Poland presents a good example of a country following a sustainable development path because over the years, emissions from our economy have been falling and we have been recording constant growth of GDP at the same time."