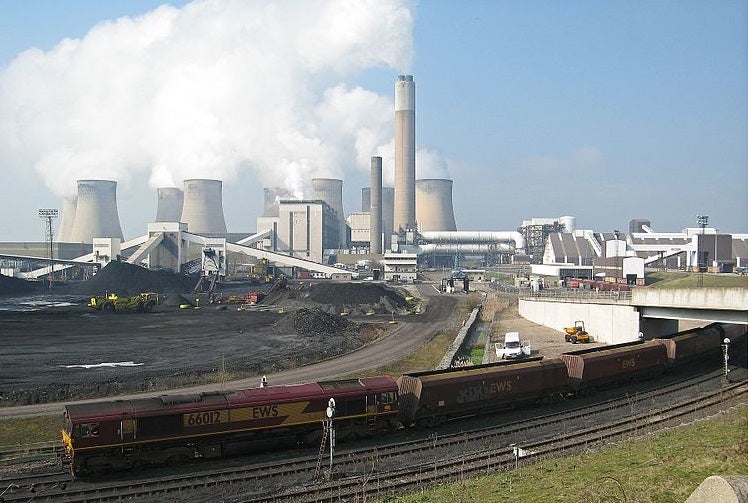 Figures released by the government in April 2019 show that coal has declined by 86% in the last decade, falling from 124 terawatt hours (TWh) in 2008 to just 27TWh in 2018. In May 2019, the UK went over a week without coal being part of its energy mix, a huge milestone for the nation.
Is the UK on schedule to decommission the last of its coal-fired power plants by 2025?
Kilroot power station, Northern Ireland
With a capacity of 560MW from coal and oil and a further 140MW from gas, the Kilroot power station near Carrickfergus was commissioned in 1982.
The plant was initially supposed to close in May 2018 but was given a reprieve with a new one year deal in November 2018, saving 170 jobs. In April 2019 the station along with sister station Ballylumford was bought from American electricity company AES by Czech company Energeticky a Prumyslovy Holding (EPH) as part of a deal worth $211m.
The Kilroot plant is unique as it is the only coal plant in the UK not covered by the 2025 phase-out, as Northern Ireland has a separate energy strategy.
The Kilroot station in Northern Ireland. Credit: Geograph IE
Aberthaw B, Wales
The last coal power station in Wales, Aberthaw B has a capacity of nearly 1.6GW and began producing energy in 1972.
Owned by German energy company RWE, the company has worked to make the plant more efficient and environmentally friendly. The plant began reduced operations in April 2017, limiting itself so that it only produces power when needed. It has also taken steps to reduce nitrogen oxide (NOx) by 30% and sulphur emissions by 95%, reducing its environmental impact.
There has not been an official closing date given by RWE, but in 2014 the company said that it would close all seven of its then UK power plants by 2023, two years before the UK's official phase-out date.
The Aberthaw B station is the last coal-fired power station in Wales. Credit: Reading Tom
Drax, Yorkshire
Drax power plant in Selby, North Yorkshire is the largest power station in the UK with a capacity of 4GW. It meets 7% of the UK's energy needs and was once the country's largest source of CO2 emissions, producing a colossal 20 million tonnes per year.
Formerly a coal-burning power plant, Drax has undergone developments to convert to biomass in recent years. It has also invested in technology in an effort to make its biomass production carbon negative.
Of the six units that make up the plant, units 1 to 4 are now biomass. Units 5 and 6 are coal, with a capacity of under 1.3GW. There are no official plans to close these units yet.
Yorkshire's Drax facility has the largest production of the remaining power plants. Credit: Shirokazan
Fiddlers Ferry, Merseyside
The nearly 2GW Fiddlers Ferry power station in Warrington first began producing power in 1973 and is now owned by energy company SSE. The company describes the plant as a 'prominent landmark,' with its eight 114 metre cooling towers and 200 metre high chimney dominating the landscape.
Formed of four units, SSE announced that unit 1 of the plant will close in 2019, reducing the plant's capacity from 1995MW to 1510MW. Fiddlers Ferry was given an official closing date of March 2020 by SSE on 13 June 2019.
Fiddlers Ferry began production in 1973. Credit: Alan James
West Burton A, Nottinghamshire
In Nottinghamshire sits West Burton A, a 2GW power plant owned by EDF Energy. The plant was first commissioned back in 1961 and began producing power in 1968.
West Burton A has a contract in place for three of its four units until the end of September 2021, but its future after this date is under review.
Its sister plant West Burton B is a gas-fired plant, they have a combined capacity to 3.72GW.
West Burton A in Nottinghamshire; its sister plant, West Burton B, is gas-fired. Credit: Geograph Chris
Cottam, Nottinghamshire
Cottam power station has a capacity of 2GW from four units and turbines. Like West Burton A, which sits just six miles down the road, it first produced energy in 1969. Cottam also shares the same owner, EDF, as West Burton A.
Unlike its neighbour, Cottam has an official closure date. It was announced in February 2019 that the plant would cease operations in September 2019 due to 'challenging market conditions'.
The plant has 220 employees along with 175 contractors, whose jobs are at a risk due to the impending closure.
The Cottam power station is scheduled to close in September this year. Credit: Geograph Graham Hogg
Ratcliffe-on-soar, Nottinghamshire
The third of the Nottinghamshire coal power plants, Ratcliffe-on-soar has the highest capacity producing 2.1GW and is owned by Germany energy company Uniper. It is the joint oldest of the remaining plants as it first began producing power in 1969.
As of yet there Uniper have made no official announcement about the future of the plant. The company told New Civil Engineer in June 2018 that "the station meets all environmental standards on emissions, making it best placed to continue to play an important role in meeting the UK's energy challenge for as long as it is needed".
Ratcliffe-on-soar is one of three remaining power stations in Nottinghamshire, producing 2.1GW of electricity. Credit: MaltaGC