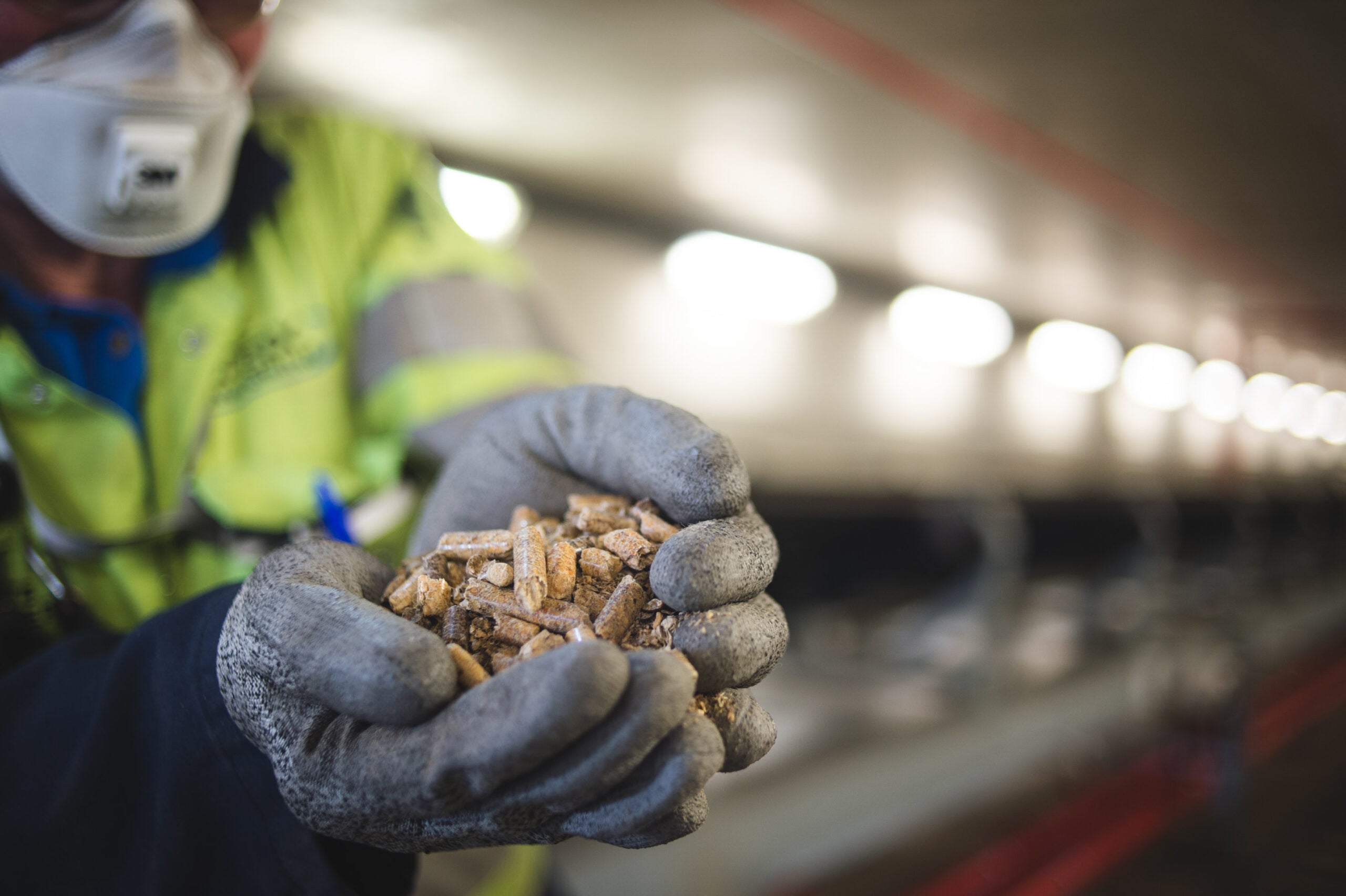 As governments phase out coal use for more sustainable alternatives, biomass power has risen to fill the void it leaves. Over the past decade, the UK's largest power plant operator, Drax, has converted its six coal-fired generators into four biomass burners. Next month, after 46 years, the plant will burn its last piece of coal.
Biomass is made of things that grow. Often, this includes wood, agricultural crop waste, and 'energy crops'. Willow and poplar trees are often grown as energy crops, alongside bamboo and other grasses.
Burning biomass pellets releases carbon, but the development of the biofuel industry encourages the replanting of crops to absorb the released carbon. On the whole, the incentive for producers to grow carbon 'sinks' makes biomass carbon neutral.
Biomass allows active coal-fired power plants to convert to something more sustainable without entirely reconstructing their business model. Figures provided by Drax show that biomass generated 7% of all UK power in 2020. Data from the International Energy Agency show the fuel growing by 25% in the next five years.
Where does biomass come from?
While wind and solar power can come from anywhere, biomass needs to be imported, as with coal before it. As an example, the Drax group sources its wood from forests in the US, Canada, Latvia, and Estonia.
When assessing the ethics of coal sources, inspectors might look at health and safety, workers' rights, or environmental protection measures. As the biomass industry grows, ethical companies might seek to ensure that their biomass comes from sustainable farms and forests, produced in biodiverse, well-managed areas.
Swedish power company Vattenfall expands up on this: "Cultivation can also have social impacts around areas such as land rights issues, working conditions, and through potential competition with the use of biomass by local communities in developing countries."
How sustainable is biomass?
The EU has labelled biomass as a sustainable fuel source because its emissions come from carbon previously removed from the atmosphere. However, many others dispute this, meaning generators must make their own decisions.
In June 2020, Vattenfall delayed plans to build a 120MW biomass facility outside Amsterdam in the Netherlands. This would have powered a district heating network in the area, easing the burden on an existing gas-fired station.
Despite this, the company delayed the decision on the plant. A spokesperson said that while the company would look into other long-term power sources, only biomass could provide the needed decarbonisation in the near-term.
Vattenfall Netherlands CEO Martijn Hagens said: "We see the public discussion about biomass increase. We are not deaf to this sound, but we do miss the nuance in the debate.
"Moreover, there is currently no clear voice from the Dutch Government and the signatories of the [Dutch national] Climate Agreement in favour of biomass. We have therefore decided to enter into discussions with those involved again before we make a final and irrevocable decision to build the biomass plant in Diemen."
Who oversees the sourcing of biomass fuel?
Vattenfall and Drax both co-founded the Sustainable Biomass Program (SBP), which aims to certify sources of woody biomass. The program produces industrial standards for biomass feedstocks and their chain of custody and emissions during delivery. It launched its first set of standards in March 2015.
In 2021, the SBP plans to make its first revisions and updates to the program's standards. The organisation has a schedule of public consultations and working groups looking to "review, revise, and refresh" biomass production standards.
The SBP aims to devise standards that would "enable users and producers of solid biomass for energy production to demonstrate compliance with regulatory, including sustainability, requirements".
As part of this, the program issues licenses to suppliers of biomass. Where appropriate, it has suspended and terminated licenses for suppliers found to breach its guidelines. However, this has not prevented one of its founders from facing accusations of unsustainable biomass sourcing.
Recently, Drax faced claims that it has used biomass from unsustainable sources. An investigation by the Daily Telegraph in 2020 found that Drax had used wood taken from ancient Russian forests. These could take more than 150 years to regrow and therefore would not meet most definitions of sustainability.
In response, the company and its supplier said they only use sustainable biomass, overseen with the highest national and international standards by the SBP and the Forest Stewardship Council (FSC).
Regulators of biomass production have faced criticism
In switching to biomass, coal generators have traded the risks of unregulated mining for those of illegal logging. While biomass production often happens in richer nations with better regulation, the supply chain for timber is not necessarily more transparent than that for mined goods.
The FSC also oversees logging in Ukraine, where Swedish furniture giant Ikea sources some of its timber. Logging here is legal, except for during 'silence periods' in the spring when animals such as bears reproduce.
In 2020, an investigation found that the company had used illegally felled trees in its products. Timber supplier VGSM insisted: "We always harvest only legal timber and we have a confirmation document for every cubic metre of timber. Ikea buys only FSC-certified wood."
An Ikea spokesperson said it would not knowingly accept illegal timber, and that it would launch an independent audit of its suppliers. The FSC told Channel 4 News: "FSC is fully aware of the difficult environment in Ukraine, where the country shows many of the problems typically prevalent in emerging economies. Issues such as corruption, law enforcement failures, and social transformation difficulties are a substantial reason behind many forestry management problems in the country."
How sustainable is the biomass supply chain?
The original source of biomass fuel is only one part of its supply chain. Plant-based biofuel components must be cleaned, dried, and processed before they can be concentrated into pellets. These pellets are then transported to biomass plants, often on different continents.
Each step in this process can present its own environmental challenges. In mid-February, one of Drax's US facilities received $2.5m in fines for air pollution. The Mississippi Department on Environmental Quality found the plant had breached limits placed on volatile organic compound emissions since 2017.
In response a Drax spokesperson said the company had monitored its emissions and notified the authorities of its breach. The company will finish installing emissions mitigation equipment in July. The spokesperson continued: "We take our environmental responsibilities seriously and we are committed to complying with all local and federal regulations."
You can also read our three previous Power Environment pieces on reducing bird deaths at wind turbines, pollinator-friendly solar generation, and seaweed farming at offshore wind installations.