Adequate policy support, ambitious deployment targets, concerns about climate change, and the need for energy security are some of the major factors determining the deployment of solar PV modules. These factors are complemented by the rapid fall in technology prices, besides innovative business models, which facilitate the wide acceptance and adoption of the technology. In comparison to other renewable technologies, solar is more mature and forms a viable option for clean power generation.
The transition to power generation using clean sources and drop in technology prices are expected to aid solar market growth, with ambitious initiatives in countries that are heavily reliant on fossil fuels such as in the Middle East, Africa, and South East Asia providing significant opportunities to solar module manufacturers and developers. According to GlobalData, owing to its relative maturity, the crystalline module technology will continue to dominate the market, with an estimated installed capacity of 219.04 GW in 2026, while the capacity of thin-film module technology was estimated at 21.39 GW. The global market value is estimated to reach $41.16bn during the forecast period in 2026 from $41.95bn in 2021[1].
By region, Asia-Pacific accounted for 56% of the global solar PV module market value in 2021, dominated by China and India, followed by the Americas and EMEA with 25% and 19%, respectively. The US, Chile, Mexico, and Brazil were some of the largest markets for solar PV modules in the Americas region. Federal subsidies, tax credit programs, PTCs, and state incentives in the US; ecoEnergy Retrofit program, FiTs, and Ontario's FiT program in Canada; Energy Access Fund, Carbon Tax, Invest Chile Project, and NCREDP in Chile resulted in an increase in the number of solar installations in the region.
The market for crystalline technology is more fragmented than that for thin-film technology. The crystalline technology is mature and easier to fabricate and, coupled with the demand for solar PV, forms a viable business opportunity for manufacturers to enter the market. Leading solar module manufacturers in the crystalline technology market are concentrated in Asia, particularly China. LONGi Solar Technology Co Ltd, Trina Solar Co Ltd, and JA Solar Holdings Co Ltd are the three top solar module suppliers, accounting for 52% of the global market in 2021. Other key solar module manufacturers are JinkoSolar, Canadian Solar, GCL Solar Energy Technology, Risen Energy, and Shunfeng International Clean Energy.
In comparison, the thin-film market is more consolidated with the market leader being US-based First Solar, with a share of 45% in 2021. Other significant solar module suppliers are Hanergy Holding Group Ltd, Solar Frontier KK, Grupo T-Solar Global SA, Sharp Corp, MiaSole Hi-Tech Corp, and Trony Solar Corp.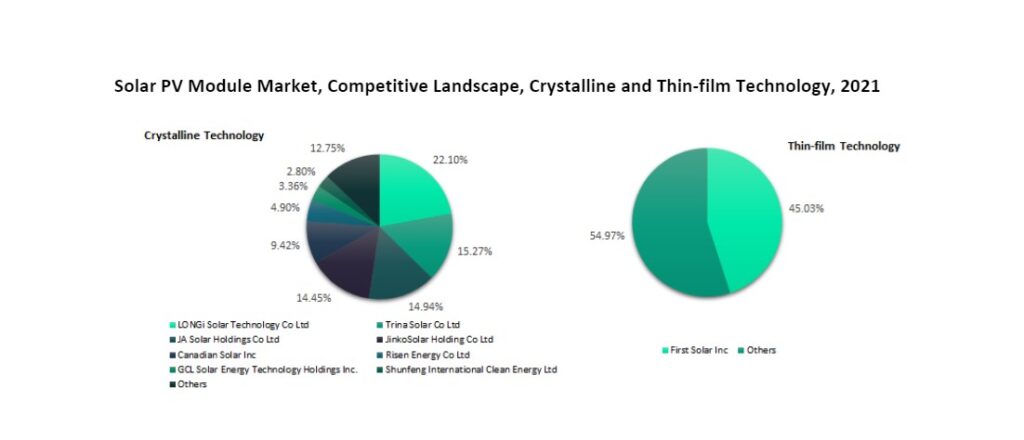 Finding the best solar PV module provider
Power Technology has listed leading manufacturers of crystalline and thin-film technology based on both its experience in the sector and research carried out by GlobalData.
The information contained within the download document is designed for production managers, procurement managers, maintenance managers, quality control managers, marketing managers, research & development managers, and supply chain managers, and the many other roles responsible for the purchase of solar PV modules.
The free Buyers Guide is available to download and contains detailed information on the suppliers and their product lines, alongside contact details to aid your purchasing decision.
Note: GlobalData, the leading provider of industry intelligence, is the parent company of Power-Technology.com and provided the underlying data, research, and analysis used to produce this article.