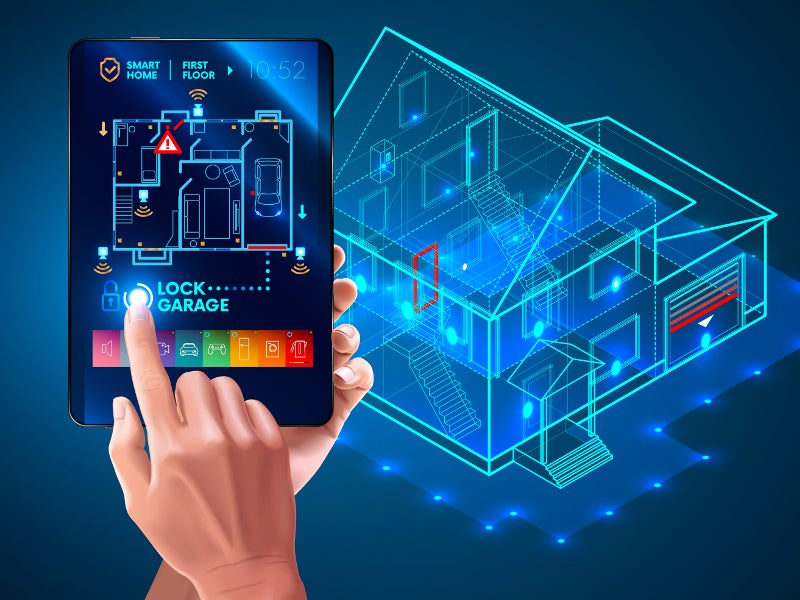 The automated home market passed $23bn in 2018, according to GlobalData estimates, and is expected to reach $75bn by 2025, having grown at a compound annual growth rate (CAGR) of 18%. Much of that growth will be driven by smart thermostats, which are becoming increasingly common as consumers and governments look to control energy consumption.
Listed below are the home automation device and service provider companies that are making their mark within the automated home theme, as identified by GlobalData.
ADT
ADT is a giant in the home security market. In 2010, the company launched Pulse, a platform which allowed users to monitor security systems remotely as well as control thermostats and lights. Pulse is being replaced in 2019 by Command and Control, which allows users to control a range of home automation services (including lights, locks, and thermostats) via a seven-inch touchscreen. ADT was acquired for $6.9bn by equity firm Apollo Global Management in 2016.
Alibaba
Alibaba entered the automated home market in 2015, launching mobile app Ali-smart on devices made by Chinese smartphone manufacturer Meizu . At the time of launch, Ali-smart had partnerships with more than 100 appliance and electronics manufacturers, including Hisense and Beiang. Alibaba has a dominant position in the Chinese smart speaker market and has partnered with semiconductor company MediaTek to work on a number of IoT-related initiatives.
Alphabet
In May 2019, Google announced a major rebranding of its smart home operation. The company's Home division is now called Nest, taking its name from the smart thermostat company Google acquired for $3.2bn in 2014. All future automated home products sold by Google, including smart speakers, will be branded as Nest (starting in summer 2019 with the Nest Hub Max smart speaker), making Nest the equivalent of the Pixel label that Google uses for its smartphones.
Amazon
The success of Amazon's Echo smart speaker, featuring the Alexa conversational platform, came as a surprise to everyone, including Amazon itself. Amazon has partnered with a range of manufacturers to ensure that Alexa is used as widely as possible and expanding its own range of devices. The Echo family continues to grow, while the acquisitions of home security camera maker Blink and smart doorbell company Ring have enabled Amazon to push into other areas of the automated home without the need to rely on partners. The purchase of mesh home router company Eero in 2019 gave Amazon access to vital wireless connectivity technology, as well as a wealth of data on users' internet activity.
Apple
Apple entered the automated home market in 2014 with the launch of the HomeKit platform, which allowed users to configure and control connected devices. Initially, Apple placed strict restrictions on device manufacturers, including requiring that every HomeKit device contain a specific security chip. These restrictions were relaxed in 2017 and, since then, the number of HomeKit-compatible devices has been steadily increasing (although the total still lags behind Apple's main rivals, Google and Amazon).
Assa Abloy
ASSA ABLOY is one of the world's largest lock manufacturers, thanks to an aggressive growth strategy which has seen it make more than 200 acquisitions since its formation in 1994. Given its history, it is unsurprising that the company has built its automated home capabilities through a series of takeovers, including the 2017 purchases of both US-based smart lock maker August Home and Mercury Security, an OEM supplier of controllers for physical access control.
Baidu
After a rocky start, Baidu is improving its position in the automated home market. In May 2019 the company revealed that its DuerOS conversational platform had been installed on 275 million devices, an increase of nearly 300% from the previous year. In addition, shipments of Xiaodu smart speakers, which launched in June 2018, surpassed those of Chinese market leader Alibaba in the first quarter of 2019 (according to data from Canalys). Baidu has partnered with Chinese appliance manufacturers Haier and Skyworth as part of its push into the automated home.
Control4
Control4 is a provider of home and office automation and networking systems. Its products enable the automation of a range of functions, including audio, lighting, temperature, video, communications, and security, and are compatible (at time of writing) with more than 13,000 third-party consumer electronics devices. The majority of Control4's revenue is derived from the North American market, but it has been expanding into new territories including, in February 2019, New Zealand, Switzerland, and Ireland. In August 2019, Control4 was acquired by SnapAV in a deal worth $680m.
Deutsche Telekom
Deutsche Telekom is a leader in its domestic automated home market. The company has developed its own proprietary open platform called Qivicon, which is also white-labelled to third parties, and is currently beta-testing its own smart speaker, Magenta , which uses technology developed in collaboration with Orange (which uses the name Djingo for its version of the device). Deutsche Telekom is focusing on expanding the scope of Qivicon by integrating it with multiple platforms such as Home Connect and Eclipse SmartHome.
Foxconn
Electronics manufacturer Foxconn is best known for manufacturing Apple products but, in 2018, it entered the automated home market in its own right with the acquisition of Belkin , a maker of consumer devices like routers, hubs, and switches. Belkin's brands included home router company Linksys and WeMo , a product range enabling users to control home electronics remotely. Foxconn has limited experience of selling directly to the consumer market, but the company is keen to reduce its reliance on Apple.
Honeywell
Under its Home brand, Honeywell manufactures a variety of automated home products, including cameras, thermostats, humidifiers, and doorbells. In 2018 the company spun off its residential technology business, Resideo Technologies , and the newly-independent company is licensed to use the Honeywell brand for the next 40 years. Resideo also operates a wholesale distribution business, ADI Global Distribution , which offers security and safety products.
Philips
Philips is a leader in smart lighting, thanks to its Hue range of smart bulbs. Philips Lighting was listed as a separate company in 2016 and, in May 2018, changed its name to Signify. Hue bulbs are compatible with conversational platforms from Amazon, Apple, and Google, meaning that users can control them using their voice. Other partners in the Friends of Hue program include IFTTT , Logitech, and Razer.
Samsung
Samsung's main automated home brand is SmartThings , named after the company it acquired in 2014. SmartThings is best known for its hub devices, the 2018 version of which included Wi-Fi connectivity as the default for the first time (previous versions were connected to a router via an Ethernet cable). These hubs work with hundreds of compatible products, including those using ZigBee and Z-Wave protocols, but are facing an increasing challenge from smart speakers.
Vodafone
Within its key European markets, Vodafone has launched a portfolio of consumer IoT products and services, V by Vodafone, but these are all priced and positioned as standalone services. The operator has yet to align these as part of an integrated bundled proposition. Its newest foray into the automated home, V-Home (which combines Samsung's SmartThings open platform with the V by Vodafone portfolio), does afford existing Vodafone fixed-mobile customers discounts in certain countries, notably Spain, and it is likely that the company will extend this strategy to other markets in the future.
Xiaomi
Xiaomi is looking to capture a slice of the automated home market with its low-cost devices. It has already found success in the smart speaker market thanks, in large part, to extremely competitive pricing. In 2019, Xiaomi announced that it would be investing $1.5bn in AI and IoT smart devices over the next five years. The company has partnered with IKEA to produce smart lighting products and is bolstered by a good relationship with Google, which it is using to launch products outside of its domestic market.
This is an edited extract from Automated Home and Utilities – Thematic Research report produced by GlolbalData Thematic Research.