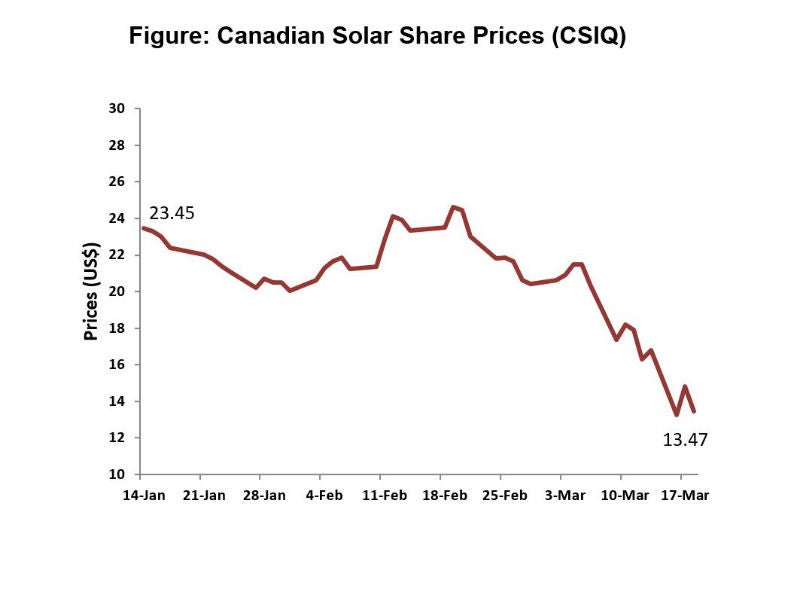 Canadian Solar, the world's fifth-largest solar PV module manufacturer, has stated limited impact of the Covid-19 outbreak on its production facilities. The company, which has almost 73% of its manufacturing capability located in China, had faced severe disruptions from mid-January by way of capacity loss amid the Covid-19 carnage. The company's share has devalued by more than 36% since January 15, 2020.
Globally, China is the biggest manufacturing economy that comprises of solar PV equipment manufacturing. The solar sector is expected to face the heat, given the tight capacity in solar equipment manufacturing. Of the top ten solar PV manufacturers (in terms of module shipments), the majority of them are China-based. These include Jinko Solar, JA Solar, Trina Solar, LONGi Solar, Risen Energy, GCL System and Suntech. Coronavirus-hit province Zhejiang is home to a few of JinkoSolar's manufacturing works, the largest Solar Module Super League (SMSL), while JA Solar is also involved in manufacturing operations in this province.
While the country is beginning to get back to work at a slow pace after the coronavirus outbreak, many factories have not yet started operating at full capacity due to shortages of staff and raw materials. Solar PV manufacturers such as Trina Solar have alerted about production delays and LONGi Green has commented that there is no significant outcome on its solar PV panel sales and production, and its shipment targets will also not witness any change for this year.
On the contrary, Canadian Solar's manufacturing subsidiaries in China are located in Changshu, Jiangsu province, which has not been seriously impacted by the Covid-19 outbreak, hence were able to resume the production post extended Chinese New Year holidays.
In a company statement, the company stated that the impact on its delivery schedule is mostly limited to the capacity loss in the last week of January and the first ten days of February. Since mid-February production has been restarted and, with limited cases where the shipment schedule and/or product model needs amending, the company is now settled to make up for the lost production.
Canadian Solar is scheduled to announce its Q4 earnings result on March 26 2020, and it is to be seen if the Covid-19 pandemic in other countries and regions has any impact on the company's order book and shipments. The company also has been preparing for any impact on the cross-border logistics and project construction timelines based on different country plans regarding self-quarantine and complete lockdowns amid this pandemic outburst.