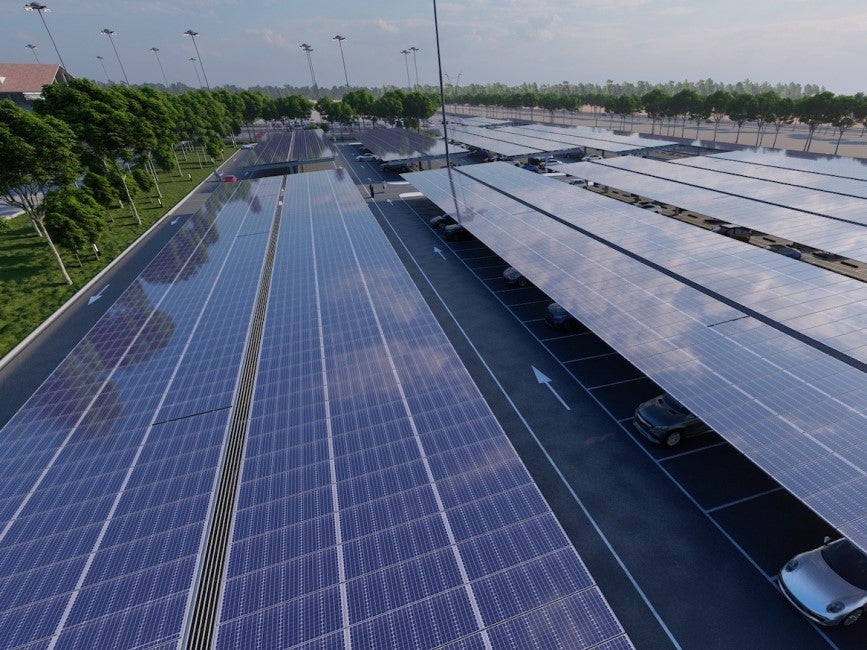 UAE-based distributed solar energy provider SirajPower has signed a long-term deal with Emirates Group to install a 2MW solar carport at the Dubai Sevens Stadium.
SirajPower will undertake the design, installation, financing, long-term operation and maintenance of the solar carport.
The project consists of installing 4,500 solar modules over an area of 10,551 square metres, to produce 3.6 gigawatt-hours of clean energy annually once complete.
It is expected to offset more than 1,496 metric tonnes of carbon dioxide emissions every year.
Energy Transition in the Middle East    
A major new report from MEED looks at how the global shift away from fossil fuels is reshaping energy policy in the Middle East and North Africa, and its impact on business and project investment.
Learn more about the report here
Emirates Group-owned Sevens Stadium hosts the annual Emirates Dubai 7s as well as other international sporting and entertainment events throughout the year.
It features eight floodlit sports fields, six cricket ovals, four netball courts and 15,000 parking spaces.
Prior to the Covid-19 pandemic, the facility hosted 7,000 to 10,000 people each week during the winter season for community sports.
According to SirajPower, the facility is now being transformed into the region's greenest sports arena and Dubai's largest solar carport in a single location.
MEED understands the 'greening' of the stadium follows similar projects elsewhere, such as in Tawain's Kaohsiung, The Mercedes Benz Arena in Atlanta, US, and the Tottenham Hotspur Stadium in London, UK.
This article is published by MEED, the world's leading source of business intelligence about the Middle East. MEED provides exclusive news, data and analysis on the Middle East every day. For access to MEED's Middle East business intelligence, subscribe here.