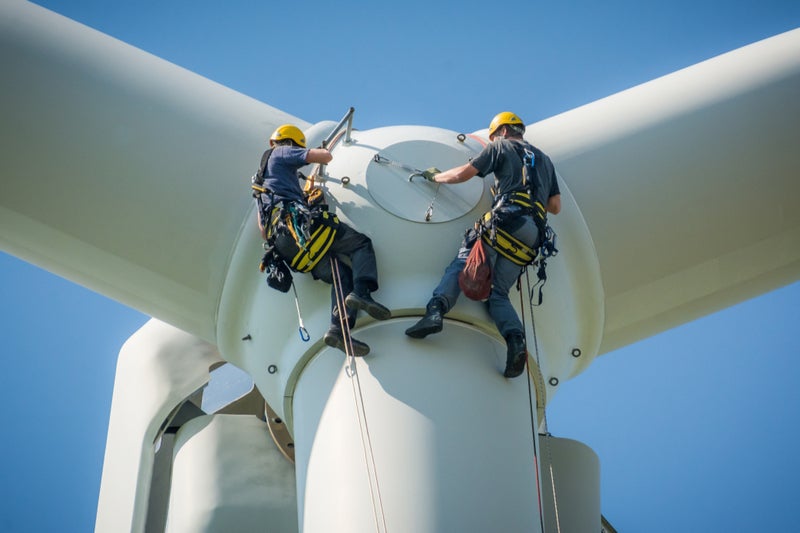 Favourable government policies and growing environmental concerns underscore growth in the wind power market, which is expected to grow at a compound annual growth rate (CAGR) of 2.9% through to 2023.
Between 2019 and 2023, the onshore market will account for a large number of installations, despite its relatively small growth of 0.8%. The offshore market is expected to witness a significant growth of 23.9%, largely supported by installations in China, Germany and the UK, according to GlobalData.
The company's latest report 'Wind Turbine Towers Market 2019 – Global Market Size, Competitive Landscape and Key Country Analysis to 2023' reveals that governments are prioritising low carbon and renewable energy sources to address new challenges for the power sector.
The adoption of clean energy technologies such as wind is aimed at improving energy security, self-sufficiency, and sustaining the demand for power while addressing climate change issues.
Asia-Pacific has the largest market share in global wind turbine tower installations, surpassing the EMEA and Americas regions. The growth in the Asia-Pacific region is largely contributed by China, which has established comprehensive development plans focused on utilising renewable energy to sustain its growth and ambitions of becoming a global leader in technology development. Other countries such as India, Australia, Republic of Korea and Japan have set specific renewable generation targets for the next decade, making the region a major market for wind turbine towers and other associated equipment, and services.
Onshore wind generation is the dominant mode in the Asia-Pacific. Over the forecast period (2019–2023), aggregate onshore installations in Asia-Pacific are estimated to be 146.87 GW. The need to improve access to electricity, increasing consumption trends and strong industrial market are primary driving factors for onshore wind turbines market.
In the offshore market, EMEA dominated the market and is expected to continue to do so by registering an aggregate offshore installation of 17.65 GW in the forecast period. The major countries in the region include Germany, the UK, France, Spain, Sweden, Italy, Turkey and others. South Africa is also another promising market within the EMEA region. Several supportive policies and incentives and government inclination towards clean energy are aiding the wind turbine market in the EMEA region. The strong technology base in Europe, favourable resources and increasing effectiveness of offshore wind turbines have contributed to the large scale deployment of offshore wind technology.
Although there is an intense activity in the development of wind, several market uncertainties persist. Lack of robust regulations in secondary markets, political risks, underdeveloped grid infrastructure and skilled workforce shortage are some impediments to growth. However, continued investment of resources towards and government endorsement of wind would help alleviate most challenges and continue driving the market.