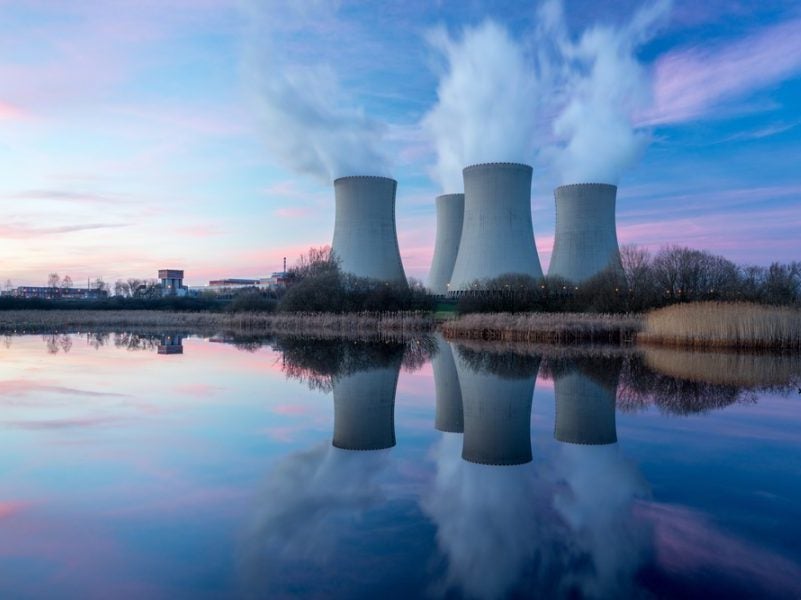 The novel coronavirus (Covid-19) crisis has led to a slowdown of the economic growth of countries across the world. The global pandemic has called for considerable measures to be taken in every aspect of life worldwide. The coronavirus spread has affected numerous industries and the global economy. One such industry is the power sector, which has witnessed a visible impact in the last two months. The electricity demand curve has taken a new shape in the affected regions.
During this ongoing Covid-19 crisis, apart from fossil fuel and renewable power technologies, nuclear reactors are also playing a crucial role in a number of countries in maintaining electricity supplies. Nuclear technology is a major baseload power-generating source and accounted for 10.3% of global power generation in 2019. The nuclear power sector is growing in many countries as demand for electricity increases. Some 31 countries are currently operating nuclear reactors for their electricity generation. Countries with significant nuclear power capacity are: the US, France, Japan, China, Russian Federation, Republic of Korea, Canada, and Ukraine, with more than 10 gigawatts (GW) of cumulative installed capacity each. Germany, the UK, Sweden, Spain, India, and Belgium have 5GW-10GW cumulative installed nuclear power capacity each.
Climate change concerns have also raised awareness of the need to reduce the use of fossil fuels in favour of low-emission power sources. Nuclear power is the readily available large-scale alternative to fossil fuels for the production of a continuous and reliable supply of electricity for meeting base-load demand. Nuclear reactors also involve high capacity factors, offering increased reliability, constant supply compared to intermittent renewable sources, such as wind and solar.
Impact of coronavirus on the nuclear industry's operations
The nuclear industry is assessing measures to safeguard their workforce and implementing business continuity plans to ensure continuous functioning of key aspects of their businesses. The nuclear industry already has a robust safety culture in place worldwide. Based on the guidance and directives put into practice across various countries and regions, actions have been taken. Since the time that coronavirus was first detected in China's Wuhan region, before becoming a global pandemic, companies worldwide had time to execute business continuity plans and take the necessary steps for the dealing with the impact of the virus.
Measures have been taken to screen workers and isolate those who show virus symptoms through temperature checks to detect fever, which is among the common Covid-19 symptom. Few countries have advised their staff to work remotely and not on-site, hence aiding with social distancing measures. For example, in the US, officials have recommended they may isolate or quarantine crucial nuclear power plant (NPP) technicians and allow them to live onsite to decrease their proximity with others in case this is needed. Many operators are getting hold of supplies of food, beds along with other essentials items required to support their staff for this purpose. Key NPP staff could be required to stay in assigned accommodation and commute to and from the nuclear facility in separate transportation. To safeguard the health of workers in regions where the occurrence of coronavirus may rise considerably, actions such as changing shift patterns are being assessed.
Companies are also limiting or dropping their non-essential business travel plans and making use of conference video and audio calls for carrying out business meetings. France's regulator, Nuclear Safety Authority (ASN), is avoiding direct physical contact to stop the spread of the coronavirus and is prioritizing control of operating facilities. A number of inspectors from the UK's regulator, Office for Nuclear Regulation (ONR), will go ahead with travel plans to sites where needed but will restrict most of its business operations via phone, email and Skype.
Currently, NPP operations are continuing in many countries. The US Nuclear Regulatory Commission (US NRC) has stated that it may close down any of the country's 60 NPP if they cannot be aptly staffed. Few nuclear facilities have temporarily shut down their operations to avoid the spread of the coronavirus and secure their workforce.
In the UK, authorities have idled a nuclear fuel reprocessing site located at Sellafield after 8% of its 11,500 workforce were asked to self-isolate or quarantine to avoid the spread of the coronavirus infection. This step came after a staff member was tested Covid-19 positive a few weeks earlier, and will eventually lead to a controlled shutdown of the site's Magnox facility, expected to close down permanently this year. The EDF-owned Hinkley Point C (HPC) NPP in the UK, has also reduced its workforce by more than half and will further decrease its staff members as work in progress is finished.
Rosatom's overseas NPP construction projects have also progressed under the recommendations and guidelines of the disease control services as well as governments of the corresponding countries where construction work is going on. Work was suspended on few nuclear reactors which are under construction in China following the coronavirus outbreak. Now as work is slowly restarting in the country, countermeasures have been taken for all staff members returning to nuclear site.
France, the most nuclear dependent country in the world, announced scaling down of staff at its Flameville NPP, operated by EDF, the country's major nuclear operator. EDF stated that it is decreasing staff at the NPP from 800 to 100, because of the high regional Covid-19 infection rates. Three workers at the EDF's Fessenheim NPP, Belleville NPP, and Cattenom NPP have already been tested positive for the coronavirus. French grid operator Réseau de Transport d'Électricité (RTE) presumes that nuclear availability will stay 3.6 Gigawatt (GW) below 2015 to 2019 average, in addition to a national fall in nuclear power demand.
EDF has withdrawn its 2020 nuclear power generation target amidst an expected drop in its output this year due to the coronavirus outbreak. Orano, an integrated nuclear energy company, has also withdrawn its financial year (FY) outlook for 2020.
When it comes to nuclear reactor operations, the Ascó I NPP in Tarragona and Almaraz I NPP in Cáceres, Spain, have notified about rescheduling or delaying of their outages for nuclear fuel loading.
In Germany, NPP operators are stepping up precautionary measures to stop the spread of coronavirus. For instance, RWE, is involved in disinfecting radiation meters which are normally used by staffs quite often. The company has also shut down visitor centres and called off its scheduled group visits to decrease the risk of Covid-19 infections.
The Finnish state-owned energy company Fortum Oyj's Loviisa NPP is also undertaking precautionary measures to help stop the spread of the coronavirus. The company is adhering to the Covid-19 recommendations and guidelines put forward by the World Health Organization (WHO) and national authorities. External visitors are also prohibited at the NPP until further notice.
Mining
Kazatomprom, Kazakhstan's state-owned uranium production company, with a total uranium production volume (100% basis) of 22,808t of elemental uranium (tU) in 2019 has made announcement of drawing on its current uranium inventory if its mining activities are affected. The company's uranium mining sites are located in remote areas of the country and so far the coronavirus outbreak has not yet affected its operations. However, considering the remoteness of these mining sites, the company needs to take precautionary measures if in case any outbreak occurs.
The Canadian uranium company, Cameco, has also temporarily idled production of its Cigar Lake uranium mine located in northern Saskatchewan, Canada, as a response to the Covid-19 pandemic. This will reduce the staff members working on-site from around 300 to 35, hence leading to physical distancing and heightened safety precautionary measures. In addition, Cameco's joint venture (JV) partner, Orano Canada, has also shut down operations at its McClean Lake uranium mill, which processes ore from the Cigar lake mine.
The International Atomic Energy Agency (IAEA) provides support for Covid-19
The IAEA is also providing its support to fourteen countries situated in Africa, Asia, Latin America and the Caribbean to tackle the coronavirus outbreak. It is offering diagnostic kits, equipment as well as training in nuclear-driven diagnostic technique called as Real-Time Reverse Transcription Polymerase Chain Reaction (RT-PCR). This RT-PCR technique enables to detect and pinpoint this coronavirus precisely within hours in humans, along with animals which may host the virus. This method can also provide more information about the exposure and transmission trails of the virus.