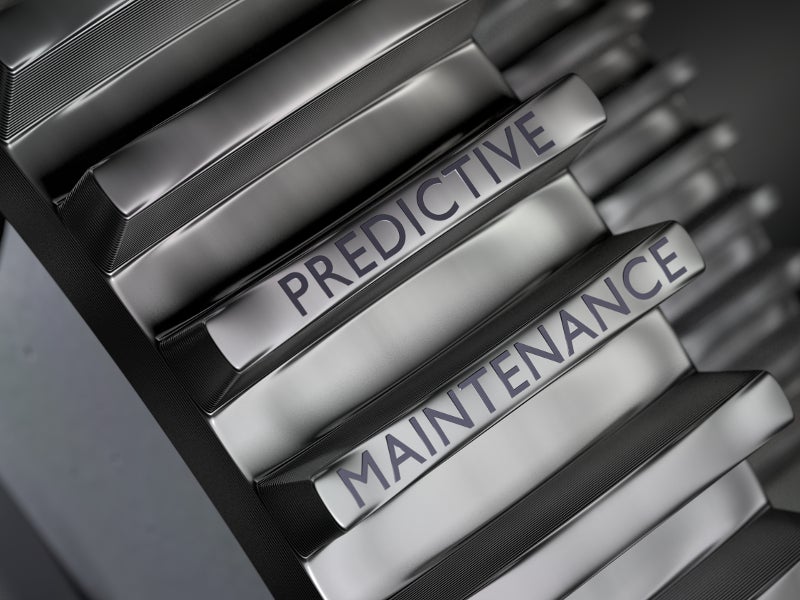 Predictive maintenance is an integral part of the power sector, helping to enhance productivity and reduce costs. Predictive maintenance tools examine the condition of operational equipment and help to foresee its maintenance needs. This helps to attain optimum performance and avert any equipment failure.
Power utilities, with their heterogeneous assets, have to deal with the crucial task of monitoring and maintaining their assets, while functioning with increased efficiency and reliability levels. Through the use of predictive maintenance technologies, power utilities can detect underperforming assets and enable the operating staff or personnel to understand the factors leading to abnormal operations, and accordingly schedule maintenance activities.
Here is the list of some of the leading predictive maintenance service provider companies and power utilities in the predictive maintenance space, as identified by GlobalData.
Predictive maintenance service providers
Below are some of the leading companies enabling predictive maintenance.
International Business Machines Corp (IBM)
IBM is a provider of information technology (IT) products and services. The company manufactures and sells computer hardware and software, and offers infrastructure, hosting and consulting services. Its technology-based product line includes analytics, artificial intelligence (AI), automation, blockchain, cloud computing, IT infrastructure, IT management, mobile technology, cyber-security, and software development products.
IBM Maximo Asset Performance Management (APM) Predictive Maintenance Insights forms a key segment of IBM's APM suite, and its main key area is to enable maintenance managers to pin down and manage asset reliability risks which could critically affect damage plant or business operations. It can set out actions according to predictive scoring, pinpoint factors, which can impact asset health, and provide a comprehensive comparison of historical factors having an effect on asset performance.
SAP
SAP's IIoT strength comes from being a leading business intelligence (BI) platform. That, allied to OT –such as machines and physical objects from the factory floor –offers the potential to create integrated industrial operations viewable from one control centre. The additional factor will be how SAP's BI and AI expertise can then drive new, and unexpected, business opportunities going beyond predictive maintenance and cost-cutting.
The company serves as a key predictive maintenance player. Through its SAP Predictive Maintenance and Service solution, it offers deep understanding of asset history and trends, hence enabling predictive maintenance and service requirements.
Microsoft
Microsoft Corporation develops, licenses, as well as supports software, services, devices, and solutions globally. Microsoft with its Microsoft Azure is setting up itself as a major public cloud platform option for industrial IoT solutions along with predictive maintenance.
Agder Energi, a Norwegian energy group, is using Azure Digital Twins to determine ways to efficiently operate its electricity grid via distributed energy resources (DER), device controls, along with predictive forecasting to avoid costly and tedious energy upgrades.
Siemens AG
Siemens is a conglomerate. It has operations in the electrification, automation and digitalisation fields. The company offers energy-efficient, resource-saving technologies and solutions for power generation, power transmission and infrastructure; automation, drive and software; and medical diagnostics; and systems for power generation and transmission, and medical diagnosis.
The company, through its MindSphere (cloud-based, open IoT operating system) predictive learning platform, offers early notification of any asset defects enabling companies to avoid unscheduled equipment downtime.
General Electric Co (GE)
GE is an industrial conglomerate. It offers a range of industrial, infrastructure and financial services. The company provides a wide range of products and services, ranging from power generation and oil and gas production equipment, aircraft engines, to medical imaging, financing and industrial. Through integrating its engineering capabilities with software and analytics, GE assists companies in securing efficient, reliable and safe work environment. GE, through its Predix-based APM software application, is a key player when it comes to offering predictive maintenance solutions.
The company's Predix platform has been utilised by Enel for examining, predicting and enhancing Enel's power plant reliability. The company with its advanced predictive analytics helps to monitor data, detect and identify any equipment-related problems and schedule maintenance activities to help decrease equipment downtime.
Power Utilities
The company list below includes the names of some of the leading power utilities in the predictive maintenance space.
EDF Energy
EDF Energy plc (EDF Energy), a wholly-owned subsidiary of the EDF Energy Group Holdings Limited, is an energy company, engaged in generation and supply of electricity and supply of natural gas to commercial, residential, and industrial customers.
EDF Energy has utilised Schneider's EcoStruxure Maintenance Advisor solution, which helped the company save over $1m by doing away with any further equipment damage and lost production. The company has also chosen Emerson's AMS Suite predictive maintenance software to enable optimisation of maintenance strategies at one of its EDF's combined cycle gas turbine (CCGT) power stations at West Burton, in the UK.
Duke Energy
Duke Energy Corp (Duke Energy) is an integrated energy utility that undertakes the generation, transmission, distribution and sale of electricity; transportation and sale of natural gas; and provision of related energy services in the Southeast and Midwest regions of the US. It also procures and markets electric power and fuel.
Duke has made use of Schneider Electric's Avantis PRiSM (Predictive Analytics) technology, which helped it save over $7.5m through early detection of a crack in a turbine rotor. The utility has also utilised Genpact's Lean Digital approach to deal with cost over-runs predictability as well as for asset optimisation.
E.ON
E.ON SE (E.ON) is an energy utility. It produces electricity, supplies electricity, gas and heat, and provides other energy-related products and services. The company produces electricity using onshore and offshore wind, solar PV, and energy storage sources; and purchases energy from other companies. E.ON also operates power and gas networks, and carries out maintenance and repairs, and expansion of these networks; and plans, builds, operates and manages renewable generation assets.
E.ON has a technology utilising AI to warn of any faults or issues in the electricity grid prior to their occurrence. This solution has been utilised by Schleswig-Holstein Netz AG, a German grid operator offering utility services throughout Germany, on its medium voltage (MV) grids. The results of this were striking, with the ability to predict any fault in the electricity grid on the rise.
American Electric Power Co Inc (AEP)
AEP is an energy holding utility. It generates, transmits and distributes electricity. The company produces power using coal, lignite, natural gas, wind, solar, nuclear and hydro sources. AEP builds smarter energy infrastructure and delivers new technologies and custom energy solutions.
The utility with its M&D centre has helped to undertake repair works of a gas turbine blade before the occurrence of a breakdown, this helped the company save around $19m.
Southern Company
Southern Co (Southern) is an energy holding company. Through its subsidiaries, it generates, distributes, markets and trades electricity, and distributes gas. The company produces power using coal, oil and gas, nuclear, hydro, solar, wind and biomass sources.
Southern Co has used Schneider Electric's Avantis PRiSM (Predictive Analytics) technology to continuously examine around 2,200 models (across gas and biomass power stations. This helped the utility save around $4.5mn in performance efficiencies by decreasing unexpected maintenance and maintaining maximum data quality reliability.
This is an edited extract from Predictive Maintenance in Power – Thematic Research report produced by GlolbalData Thematic Research.