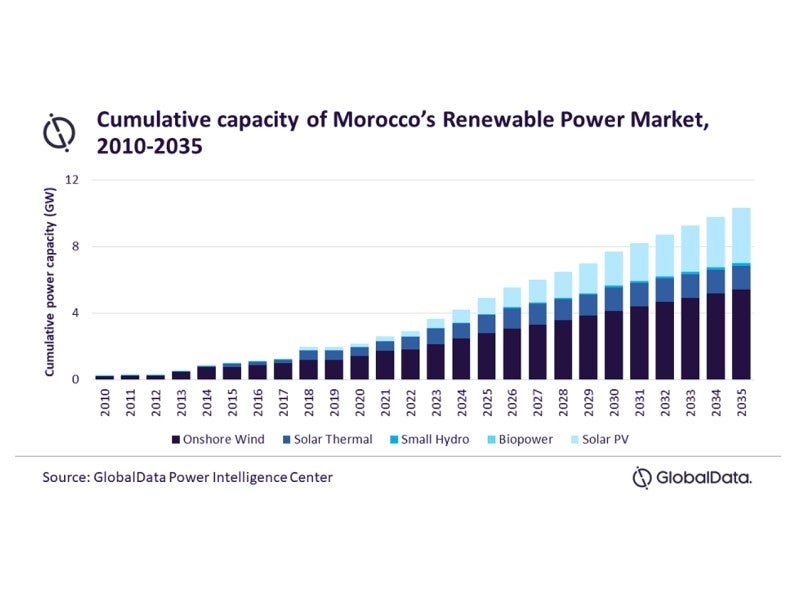 GlobalData's latest report, 'Morocco Power Market Outlook to 2035, Update 2022 – Market Trends, Regulations, and Competitive Landscape' discusses the power market structure of Morocco and provides historical and forecast numbers for capacity, generation and consumption up to 2035. Detailed analysis of the country's power market regulatory structure, competitive landscape and a list of major power plants are provided. The report also gives a snapshot of the power sector in the country on broad parameters of macroeconomics, supply security, generation infrastructure, transmission and distribution infrastructure, electricity import and export scenario, degree of competition, regulatory scenario, and future potential. An analysis of the deals in the country's power sector is also included in the report.
Thermal power was the most dominant segment of Morocco's power capacity in 2021, as it accounted for 60.5% of total capacity, says GlobalData. According to the leading data and analytics company, while renewable power only had a 23.8% share, or 2.6GW capacity in 2021, it is estimated to witness rapid growth between 2021 and 2035, growing at the highest CAGR of 10.3%, and is forecasted to account for more than half the cumulative installed capacity in the country.
Morocco is focusing on attracting international companies and easing financing to achieve its target of 52% of power installed capacity being renewable energy by 2030. In November 2021, the Moroccan Foreign Ministry announced that the country will mobilise around MAD14.5bn ($1.6bn) of global investment to finance a 1,000MW integrated wind energy program. The capital will be used to build wind parks across the country, and these are expected to be commissioned by 2024.
GDP rose from $93.2bn in 2010 to $125bn in 2021 at a CAGR of 2.7% (constant rates). The Moroccan economy took a major hit during the pandemic with its GDP declining by 6.3% in 2020 from 2019. However, the GDP almost reached pre-pandemic levels in 2021 by growing at 5.6% from 2020. GDP growth averaged 2.8% between 2010 and 2021, with all the above rates being at constant rates. The spur in growth has been mostly from the agricultural sector. The other sectors are yet to achieve pre-pandemic growth levels.
The outbreak of the Covid-19 pandemic also impacted the power sectors of Morocco. Tech fairs that are important for investor networking and some sustainable start-ups were also cancelled. Further, the restriction in movement of goods has impacted the logistics capability of utilities in the power sector, especially for the renewable energy sector. Activities from installers of solar equipment, such as roof panels, pumps and heaters, has significantly declined. The government, along with several private entities, has taken steps to boost growth in the country's power sector. Solar Cluster, a non-profit organisation based in Morocco, provided distance training during the pandemic to help business people develop their skills independently. The Ministry of Energy, Mines and Environment (MEM) is also working to integrate the national electricity transmission and distribution network to improve development, predictive management and renewable energy output modernisation. As a member of the Regional Center for Renewable Energy and Energy Efficiency (RCREEE), Morocco is expected to receive support to sustain the momentum of renewable energy growth.