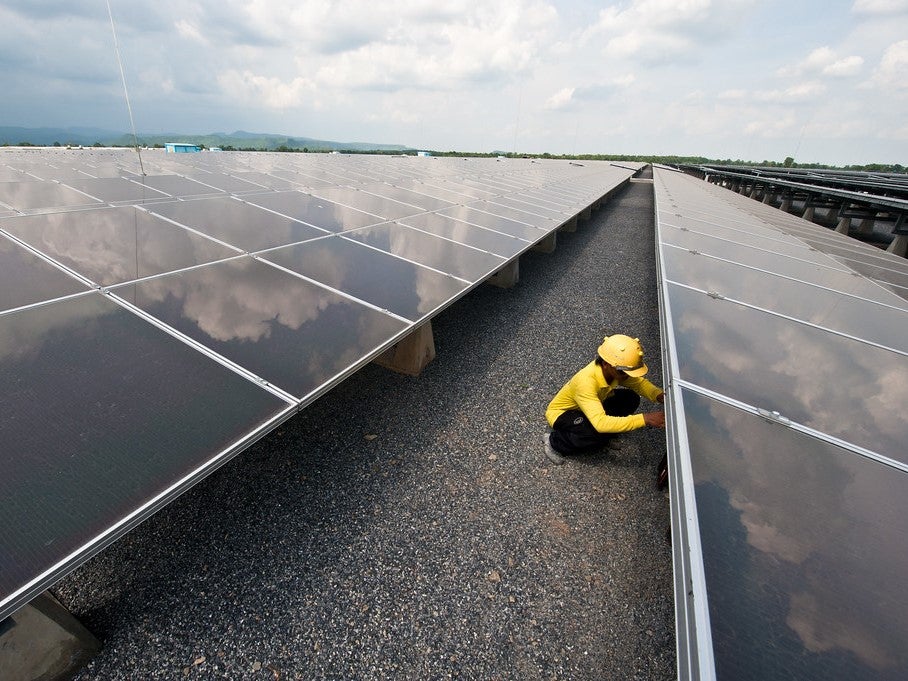 Saudi Arabia plans to appoint an adviser for the next round of solar projects that will be implemented by the Public Investment Fund (PIF).
According to industry sources, the Kingdom's Ministry of Energy has received bids for the transaction advisory contracts for ten solar photovoltaic (PV) schemes.
The capacities of the planned projects, as well as the preferred procurement model, have not been disclosed.
The Kingdom aims to build 27.3GW of renewable energy capacity by 2024 and 58.7GW by 2030.
The initial plan entails the Energy Ministry, through the Renewable Energy Project Development Office (Repdo), overseeing the procurement of 30% of this target – under the National Renewable Energy Programme (NREP) – via a public tendering process. PIF will deliver the remaining 70% through direct negotiations with investors.
MEED understands that Repdo was restructured last year. It is unclear if the participation of the Energy Ministry in the procurement process for the next PIF projects is related to that restructuring process.
PIF awarded the 1,500MW Sudair solar PV independent power project (IPP), so far the Kingdom's largest renewable energy project in terms of capacity, to a team led by local utilities developer Acwa Power in April.
The ministry awarded seven solar PV IPP contracts with a collective capacity of 1.47GW, under the NREP's second procurement round, the same month.
Energy Transition in the Middle East    
A major new report from MEED looks at how the global shift away from fossil fuels is reshaping energy policy in the Middle East and North Africa, and its impact on business and project investment. 
Learn more about the report here
NREP projects advisory
Following these awards, the Energy Ministry began planning for the procurement of projects under NREP's succeeding rounds.
MEED reported in July that firms had submitted bids for the transaction advisory contract for these projects, which are understood to involve the development of the planned wind IPP in Yanbu, initially included under round three of NREP, and a concentrated solar power (CSP) IPP, the location and capacity of which are still under discussion.
Meanwhile, the bids evaluation process for the 1.2GW third round of NREP is expected to be completed between August and September.
Repdo awarded two schemes under NREP's first round: the 300MW Sakaka solar IPP and the 400MW Dumat al-Jandal wind IPP. The Sakaka solar scheme was connected to the electricity grid in 2019, while the Dumat al-Jandal wind farm is expected to enter commercial operations next year.
This article is published by MEED, the world's leading source of business intelligence about the Middle East. MEED provides exclusive news, data and analysis on the Middle East every day. For access to MEED's Middle East business intelligence, subscribe here.