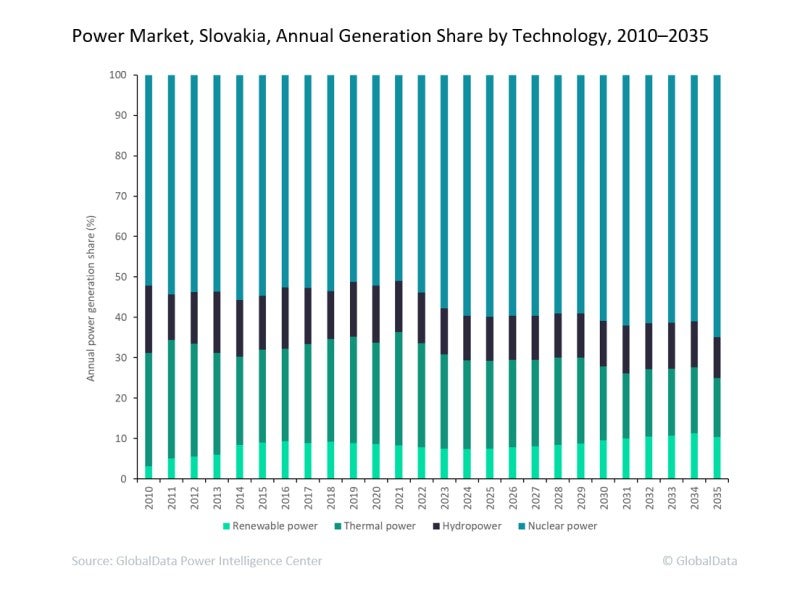 GlobalData's latest report, 'Slovakia Power Market Outlook to 2035, Update 2022 – Market Trends, Regulations, and Competitive Landscape', discusses the power market structure of Slovakia and provides historical and forecast numbers for capacity, generation, and consumption up to 2035. Detailed analysis of the country's power market regulatory structure, competitive landscape, and a list of major power plants are provided. The report also gives a snapshot of the power sector in the country on broad parameters of macroeconomics, supply security, generation infrastructure, transmission and distribution infrastructure, electricity import and export scenario, degree of competition, regulatory scenario, and future potential. An analysis of the deals in the country's power sector is also included in the report.
Nuclear power, which currently accounts for more than 50% of Slovakia's total power generation, will maintain its dominance of the country's energy generation mix over the next decade, as the country continues to be a net importer of electricity and thermal fuels. Nuclear power is expected to account for 64.9% of the country's generation mix by 2035.
Demand for energy from the industrial and commercial sectors is currently driving consumption levels. Most of the country's natural gas demand is met by imports from Russia and so, as a member of the EU, Slovakia will be mindful that EU sanctions related to the Ukraine war will create uncertainty as EU countries hold a united front on reducing its dependency on Russian imports.
Annual electricity consumption in Slovakia increased from 24.9 Terawatt hours (TWh) in 2010 to 26.4TWh in 2021 at a CAGR of 0.5%. Between 2021 and 2030, the increase is expected to be slightly higher due to expected resurgence of the industrial sector. Electricity consumption is expected to touch 28.6TWh by 2030, growing at a CAGR of 0.9% from 2021.
Slovakia is a net importer of electricity, with approximately 0.7TWh of electricity in 2021. The country is dependent on imports to meet the majority of its thermal fuel needs. In fact, most of its natural gas demand is met by imports from Russia. Although Slovakia has good potential coal reserves, these are not currently recoverable, making it dependent on imports for more than 90% of its coal resources. Although the government is looking to expand its renewable power capacity, the Slovakian Government will continue to depend on nuclear power generation during the forecast period.
GDP rose from $90.3bn in 2010 to $113.7bn in 2021, at a CAGR of 2.1% (constant rates). The Slovakian economy took a hit during the pandemic, with GDP declining by 4.4% in 2020 from 2019. Backed by several funding programmes from the European Commission, the economy revived, with the GDP growing by 3.8% in 2021 from 2020, with all the above rates being at constant rates. GDP is expected to reach pre-pandemic levels between 2022-2023. The threat of the pandemic also impacted the new capacity additions in the country. The fear of the spread of the pandemic led to a reduced workforce and disruption of logistic chains, leading to difficulty in acquiring capital equipment, which has led to delays in the commissioning of projects that are in later stages of construction. For instance, the Mochovce 3 nuclear reactor was expected to be online in 2020 but is delayed due to Covid-19 and now expected to be online by the end of 2022.