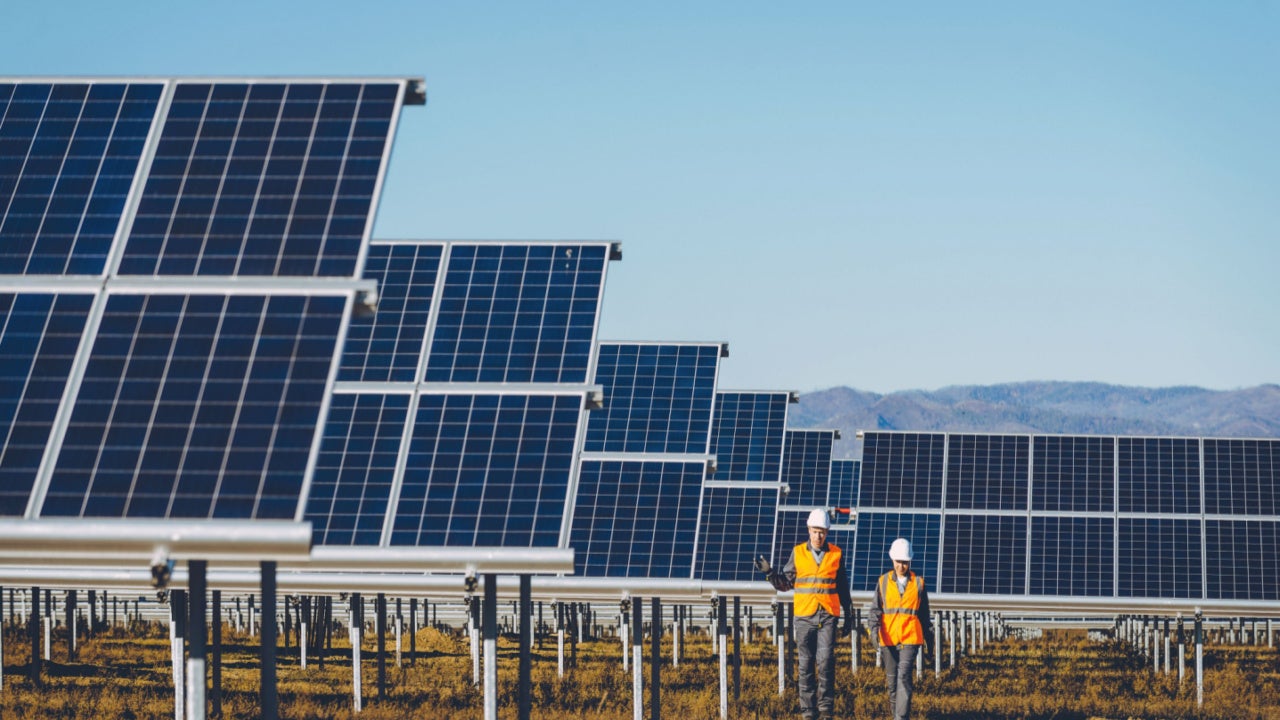 Power Technology lists the top five terms tweeted on solar in Q1 2022, based on data from GlobalData's Power Influencer Platform.
The top trends are the most mentioned terms or concepts among Twitter discussions of more than 157 solar experts tracked by GlobalData's Power Influencer platform during the first quarter (Q1) of 2022.
1. Sustainable energy and renewable energy – 427 mentions
IKEA deploying solar modules in all its stores and warehouses, legislation having spurred solar energy installations in Illinois, and D. E. Shaw Renewable Investments (DESRI) set to raise up to $100m in an initial public offering (IPO) on the Nasdaq stock exchange, were some of the popular discussions in Q1 2022.
Mike Hudema, director of communications at Canopy Planet, an environmental non-profit organisation, shared a video on furniture retail company IKEA converting all of its stores and warehouses into solar station with the aim of producing more power than consuming it by the end of 2022. The company is looking to run all its stores on clean energy in the next ten years and push the excess energy back into the grid, Hudema tweeted. The company has installed about one million solar modules in its 370 stores and warehouses, the video demonstrated. With stakes in US solar parks, the company also sells solar panels for houses in some of its stores and aims to become climate positive by 2030 by reducing more greenhouse gas (GHG) emissions than it produces, the video detailed.
Furthermore, IKEA's parent company has already invested $2.7bn on clean, renewable power in the last decade, the video highlighted. Other companies are also investing in renewable energy, such as the e-commerce giant Amazon, which is expanding its portfolio of 66 clean energy projects, while beverages and electronics manufacturer Coca-Cola and Sony have also promised to adopt 100% renewable energy.
Richard Munson, an author and clean energy advocate, further shared an article on the Climate and Equitable Jobs Act (SB 2408) resulting in increased solar installations in Illinois, with plans to complete over 8,400 more solar installations and double its workforce. The Act was passed in September 2021, which aims to put the state on a path to 100% clean energy adoption by 2050, the article detailed. Among the many provisions under the Act, a $34m fund is allocated to offer seed capital to disadvantaged businesses, $1m for the Jobs and Justice Fund, and $21m for 16 renewable workforce training centres across the state.
According to data from the Illinois Power Agency, 8,052 delayed solar projects have advanced and are expected to be permitted by the Illinois Commerce Commission, the article noted. In addition, an estimated 35,000 families are expected to be powered by low-cost power without the need to install solar panels, with the approval of 20MW of new community solar projects.
In another tweet, Tom Cheyney, a market intelligence and editorial specialist at the marketing agency Kiterocket, shared an article on New-York-based independent power producer DESRI speculating about raising up to $100m in an initial public offering (IPO) on the Nasdaq stock exchange. The company stated that it will be using some of the proceeds to fund the development and construction of renewable energy plants, and to fund other acquired projects and planned opportunities, the article highlighted.
In September 2021, the DESRI's utility-scale renewables assets portfolio comprised a total capacity of 6,468MW, including 67 solar, wind, and battery storage projects in 25 US states across contracted pre-construction, construction, and operational stages. In October 2021, the company completed a 149MWac photovoltaic (PV) project in Michigan and signed a power purchase agreement (PPA) for a 160MWac solar plant in Virginia that is expected to power the data centres of technology company Meta, the article detailed.
2. Storage and batteries – 290 mentions
Solartia and IED launching an autonomous solar power generator called the Arca system, the Sacramento Municipal Utility District (SMUD) signing a 200MW solar PV and 400MWh storage power purchase agreement (PPA) with D.E. Shaw Renewable Investments, and Volt Advisory Group awarded a $18.75m contract for a solar to hydrogen gas-based microgrid, were popularly discussed in Q1.
SolarCurator, a platform for solar, storage and climate news, shared an article Spanish-based solar energy equipment supplier Solartia and electronic products manufacturer IED launching an autonomous solar power generator called the Arca, a low-maintenance system designed to reduce energy poverty. The system integrates solar panels, power electronics, energy storage, and prepayment in a compact, sturdy, and easy manner, allowing it to supply energy permanently anywhere on the planet, the article noted. Arca Lite has an installed power of 490Wp, and Arca Plus has a rated installed power of 980Wp, with voltage ranges of 30V-50V and 60V-100V respectively.
Arca also features enclosed electronics that can allow the device to hold up to 100% relative humidity and LiFePO4 batteries, the article further detailed. A charge and discharge algorithm stops both overcharging and deep discharging of the system, providing between 3,000 and 6,000 cycles at 80% depth of discharge (DoD). Arca can also evaluate the battery state in terms of its deteriorated storage capacity and can thereby implement predictive maintenance, the manufacturers stated. Additionally, its passive cooling prevents the use of active elements such as fans, which could reduce the system's lifetime.
The terms were also discussed in an article shared by Carl Siegrist, a renewable energy strategist, on the SMUD signing a PPA sized at 200MW of solar PV and 400MWh of energy storage with the global investment and technology development firm D.E. Shaw Renewable Investments. The battery storage system will be a 100MW battery with a four-hour endurance, the article noted. According to D.E. Shaw, the project will be the largest co-located solar and storage plant in northern California under a PPA contract that is expected to commercially operate in 2024. The construction of the solar and battery storage project is expected to add 400 new jobs and provide the region with clean and reliable energy, according to Frankie McDermott, SMUD's chief operating officer who also emphasised that collaborations were key to SMUD's efforts in reaching its 2030 zero carbon goals.
In another tweet, Noé van Hulst, special advisor of hydrogen at energy organisation International Energy Agency (IEA), discussed how a solar, battery, and hydrogen microgrid were to power Queensland's Daintree region. The article further detailed that the federal government had awarded the energy company Volt Advisory Group a $18.75m contract for the microgrid project that was being delivered under the Daintree Microgrid Program.
Incorporating 8MW of solar power, 20MWh of battery storage, and a 1MW clean hydrogen production, the microgrid will be mostly deployed along existing highways and previously cleared ground to safeguard the heritage-listed region, the article highlighted. The project aims at increasing the dependability, security, and affordability of electricity to businesses and residents in the rainforest community, while also reducing emissions and the need for expensive diesel fuel. The project is also expected to create over 200 jobs in the region, the article further noted.
3. Photovoltaics – 201 mentions
Dezhou Dingzhuang floating PV array linked with wind and storage to reach 320MW capacity, Sonnedix Japan starting commercial operation of the 41.6MW Sonnedix Sano solar PV facility, and the solar PV industry producing over 190GW of modules in 2021, were some of the popular discussions in the first quarter.
Mark Z. Jacobson, a professor of civil and environmental engineering at Stanford University, shared an article on the world's largest floating solar PV plant entering operations as a hybrid wind-solar-battery park. The end of the second phase of the Dezhou Dingzhuang floating PV array by the Chinese electric power company Huaneng International brought the total to 320MW, expected to be the largest to enter service globally, the article detailed.
The Huaneng Dezhou Dingzhuang integrated wind and solar energy storage project in Shandong province is a combination of the reservoir-based floating solar along with a 100MW wind farm and 8MWh of energy storage. The article further highlighted that floating solar is expected to play a critical role in Asia's energy transformation, allowing the chance to site generation on assets, such as reservoirs in places where land is sold at premium prices, the article noted.
The term was also discussed in an article shared by Tor Valenza, founder and chief marketing officer of a marketing firm UnThink Solar, on the electric power producer Sonnedix Japan completing construction of the 41.6MW Sonnedix Sano solar photovoltaic plant, which reached its commercial operations date on the 5 January 2022. Located in the city of Sano, the plant brings the operating capacity of the Sonnedix Group's Japanese portfolio to 333 MWp, the article detailed.
The article further highlighted the plant will generate 49,000MWh of clean, renewable energy in its first year of operation, which is equal to powering over 11,000 households for a year, and also cutting down carbon dioxide emissions by about 24,000 metric tonnes every year. A 20-year Power Purchase Agreement (PPA) will allow the electricity generated by the solar plant to be sold.
In another tweet, Liam Stoker, editor in chief at media firm Solar Media Limited, tweeted on the solar PV industry delivering over 190GW of modules in 2021, marking the start of the sector's first significant production-led supply cycle. This new dynamic, in which end-market supply is determined by production challenges, is expected to persist for the next few years, until there is an oversupply of raw material by 2024 in China, the article detailed. Essentially, this indicated that end-market demand for modules surpassed production levels by some margin, driven by the global demand for renewables, coupled with a significant increase in global corporations racing to meet the 2030 sustainability-driven goals, the article noted.
4. Solar Project – 186 mentions
Pepco sued for systemic violations in managing solar projects in Washington D.C., and best practices for siting community solar projects, were popularly discussed in the first quarter of 2022.
John Farrell, director of energy democracy at a non-profit research and educational organisation Institute for Local Self-Reliance, shared an article on the utilities company Pepco committing systemic violations in handling its solar projects, thereby overcharging almost 6,000 customers, D.C. Office of the Attorney General and the Officse of the People's Counsel. The two offices jointly complained that the power company's activities were hindering the District's progress in terms of renewable energy and climate objectives, the article detailed. The alleged offenses deal with community solar installations in D.C where residents who do not have rooftops to install their own solar panels, or those who cannot invest in solar installations, to subscribe for a bigger solar project.
The article further detailed that in return, the subscribers are expected to receive credits on their bills, thereby reducing their electricity fee. However, Pepco's activities have resulted in higher energy bills for the subscribers, the filing stated. About 5,000 residents of the 6,200 community solar subscribers in the city have enrolled for free through the Solar For All program, paid for by the District Department of Energy and Environment, the article highlighted. The programme can be availed by any resident earning less than 80% of the area median income, and claims to cut subscribers' electricity bills by half for 15 years.
In another tweet, Daniel Whitten, vice president of public affairs at the Solar Energy Industries Association (SEIA), discussed best practices for siting community solar projects. According to the report, community solar systems should be well-designed can result in higher agricultural yields and clean energy production, while also protecting soils and supporting a habitat for many essential species, the article highlighted.
The SEIA suggests policymakers to deploy well-established strategies to avoid, minimise, and reduce any environmental impact related with community solar projects. For example, for decades builders seeking federal and state clearances have been required to examine the environmental impact of their proposed projects, and develop alternatives to resolve those environmental issues, the article further noted.
5. Coal – 77 mentions
Abandoned coals mines being converted into solar farms in Virginia, and the old Martiki coal mine looking winsome with solar panels, were some of the popular discussions in the first quarter.
Tom Cheyney shared an article on solar farms being built on abandoned coal mines in Virginia. Environmental organisation Nature Conservancy's six old mining sites will become the region's first utility-scale solar farms, with the non-profit aiming to build a model that can be replicated nationally. The Cumberland Forest Project, which covers 253,000 acres of forest land in the central Appalachian Mountains, was purchased by Nature Conservancy in 2019. The Appalachians is an important conservation site, experts believe. The Cumberland Forest includes several abandoned mine sites around Virginia's coal fields region, which solar developers find advantageous to build solar panels on as the land is flat and exposed to sunlight, while also being close to transmission lines, the article detailed.
In another tweet, Carl Siegrist discussed about a $231m project, which recently cleared its last regulatory hurdle, to become the biggest utility-scale coal to solar project in Martin County, Kentucky, the US. The article noted that the old Martiki coal mine will be transformed into solar farms in the year ahead, most likely to be installed by local miners. The solar farms atop a shuddered mine is expected to bring green energy jobs to a region which is inflicted with poverty after the demise of the coal industry, the article highlighted. The project is a test to assess whether a region dependent on fossil fuels digging can be revived to create clean energy from the sun.
As coal continues to decline, US jobs dropped to about 40,000 in 2021, from 175,000 in the mid-1980s. Supporting former coal communities is seen as vital for a 'just transition' to clean energy, and is partly an attempt to ward of backlash against efforts to decarbonise, the article detailed. According to Colby Kirk, the county's deputy executive judge, the coal extraction tax revenue received by Martin County depending on how much coal is lifted out of the ground has decreased by more than 90% in the last decade, to $80,000 in the last fiscal year. The solar farm is expected to produce up to 200MW of electricity, enough to provide electricity to 33,000 households that can be supplied to a substation and carried with the help of still-intact transmission lines, thereby avoiding expensive upgrades, the article noted.