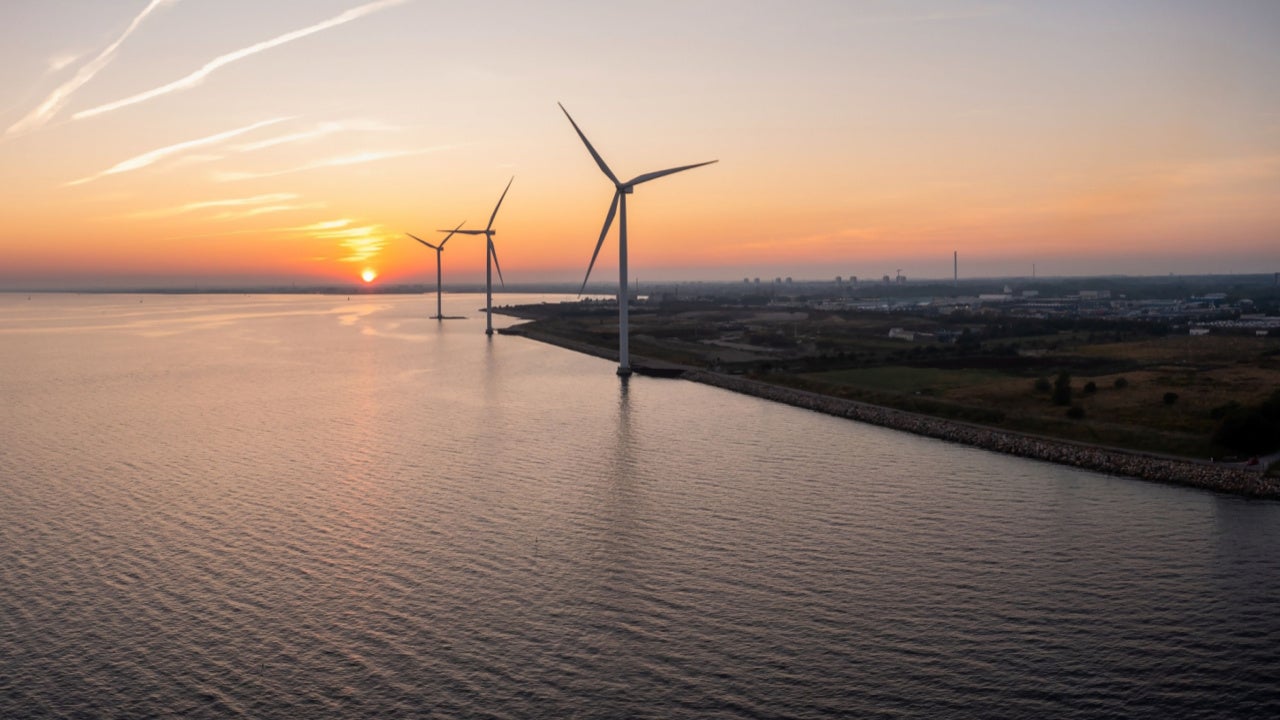 Power Technology lists five of the top tweets on wind power in Q1 2022 based on data from GlobalData's Power Influencer Platform.
The top tweets are based on total engagements (likes and retweets) received on tweets from more than 176 wind experts tracked by GlobalData's Power Influencer platform during the first quarter (Q1) of 2022.
The most popular tweets on wind power in Q1 2022: Top five
1. Mike Hudema's tweet on Denmark's energy island
Mike Hudema, director of communications at Canopy Planet, an environmental non-profit organisation, shared a video on how Denmark constructing an artificial island to provide enough wind power for the entire nation. The manmade island is expected to have up to 600 massive wind turbines, and will be the size of 18 football pitches put together, the video illustrated. The island is expected to be built 60 kilometres offshore in order to take advantage of the stronger winds at sea. The Danish government expects to complete the wind project by 2030, and will supply double the power as Denmark's current offshore wind capacity, the video highlighted. This is also likely to triple in the future to 1.5 times as much electricity Denmark consumes in one year and enough to power almost 10 million European homes.
The video further showed that the artificial island could also possibly house batteries to store energy, as well as an electrolysis facility for producing green hydrogen. Jeppe Kofod, Denmark's ministry of foreign affairs, stated that the country is aiming at cutting down carbon emissions by 70% by 2030 compared to the 1990 levels and to achieve carbon neutrality by 2050.
Denmark's energy island could be a step towards achieving the European Union's (EU) bigger goal of increasing its offshore renewable capacity from 12 GW today to 300 GW by 2050, the video detailed. As a result, offshore wind will be able to power almost 150 million homes across Europe by 2040.
Username: Mike Hudema
Twitter handle: @MikeHudema
Likes: 558
Retweets: 208
2. Mark Z. Jacobson's tweet on Germany's massive expansion of wind energy
Mark Z. Jacobson, a professor of civil and environmental engineering at the Stanford University, shared an article on Germany announcing massive renewables expansion, with up to 10 GW of annual new onshore wind installations from 2022 to 2030. The plan incorporated setting aside 2% of the country's land for wind energy generation, the article further detailed. Robert Habeck, Germany's new Green Minister for Economics and Climate, announced at a press conference that the country's massive wind energy expansion plan will aim at increasing onshore wind volumes, in an effort to streamline permitting procedures to strike a new balance between onshore wind and species protection.
Germany used to be a forerunner in wind energy, but the growth of renewables has slowed down in recent years, the article noted. As a result, Germany is likely to miss its 65% renewables target in the electricity mix, excluding the new 80% target set in 2021. Germany will therefore lag behind in its 2030 climate and energy goals, with the need to cut down carbon emissions by almost 40 million tonnes every year.
Habeck further stated that wind energy, and particularly onshore wind, will continue to be the most important power source in Germany and will play a key role in reducing carbon emissions. This will require new methods to planning and permitting, a dedicated Onshore Wind Law, and new sites for wind energy growth, he added. Europe installed as much as 11.8 GW of onshore wind in 2020, while Germany committed to boosting its offshore wind target to 30 GW by 2030, the article highlighted. This implied annual combined wind energy installations of up to 15 GW for the end of the decade.
Username: Mark Z. Jacobson
Twitter handle: @mzjacobson
Likes: 178
Retweets: 86
3. Erik Solheim's tweet on China exploring joint wind and fish farms
Erik Solheim, the sixth and former UN environment executive director and under-secretary-general of the UN, shared an article on China exploring joint wind and fish projects. The country, as a result, is evaluating the potential of turning the offshore wind turbine bases into marine ranches, where seafood can be harvested for humans, the article detailed. In 2020, China installed more offshore wind capacity than any other country for the third consecutive year, and was now set to overtake the UK as the largest offshore wind market, the article noted. The booming sector has given opportunities to explore aquaculture farms beneath the turbines, with projects being built in provinces, such as Jiangsu , Shandong, and Zhejiang, as per the Ministry of Agriculture, the article noted.
According to the 2019 China Renewable Energy Development report, a majority of China's offshore wind is located around the southeastern coast and adjacent islands, where the water is between five and 50 metres deep that proved to be suitable for marine ranching, the article highlighted.
Biddings to construct China's first purpose-built offshore wind and marine ranching project started in 2019, with a 300 MW project in Shandong's Laizhou Bay. Meanwhile, construction on a pilot project began in Yangxi County, Guangdong, in 2020. The two projects are scheduled to be completed in 2024, while bids for a third 500 MW project in the city of Dongfang, Hainan was solicited to carry out feasibility studies, the article detailed. Currently, the only combined project is located in Pingtan, at the Fujian province. It has been built by the energy company CGN in partnership with the Fujian Fisheries Research Institute and a local aquaculture company.
Username: Erik Solheim
Twitter handle: @ErikSolheim
Likes: 155
Retweets: 29
4. Michael Shellenberger's tweet on Germany's power emissions rising due to lack of wind
Michael Shellenberger, a public policy leader and investigative reporter, shared an article on Germany's power emissions increasing 25% in the first half of 2021 due to the lack of wind power. The article further detailed that power emissions rose by 21 million tonnes, according to the German think tank Agora Energiewende. In addition, emissions from gas-fired power plants climbed by 15%, coal power plants by 36%, and hard coal power plants by 44%.
Analysts claimed that a post-Covid recovery fuelled by an increase in demand was the main factor for the increase in fossil fuel generation. However, lack of wind power also contributed to the increase, with just 46.8 TWh of wind being produced in the first six months of 2021, compared to the 59.4 TWh the country produced in the first half of 2020, implying one-quarter less in a year. In addition, offshore wind generation also declined by 16% to 11.7 TWh in the same period, the article noted.
Wind generation was abnormally high in 2020, but there were no above-average wind or sun conditions in 2021, the article highlighted. However, much of the solar power increase came from more solar panels than more sunlight, which the country could not install enough to compensate the loss of power from wind turbines. Additionally, of the 56% of German power from carbon-free sources in 2020, 24% overall came from hydroelectric dams, nuclear, and biomass that were far more reliable than wind and solar. Analysts claim that the closure of nuclear plants led to the direct increase in power prices. While power was most expensive in Germany, wind-laden Denmark recorded the second highest electricity prices.
Username: Michael Shellenberger
Twitter handle: @ShellenbergerMD
Likes: 100
Retweets: 20
5. Assaad Razzouk's tweet on the world's first fully recyclable wind turbine blade
Assaad Razzouk, CEO of Gurin Energy, a renewable energy company, shared an article on the rollout of the first fully recyclable wind turbine blade. The world's first 100% recyclable wind turbine blade is developed by the ZEBRA (Zero wastE Blade ReseArch) consortium, the article highlighted. As part of the project, LM Wind Power, a GE Renewable Energy, designed and created the world's largest thermoplastic blade at its Ponferrada facility in Spain. The blade is 62 metres long and was built using Arkema's Elium® resin, which is a thermoplastic resin with recyclable qualities, along with the robust glass fabrics from the wholesale building materials company Owens Corning, LM Wind Power stated.
The ZEBRA (Zero wastE Blade ReseArch) project was launched in September 2020, in partnership with the French research centre IRT Jules Verne that brought together industrial companies, such as Arkema, CANOE, Engie, LM Wind Power, Owens Corning, and Suez, the article noted. It aims to illustrate the technical, economic, and environmental importance of thermoplastic wind turbine blades, along with an eco-design approach to enable recycling.
Username: Assaad Razzouk
Twitter handle: @AssaadRazzouk
Likes: 88 Retweets: 43